Vegan cut out christmas cookies
Monday December 7, 2020 - by Errer
It's already Christmas in less than three weeks and I highly recommend you to make these vegan cut out Christmas cookies. I love baking around this time of the year! If brings warmth and coziness in our house. And who doesn't love making cut out cookies, right? These cookies are very crunchy and without refined sugars. On top of that, they also look colourful and brings us into serious Christmas vibes. Are you going to try them?
Healthy Christmas cookies
My Christmas cookies are super delicious to eat plain, but when you brush or dip them in melted chocolate they become even more heavenly! And yes, the cookies look very festive if you finish them with sprinkles in Christmas colors. The sprinkles turn them into real Christmas cookies. For us, it's important not to eat loads of sugar. Instead I try to make my recipes as healthy and nutritious as possible while veganizing it. For example, in this recipe I use wholemeal flour instead of white flour, dates instead of refined sugar and I add dark chocolate. This way it's not only more healthy, we actually find the taste better too.
Vegan cookies not 100% vegan
You can decorate the Christmas cookies with whatever you like. Glaze the cookies with powdered sugar and water to draw you cookies with. I personally love chocolate so here I go. After brushing (or dipping) you can sprinkle the cookies with all kinds of ingredients. There are so many stunning decorations available, but you can use nuts, grated coconut or sugar too. For my vegan Christmas cookies I use sprinkles in classic Christmas colors. But make sure that these decorations are vegan (if you are vegan), because I made this mistake myself. While writing this recipe down, I found out that my sprinkles consist E901 number. After research I know now that is beeswax and they use it for the shine. So eventually, my vegan cookies are not 100% vegan. No problem at all for you, because you can use any kind of sprinkles.
Ingredients vegan cut out christmas cookies
Whole wheat flour, 200 grams
Dates pitted, 145 grams
Vioblock unsalted butter, 120 grams, cold from the fridge
Cinnnamon, 1,5 teaspoon
Clove powder, 0,3 teaspoon
Ginger powder, 0,3 teaspoon
Nutmeg, 0,3 teaspoon
Dark chocolate at least 74%, 100 grams (I had leftovers)
Christmas sprinkles (mine weren't vegan)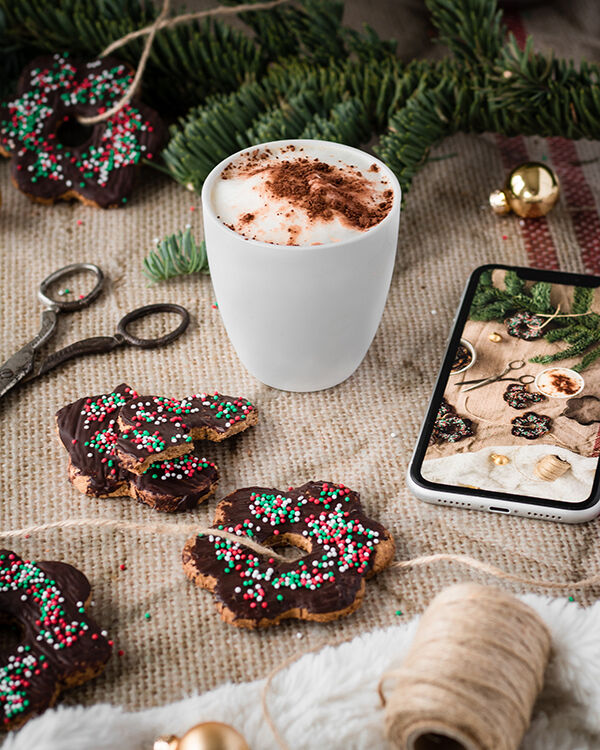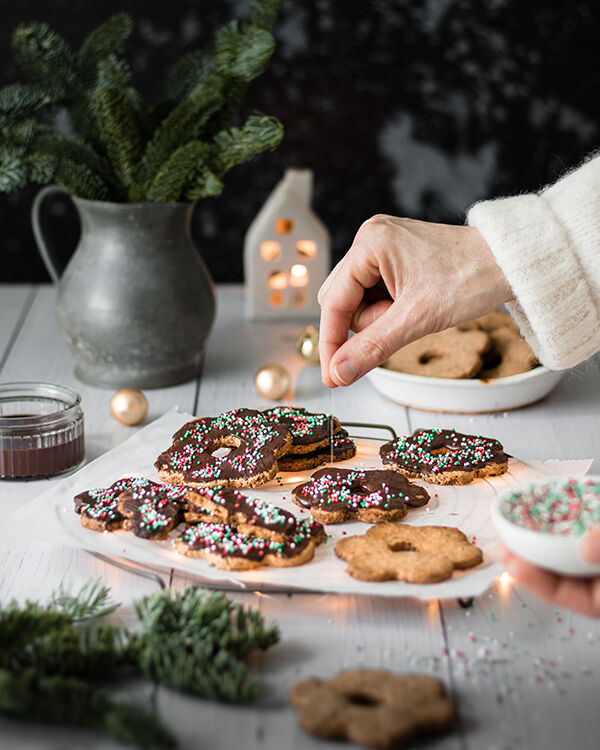 Recipe vegan christmas cookies
Add the dates in a food processor and mix until finely ground. If you don't have a machine, chop them finely.
Cut the cold butter into pieces and add to the processor along with the flour and spices.
Mix until a ball or untill well combined. Take out the dough and knead into a smooth ball. Wrap the dough in a plastic wrap and let it rest in the fridge for at least 30 minutes.
Remove the dough from the fridge and dust your work surface lightly with flour.
Preheat the oven to 175 degrees Celsius.
It's useful to dust your rolling pin with flour to avoid sticking when rolling the dough. Roll out the dough to 0,4 cm thick.
Use a cookie cutter (large one) to press out the cookes. After cutting I made a hole in the middle using a apple corer.
Line you baking tray with parchment paper and use a spatula to transfer the shapes to the sheet. Make sure they don't touch each other. I had to bake twice because it didn't fit.
Form a ball from the remaining dough and repeat.
Bake the cookies for about 15 to 20 minutes until golden brown, depending on your oven. Keep an eye on the cookies.
Allow the cookies to cool down completely so they become crunchy.
Melt the chocolate au bain-marie. Heat up some water in a small pan and place a bowl above the water. Do not boil the water! Add the chocolate in pieces in the bowl. Stir until the chocolate is melted.
Brush the cookies with the chocolate using a pastry brush. Then sprinkle decoration of your choice.
Let the chocolate harden, but not in the fridge as this will make the Christmas cookies soft.
You can also dip the surface into the chocolate or dip the cookies halfway. Do what you like!
We find the cookies delicious plain too!
Sprinkle the cookies with whatever you like. Use sea salt, almonds, pistachio, sugar or grated coconut.
Pack the Christmas cookies in an airtight container. They can be kept for a week or maybe more. I never tried that cause they always are finished in a few days.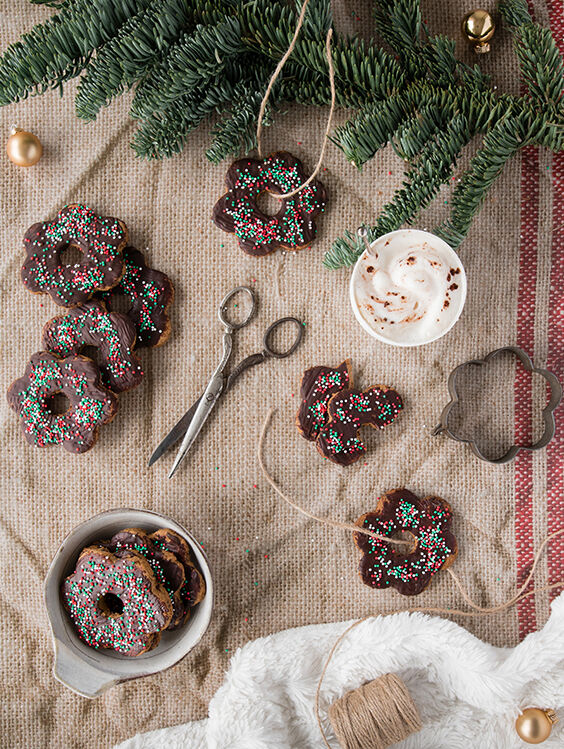 Did you prepare this recipe? Let us know on Instagram. Share it with us using #ERRERFOOD or tag us in your post. We love that! ♥