Tuesday February 11, 2020 - by Errer
After we visited Pyrgos and Koumaradei we drive further to Pythagorion in Samos. Pythagorion or Pythagoreio is a vibrant city in Samos and is located about 3 kilometers from the airport. On our way from Chora you can see ruins of a Roman aqueduct on your left side after the gas station. When you enter Pythagorion, you can park the car on your right hand, there is a large parking lot on the beach. Go for a swim here to cool off before you start exploring the town.
You immediately notice it's busier, more touristy and modern than in the rest of Samos island. In most villages it is often very quiet. A good reason to visit Pythagorion in Samos is when you want some entertainment, this is the right place. The city has 1500 inhabitants and the harbor, boulevard and charming streets are certainly worth a visit. It's a touristy place just like Kokkari but has retained its charm. For us, Kokkari was more touristy and less attractive.
There is also a port where is room for 280 yachts, the large statue of Pythagoras and you can stroll throught the famous ''blue street''.
From May to mid-October, most stores are open from 09:30 AM until late at night, only a few close in the afternoon.
From June to September the main shopping street is carfree between 6:00 PM and 2:00 AM. It is forbidden to park here.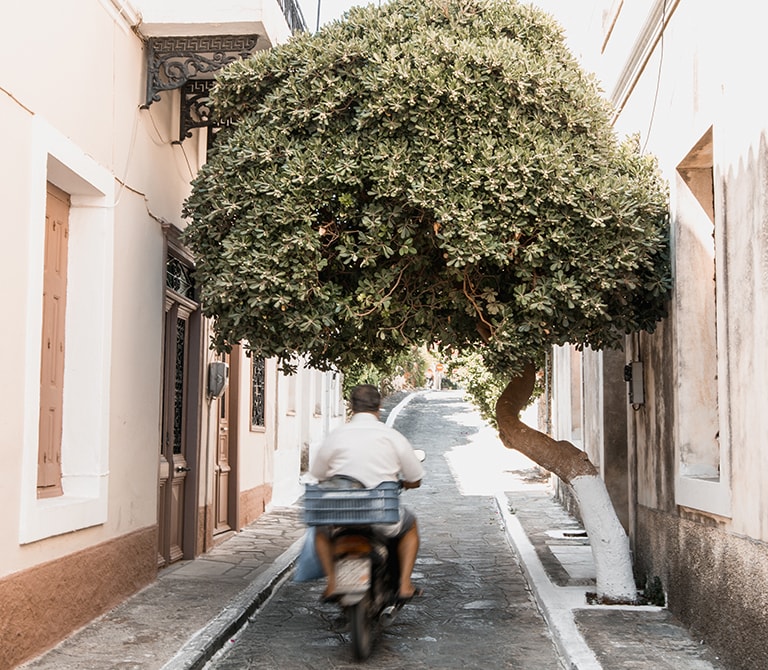 The main street with its many shops, cafes, terraces, the famous "blue street" and the living harbor are the main attractions. Have a drink and eat some Greek food on one of the many terraces and enjoy the Greek sun. In the meantime, you can dream away when looking at the many fishing boats and yachts coming and going. Although Pythagorion is touristy, we liked the atmosphere and authenticity.
From the port you can make various boat trips, for example to the beach Psili Amos or the island Samiopoula. It's also possible to take a ferry to neighbor islands Patmos and Kalimnos and you can even go to Turkey. After a 10-minute walk along the bay you will reach the port.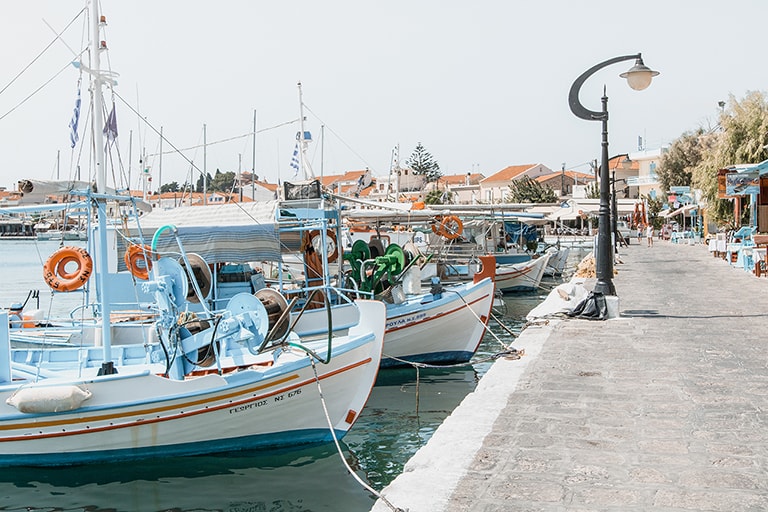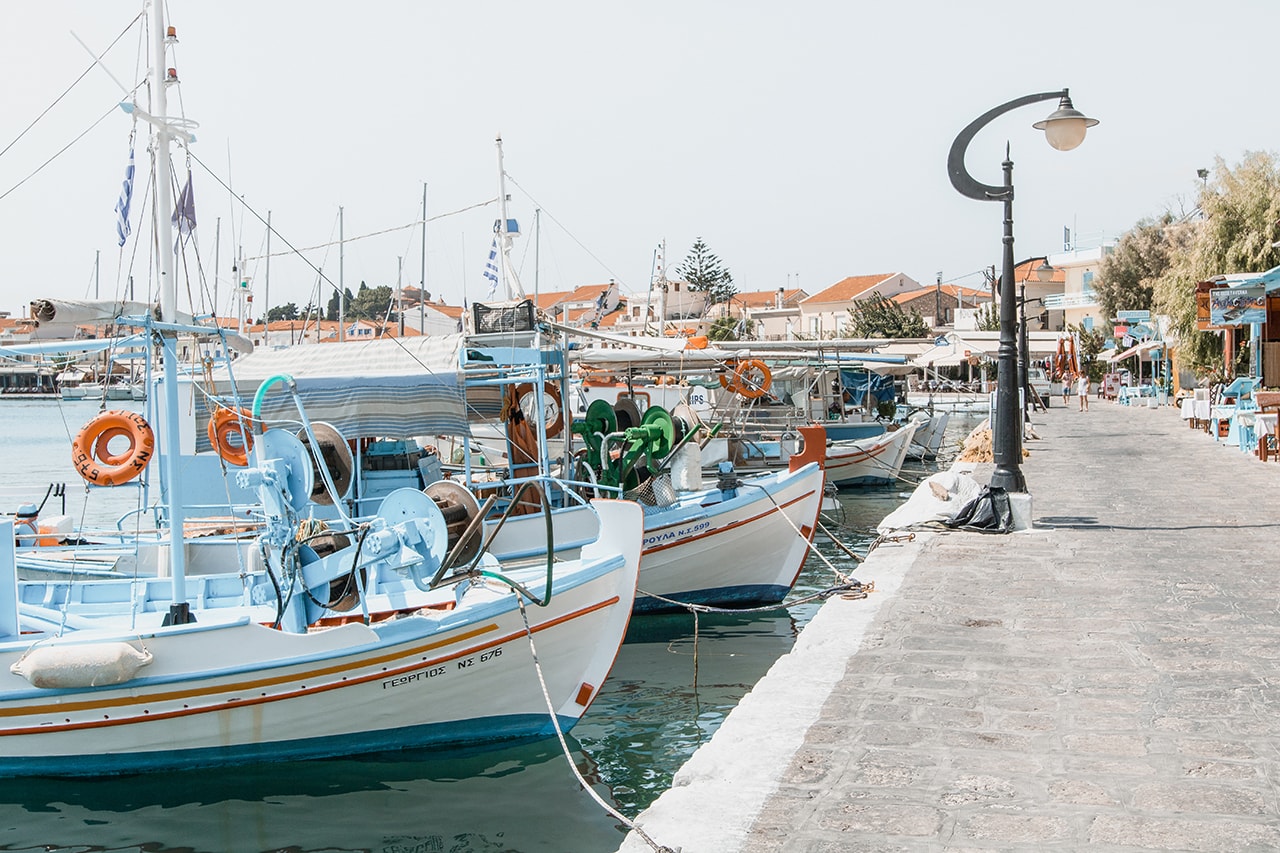 Pythagoras in Pythagorion
The name Pythagorion originated in 1955, named after the Greek philosopher Pythagoras to honour his work. Pythagorion is formerly known as Tigani that means casserole, named after the shape of the harbor. Pythagoras was a famous Greek mathematician and philosopher.
You will probably know the Pythagorean theorem, which is about right angle triangles. He studied in captivity in Babylon and after he was freed, he returned to Samos at the age of 56. Due to disagreement with Polykrates, who ruled at that time and a tyrant, Pythagoras withdrew to the Kerkis mountain.
Kerkis is the highest mountain of Samos and is literally a huge rock, a very difficult place to trek. Later he lived in Italy where he founded a philosophical school. The bronze statue of Pythagoras is located at the harbor.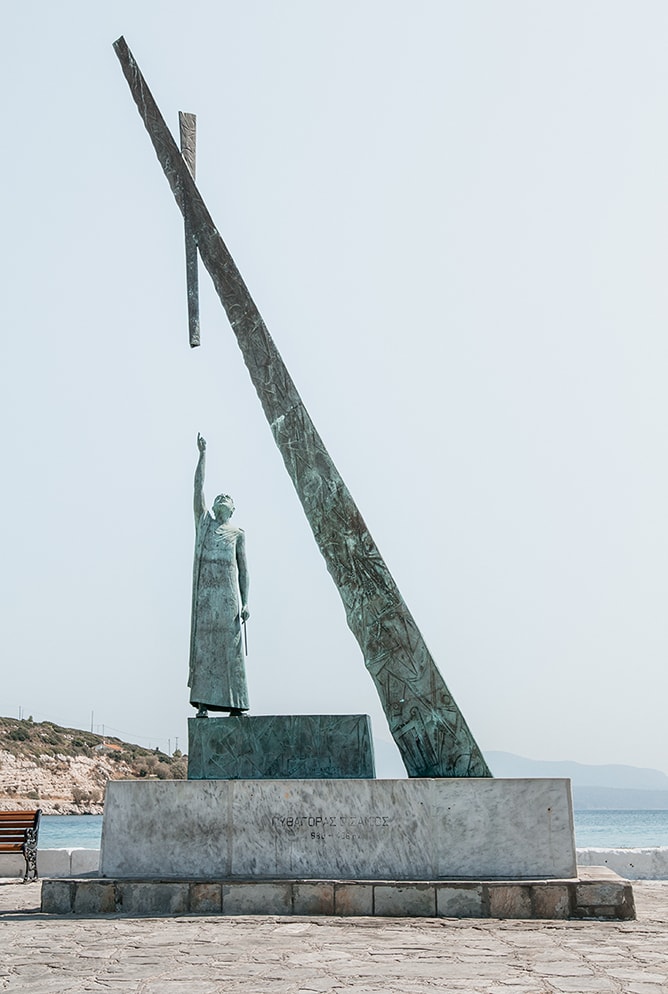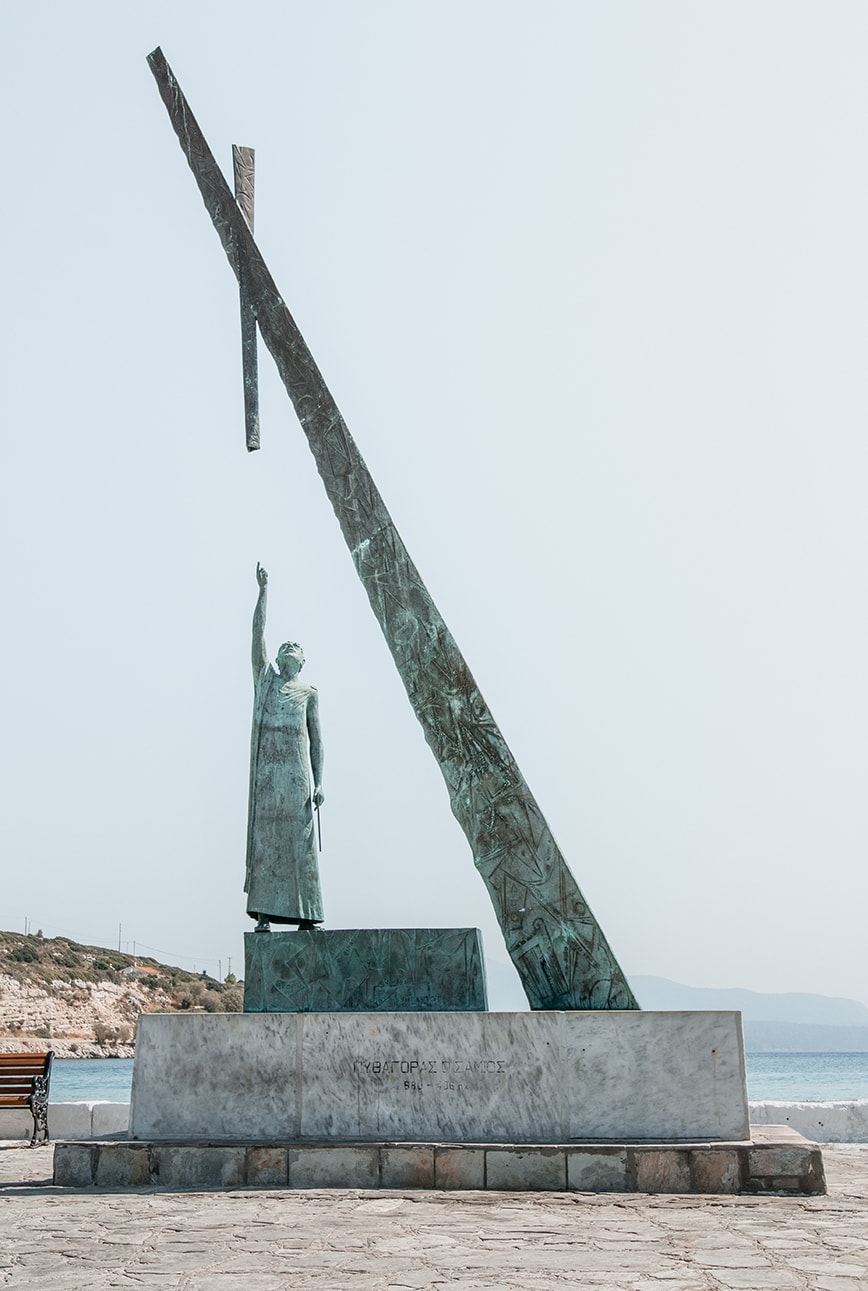 The ''blue street'' in Pythagorion
It takes some searching, because the street is a bit hidden in the city. You can walk here and take some figures. The residents have done their best to exaggerate with decorations, mainly in blue.
The "blue street" is actually an alley, I estimate just about 50 meters long. Within 10 minutes you have already seen it, but if you are planning to go to Pythagorion why not go.
Combine it with strolling around through other cute streets and enjoy the Greek atmosphere and great views.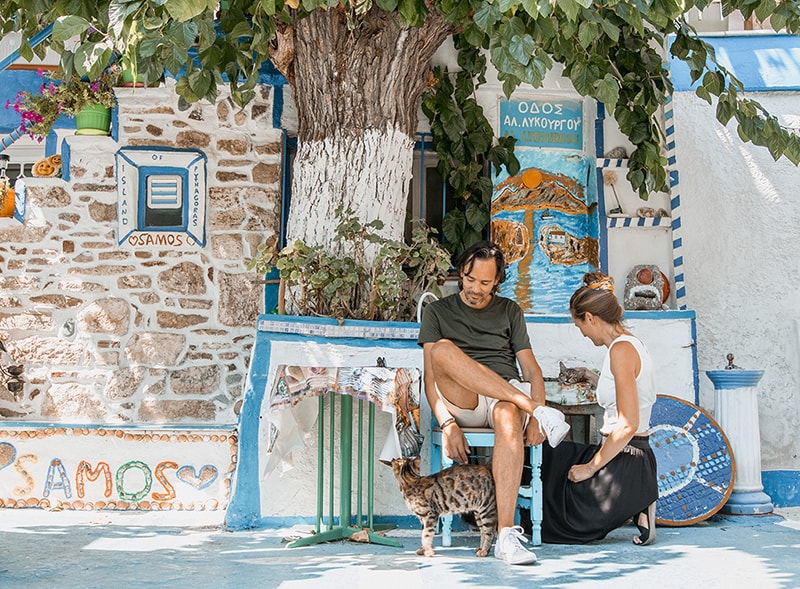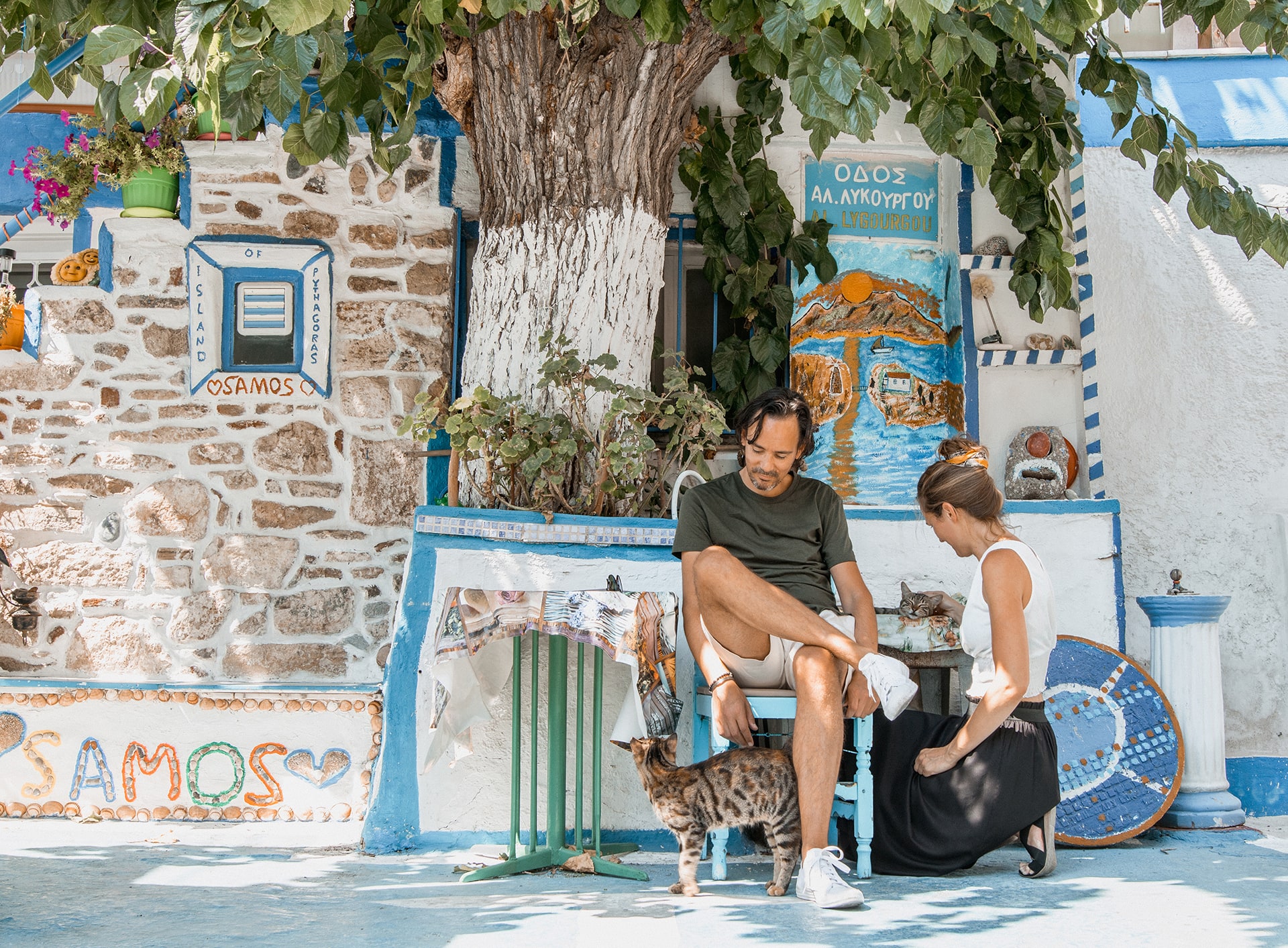 Things to do in Pythagorion Samos
Visit the Logothetis castle for free, which served as a defense and base during the Greek revolution, and pay a visit to the monastery of Spiliani for free (daily between 09:00 AM and 08:30 PM
You can visit an archaeological museum in Pythagorion where you can admire finds from the area
The Efpalinio is a tunnel that served to provide the city with drinking water during siege and to get out of the city unseen. The tunnel is 1036 meters long and has a diameter of 1,8 meters. If you are claustrophobic, I don't advise you to walk through the tunnel. If you want to visit this place, you drive from Pythagorion towards Vathy, and take the first left just after the city center. Combine the Efpalinio with a visit to the temple of Hera.
Visit the 4-kilometer long pebble beach of Potokaki which is approximately 3 kilomether outsite the center and directly adjacent to the beach of Pythagorion Samos and continues to Ireon
Combine a visit to the city with an afternoon hugging stray cats at Cat Rescus Samos, a non profit shelter located close to the airport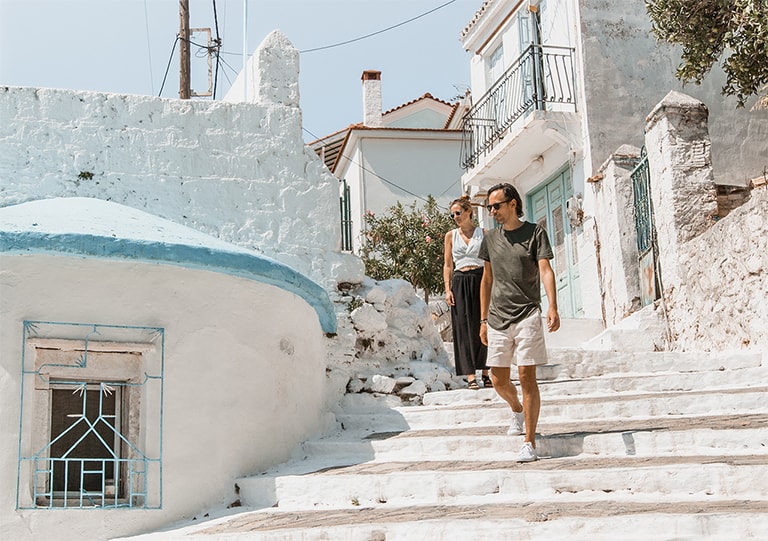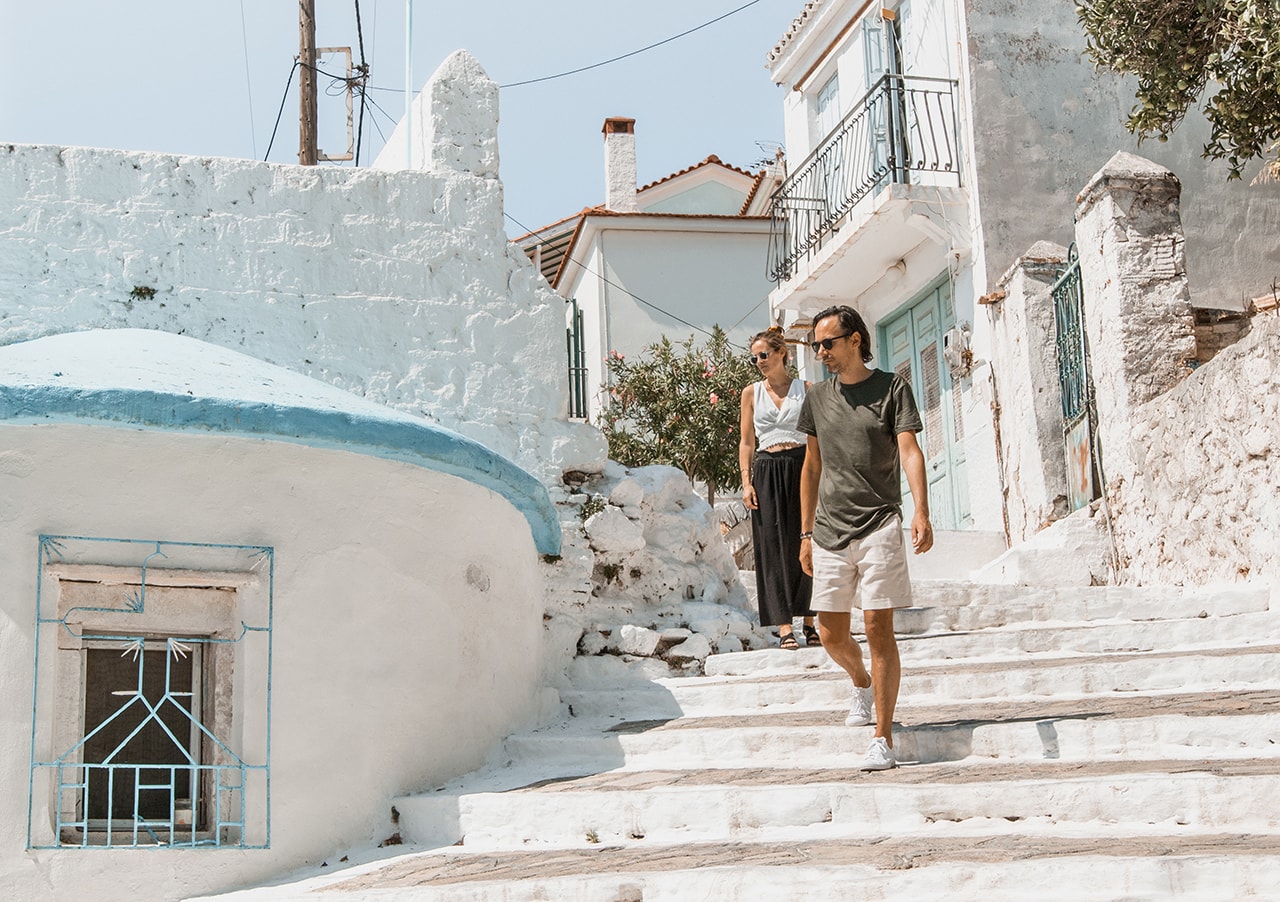 Tuesday February 11, 2020