Samos Greece; 6 beaches around Kambos
Monday February 17, 2020 - by Errer
Samos Greece is one of the beautiful Greek islands. There are plenty of beaches on Samos island. I described 6 beaches in Kambos; a region in southwestern Samos. In this area you can visit villages such as Marathokampos and Koumeika and the seaside towns Votsalakia, Kampos, Balos, Pefkos, Limnionas and Psili Ammos.
You can choose from a lot of great beaches and bays , restaurants, cafes, large and small hotels on Samos Greece. Votsalakia is the most well-known seaside resort in this area. Rest assured, luckily no overcrowded beaches, mega hotels and mass tourism on Samos.
No need to look far to find peaceful and quiet places and that's what we like about this Greek island.
Our stay was in apartment Thalina located in Kambos Marathokampos with spectacular views on the Kerkis (1434 m high) and the beautiful Aegean sea. Perfect location to relax during our vacation, not that touristy as Kokkari. A pleasant and relaxing atmosphere. Also, the sea at the southside is also calmer as it is less windy.
We liked the area more too. More idyllic bays and besides pebble baches also sand beaches. When exploring you will easily find secluded beaches and bays. Exploring and discovering Greek islands is what we love.
Please note, park your car somewhere when you cannot drive further on the dirty roads unless you have a car with 4WD. Walk down the many narrow, steep hiking trails and you will find little paradises for yourself. Huge chance to encounter nude swimmers.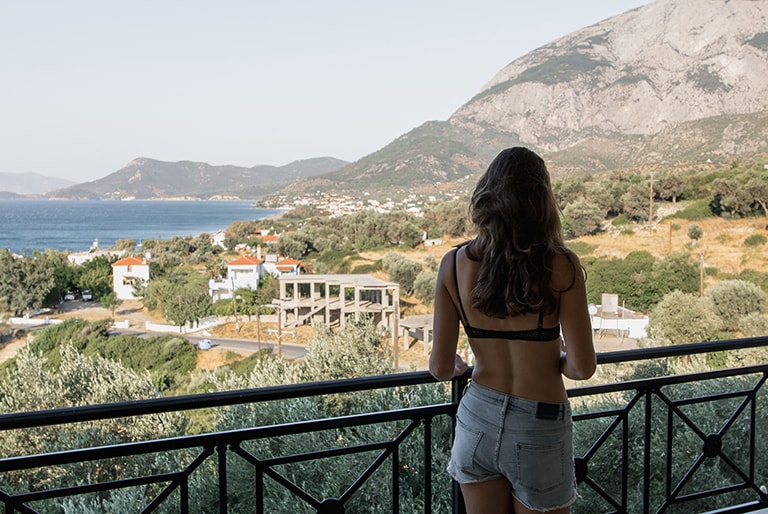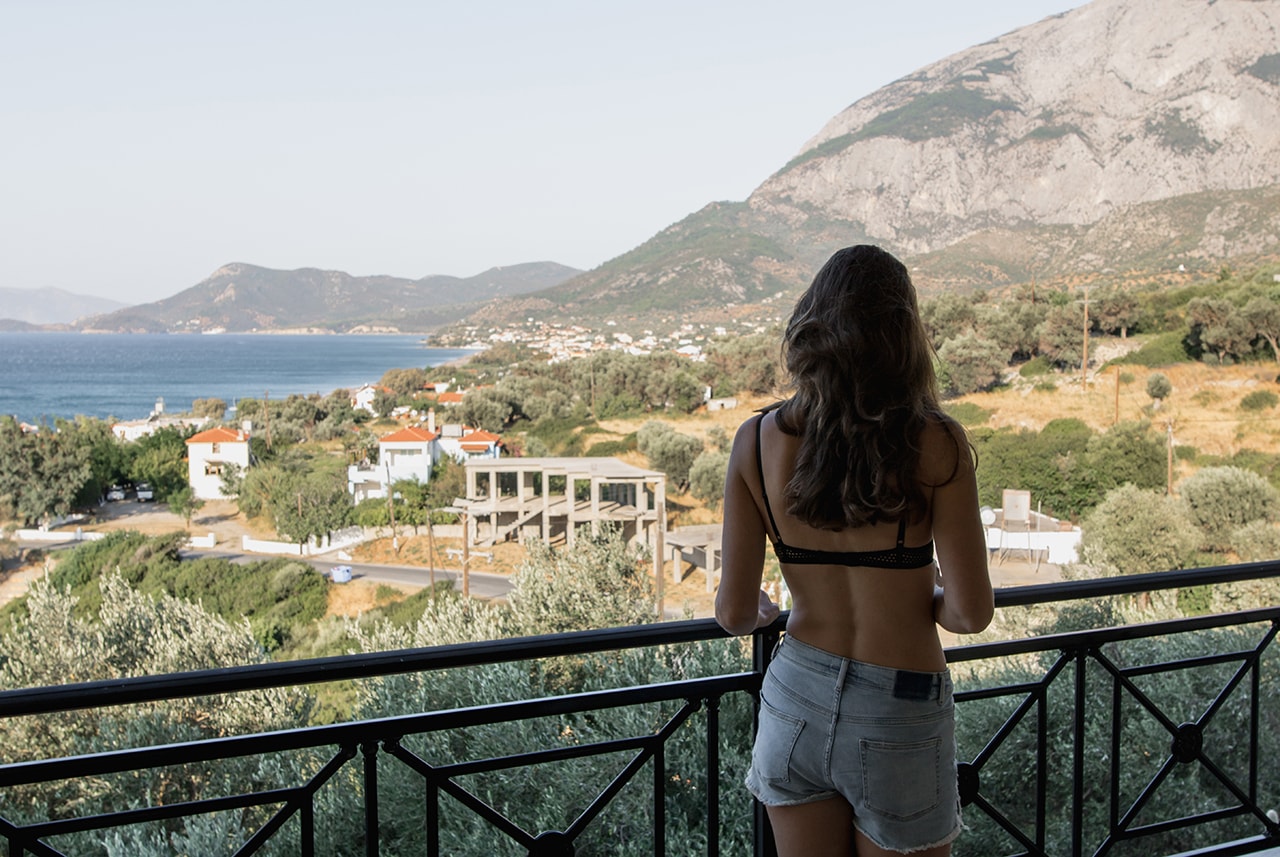 Beaches Samos Greece; Balos
Balos beach is beautifully situated and was one of our favourite beaches on Samos. It's very quiet, we can count the number of people on one hand. Remco and I liked it here very much because much possibilities to hide in various places in one of the many small coves between the huge rocks.
Definitely nude swimmers here too. Beach is long and consists of small and large stones. What we love is the sea is making music as it crushes the stones with every wave. Such a lovely sound. Some restaurants here at Balos beach too.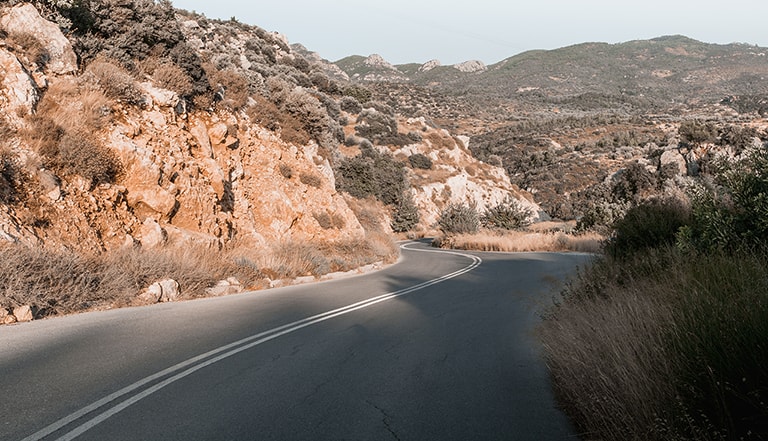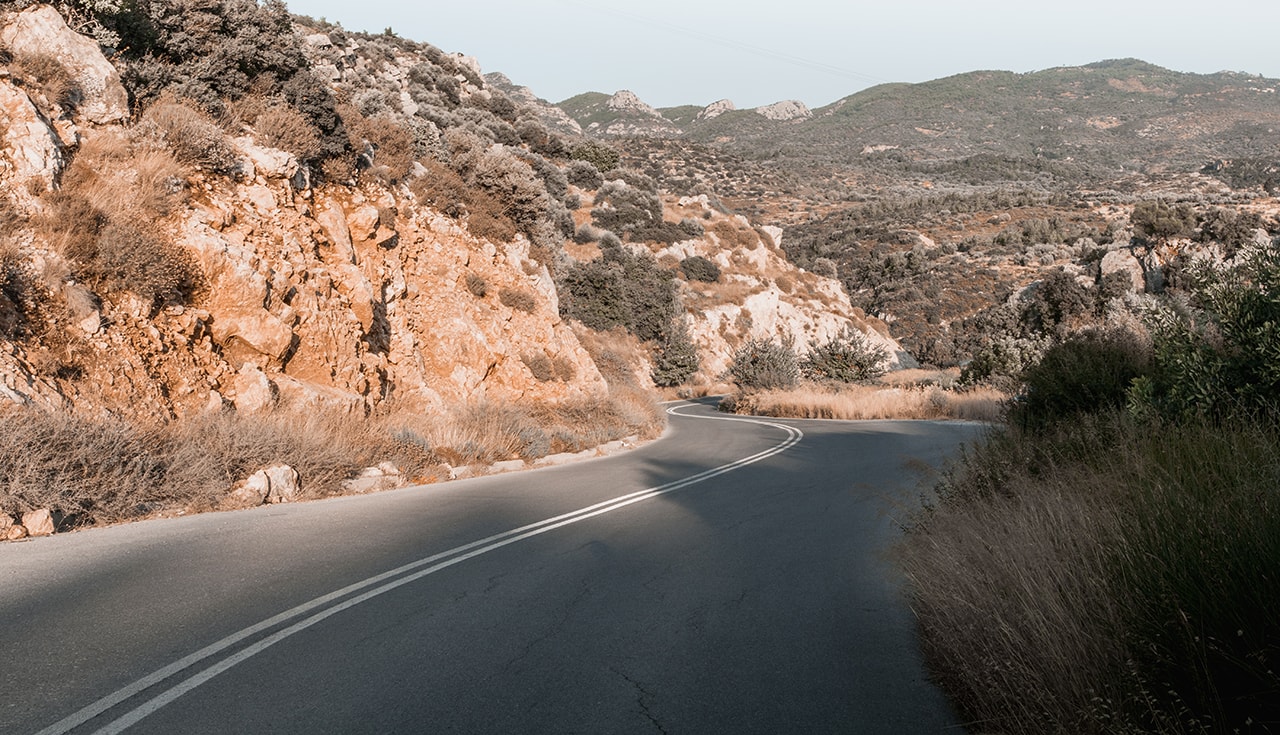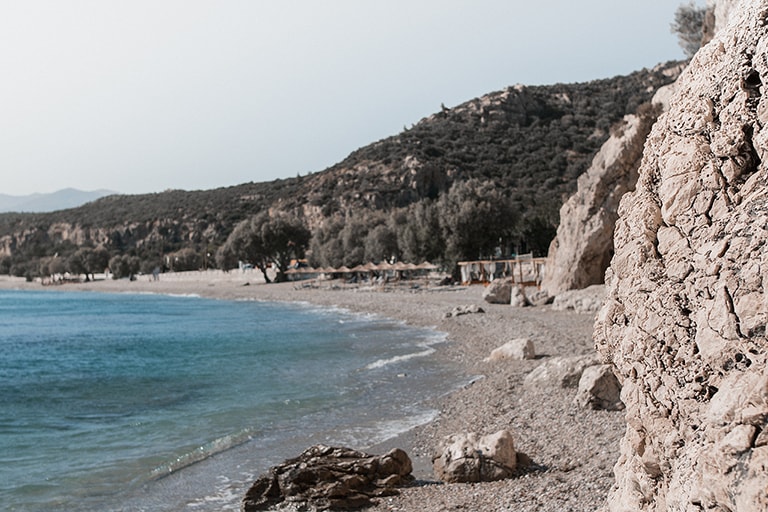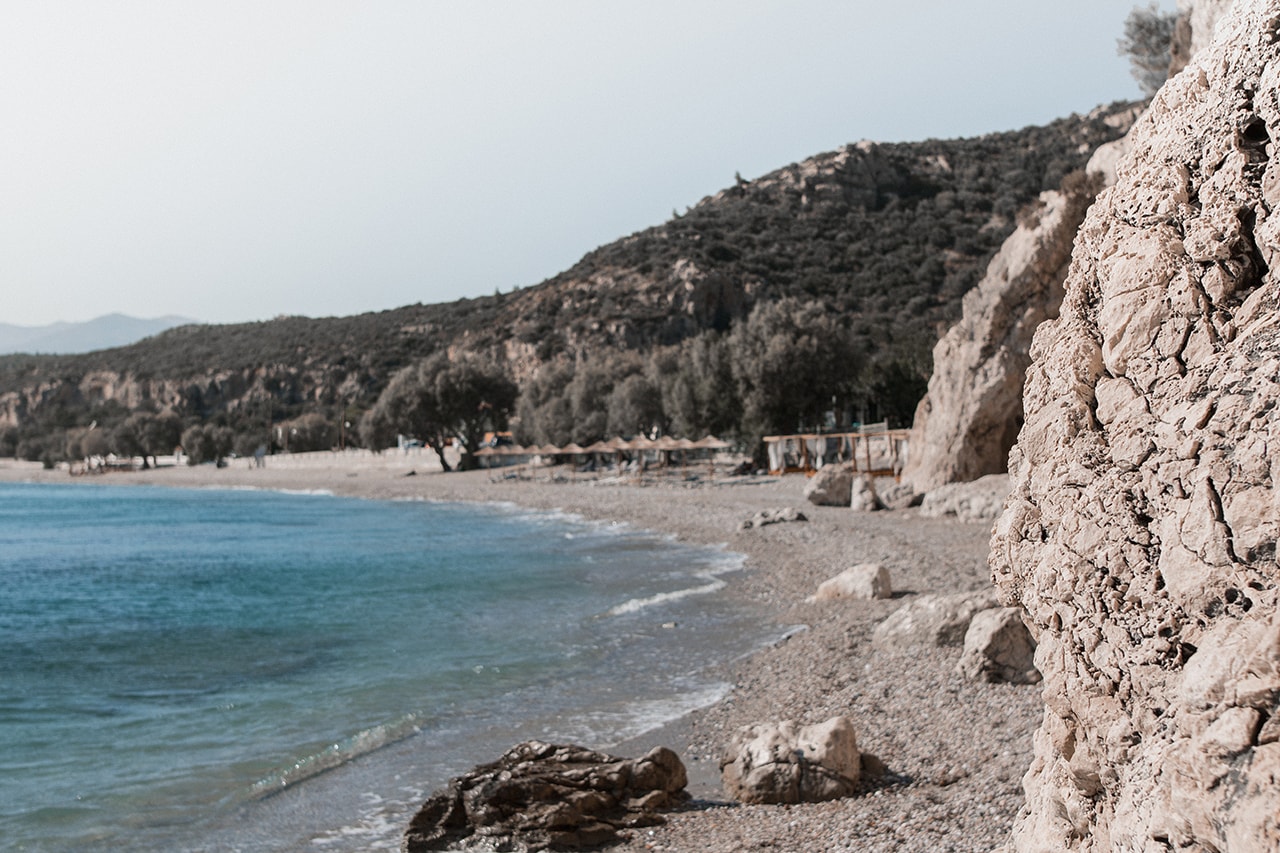 Beaches Samos Greece; Kaladakia
Must-see on Samos Greece is visiting the cave at Kaladakia beach. From Koumeika to Marathakampos you drive 300 meters after the intersection to Balos, follow the signs to hotel Mandilada.
Stay left until you reach a large parking lot below at the beach. Driving the road down to Kaladakia beach is very steep, so it can be a challenge to go there.
Kaladakia beach is small, quite touristy and expensive, renting a beach bed costs €6,-. This is probably because the hotel runs the beach. We don't want one and just lie down on our towel. Besides, we only visit Kaladakia beach because of the cave, which you can find on your left at the end of the beach.
You can reach the cave by swimming through the sea or by walking from the beach. Go there in the afternoon on a sunny day, the sun shines into the cave and it colors everything amazingly blue-green. Seawater is quite cold here and it is deep, so be careful. Swimming in the cave is certainly worth it.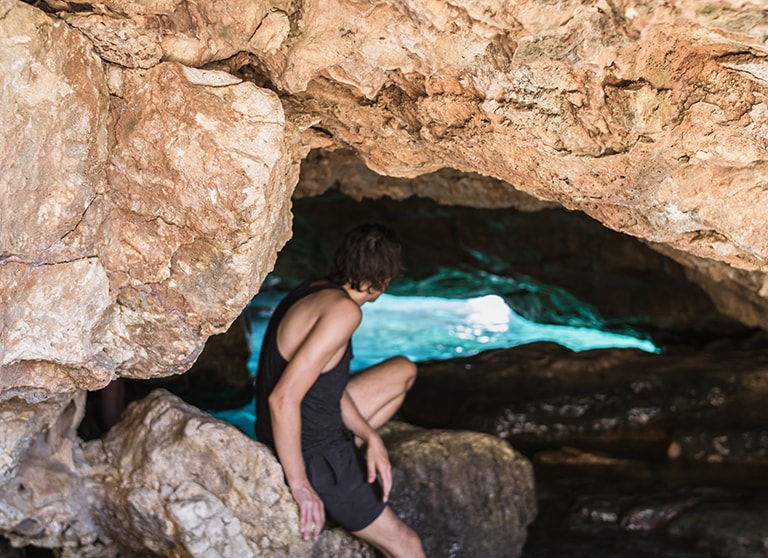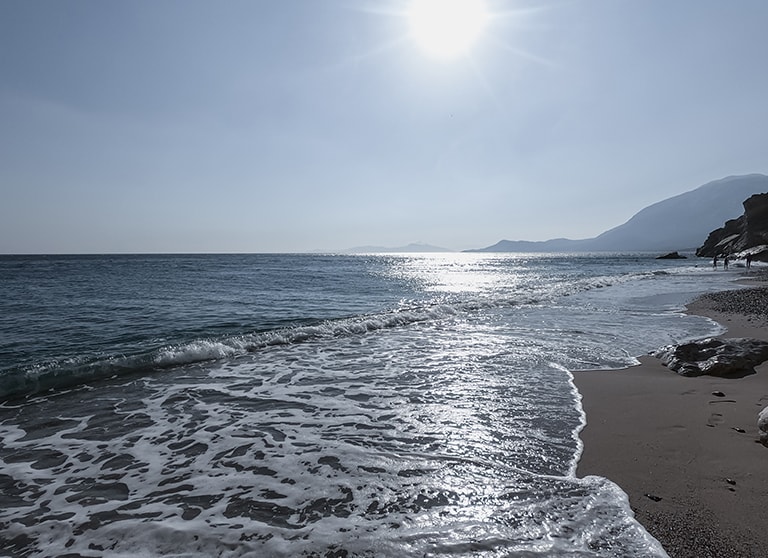 Beaches Samos Greece; Tripidi
Tripidi beach was the closest beach to our apartment. Cute small bay hidden among the rocks and covered with pebbles. Ten minutes walking distance to reach the bay. To have the possibility to swim close to you stay is always an advantage. Tripidi is wonderfully quiet and relaxing. Walk down the stairs from the road and lay down on one of the beds. Stylish wooden furniture like chairs and tables are shining on this beach.
Restaurant ''Chrisopetro'' is running this bay, situated on top of a rock with sea view. The son of the owner of our apartment runs this restaurant. Food is delicious. In fact; food is always tasty on the Greek islands. Not a touristy place, that's what we prefer. Lunch cards are available on the beach, but we haven't seen any service. Never had to pay for the beds too. However, I assume that will be different in high season. Normally you pay €2,50 for a beach bed. Greek salad costs around €6,-.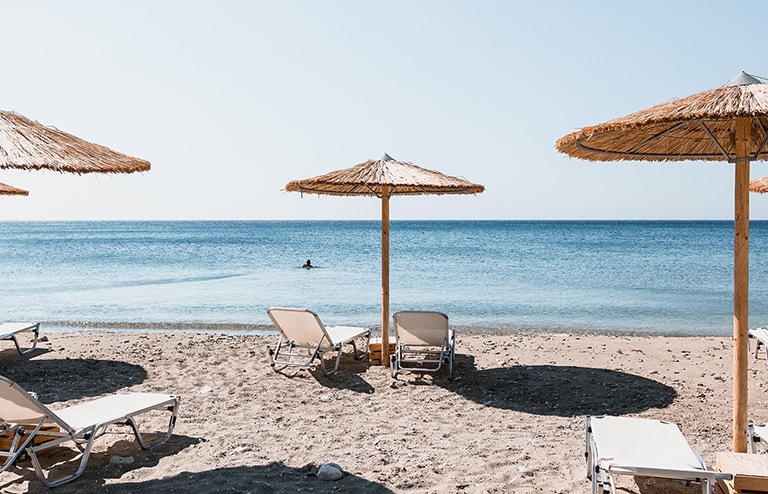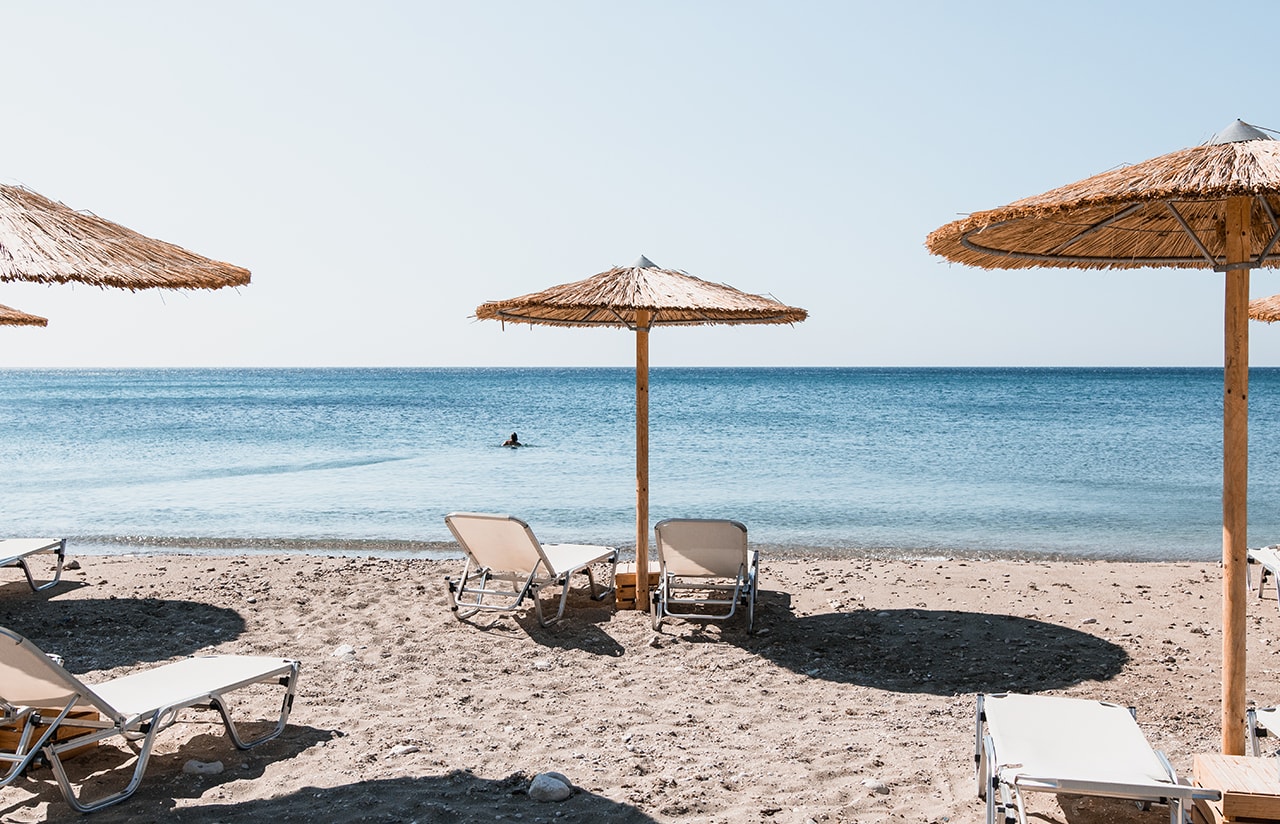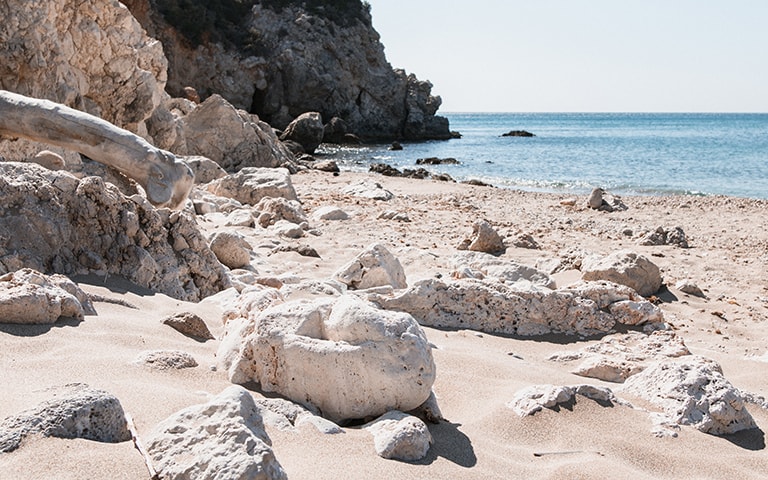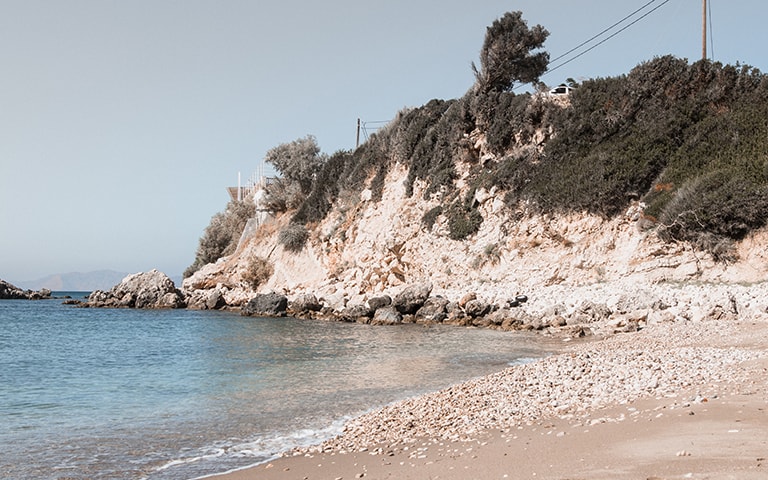 Beaches Samos Greece; Votsalakia
Marathokampos beach, also known as Votsalakia, is one of the most popular ones in Samos. Lively beach about three kilometers long and is actually an extension of the Marathokampos beach. Votsalakia, which means pebbles, is located three kilometers from the village Marathakampos.
The beach is set against the mountainous inland of Samos. Here you find many taverns, supermarkets, tourist shops and terraces. Although it is touristy here, we enjoy the atmosphere. Settle on the beach with your feet in the sand and have a drink. In September, it's very quiet just like on other Greek islands, though in high season I expect the place more crowded.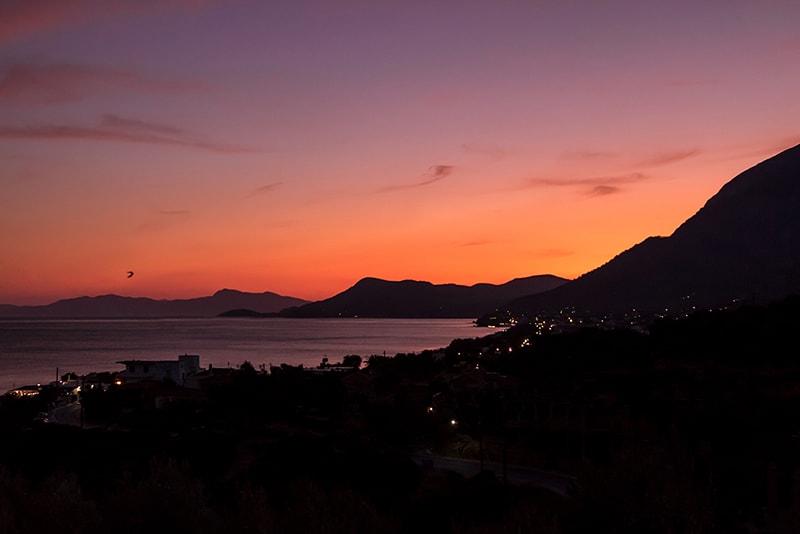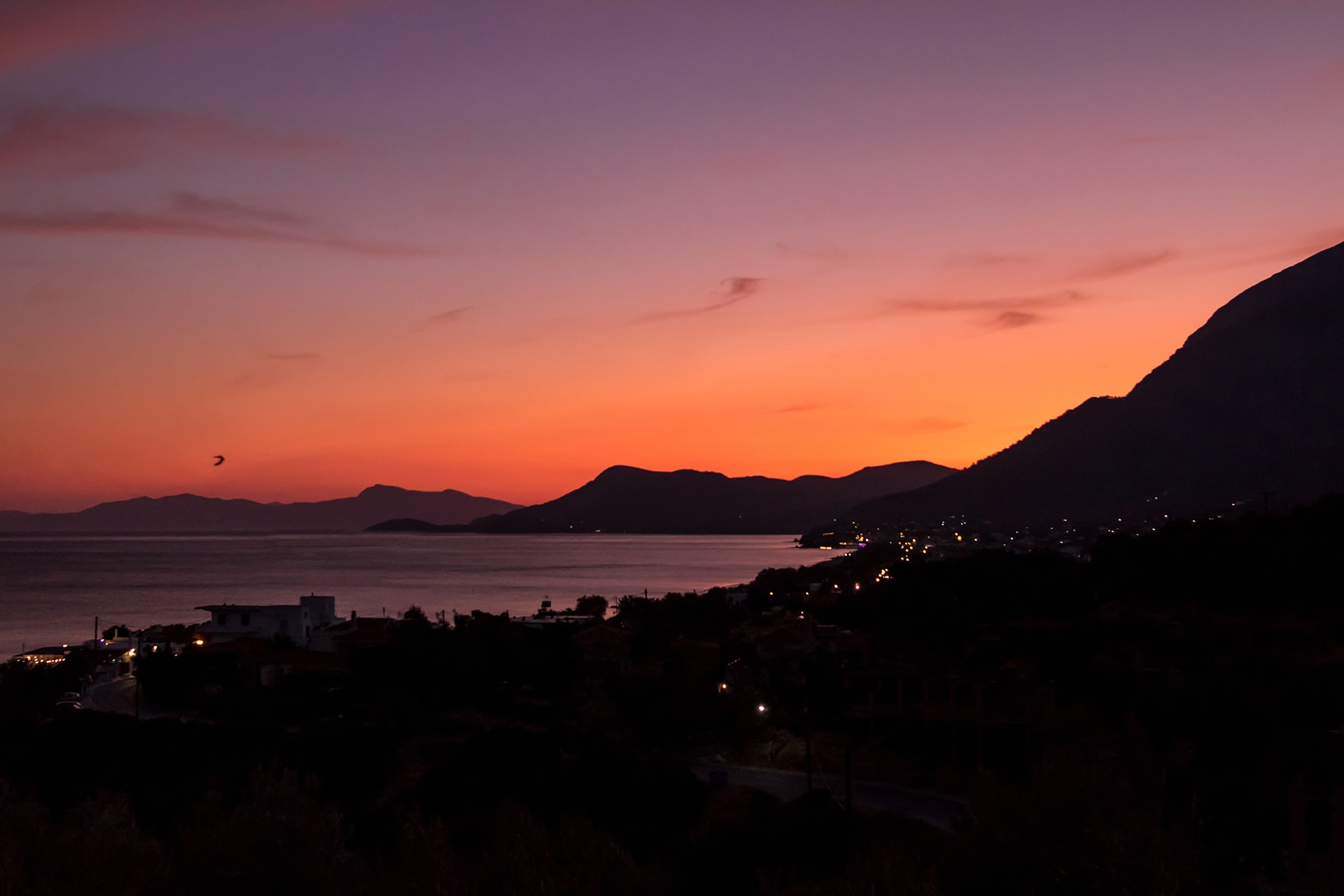 Beaches Samos Greece; Psili Ammos
Few kilometers before Limnionas driving from Marathokampos you will find the beautiful and popular beach Psili Ammos. Beautifully situated against the Kerkis mountain where pine trees are growing all the way to the long sandy beach.
Beach beds can be rented. Water gradually gets deeper, perfect for families. Please note, there is another Psili Ammos on Samos Greece in the southeast coast near Pythagorion.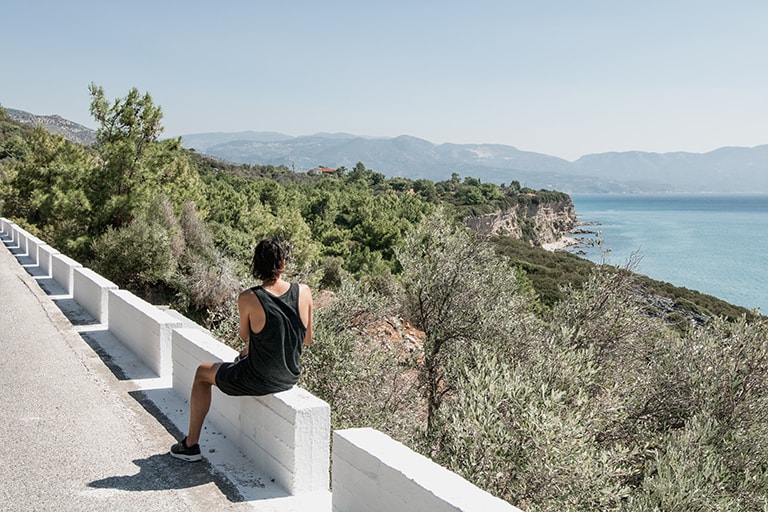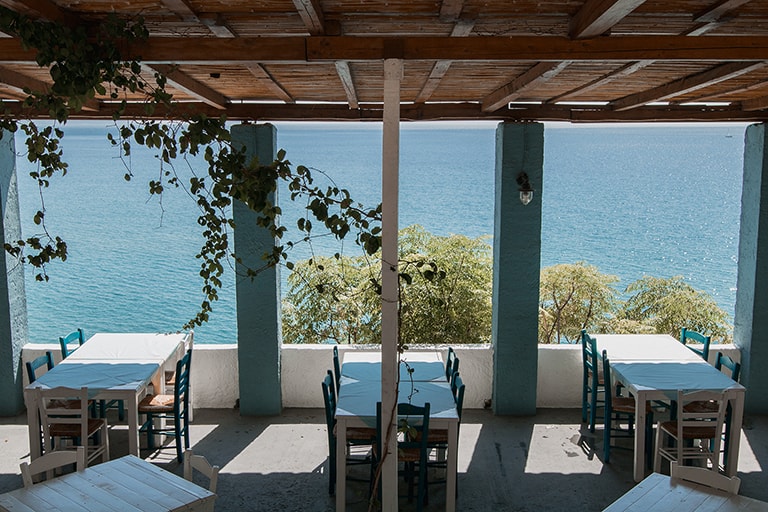 Beaches Samos Greece; Limnionas
Limnionas beach is popular and situated about six kilometers from Votsalakia. Lovely sandy beach with all kinds of terraces surrounded by hills and mountains. Few hotels are situated behind the beach.
Service is amazing. Perfect place to settle for an afternoon. However, this beach has not an idyllic atmosphere. Like many places you pay €2,50 for a beach bed and around €12, – for two delicious salads.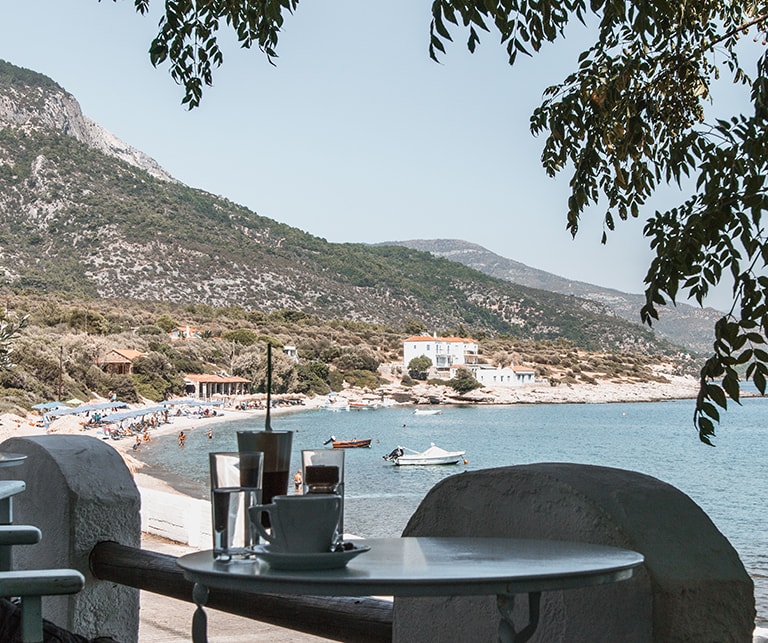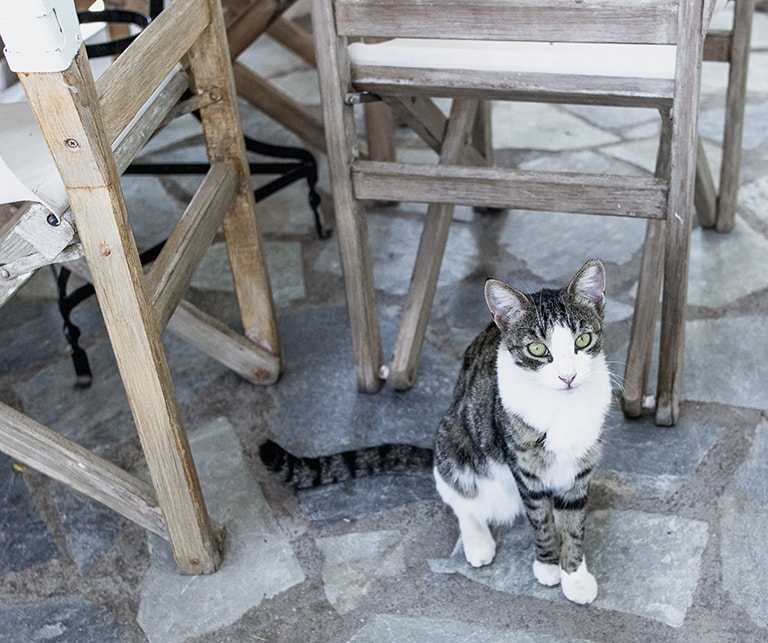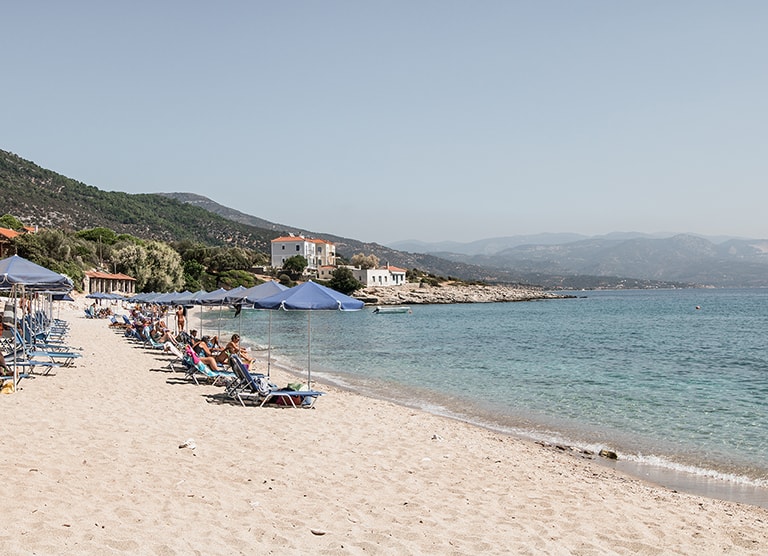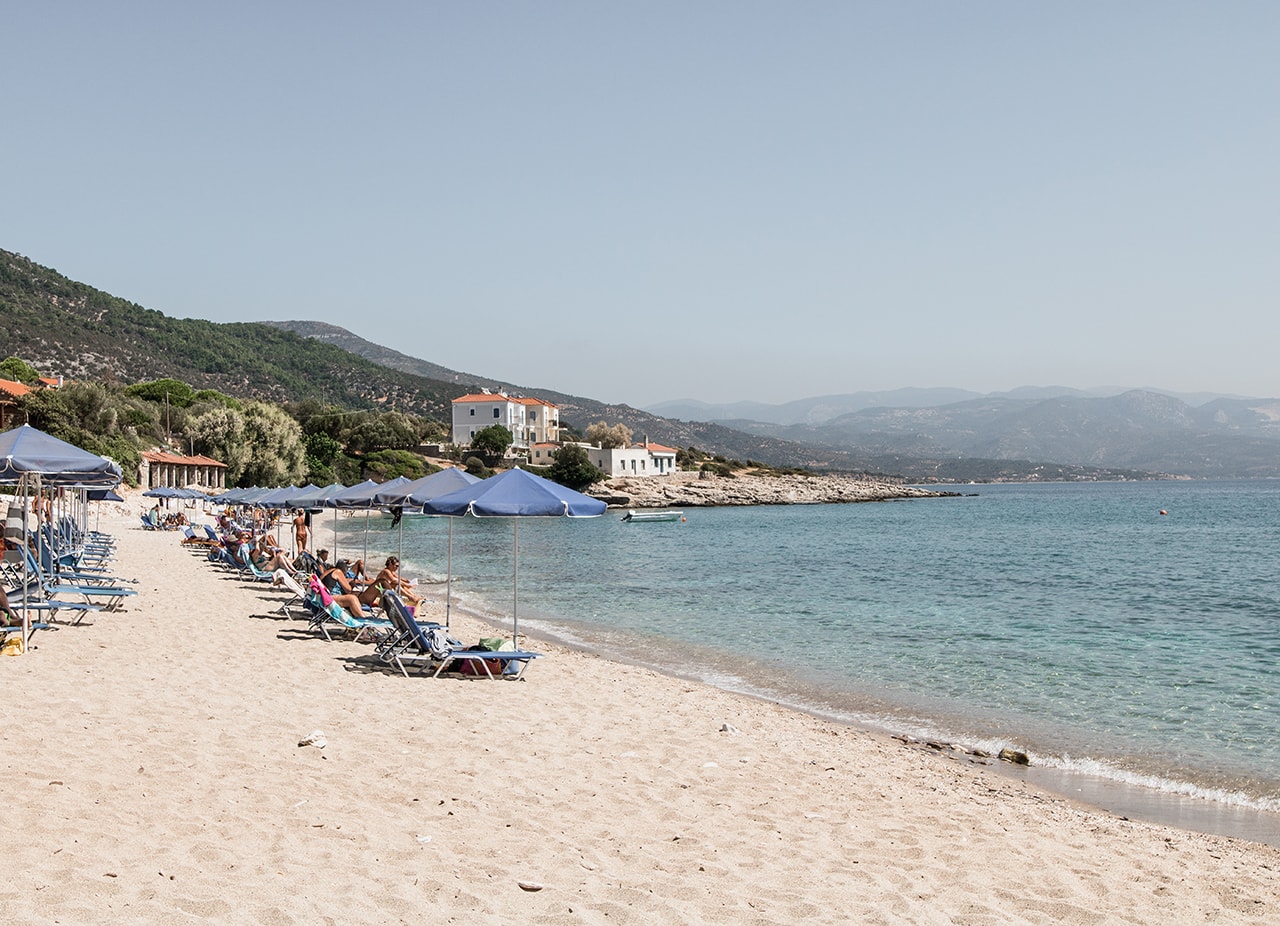 Monday February 17, 2020