Asian Brussels sprouts with rice
Tuesday September 8, 2020 - by Errer
It's almost mid September and summer seems already a long time ago. Looking outside it seems autumn is already coming. On the one hand a bit sad, because we really enjoy summer. On the other hand, it also means delicious winter veggies such as pumpkin, kale, and Brussels sprouts. Typical summer dishes are replaced by stews and soups. Brussels sprouts are available since a few weeks and I will not wait cooking with them, because we cannot get enough of these little cabbages. I wanted to prepare something simple with them and I can say this recipe for Asian Brussels sprouts is incredibly easy and quick to make. Full of Asian flavors such as sambal, kecap, garlic and chili.
People often prepare Brussels sprouts in boiling water, but you can do so much more with it such as stir-fry, in a stew or in the oven. Choose seasoning whatever you like, everything is possible. From Italian to Asian herbs and spices. Kids often don't like Brussels sprouts, but you can easily 'hide' them in your dish. Did you know you have to boil them in plenty of water? That's because Vitamin C is best preserved that way. Something we didn't know, because to maintain vitamins in most vegetables is to cook them in little as possible amount of water.
Are Brussels sprouts healthy?
Yes, they definitily are healthy and packed with vitamins. They contain a lot of fibers, folic acid, magnesium and Vitamin K. And did you know Brussels sprouts contain even more Vitamin C than oranges? So don't wait any longer and eat them a lot this season! Incidentally, they can cause flatulence, which you may be sensitive to.
Ingredients Brussels spouts with rice
Brussels sprouts, 600 grams
Brown rice, 90 grams (less carbs)
Peanuts, unroasted and unsalted, 2 hands full
Red onion, 2 pieces, peeled and diced
Garlic, 2 cloves
Chili flakes, half teaspoon. Add to taste.
Kecap manis / sweet soy sauce, 1 tablespoon
Sambal, as a side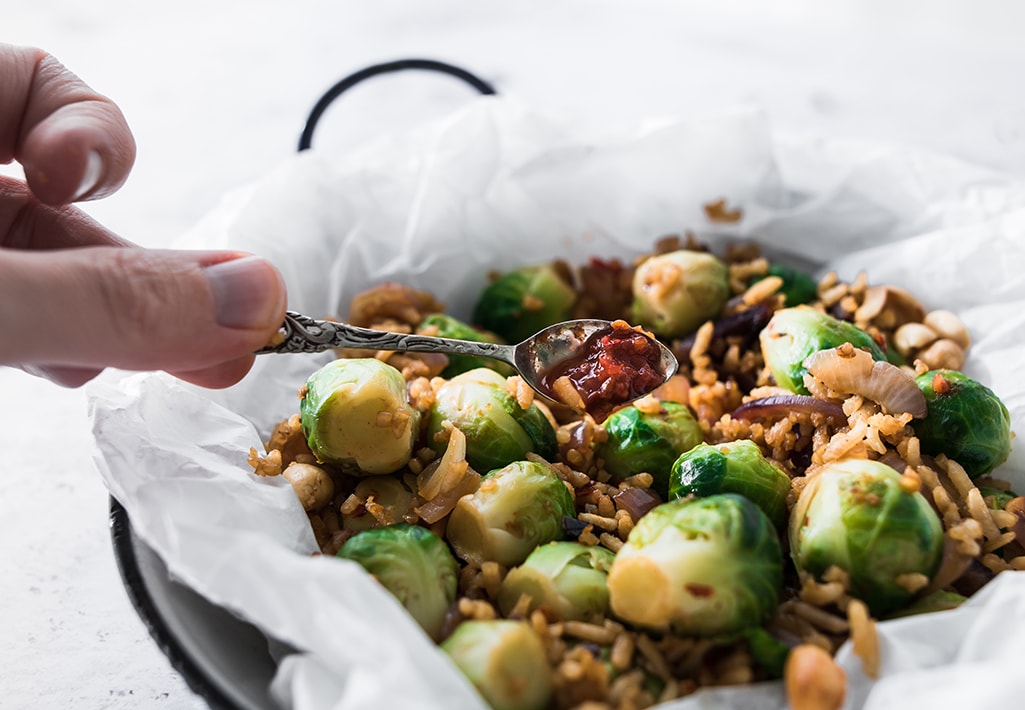 Asian Brussels sprouts recipe
Cut bottoms of stems and remove the outside leaves off the Brussels sprouts. Rinse and cook them al dente in about 8 minutes. Decide for yourself how hard or soft you want to eat them. Taste while cooking and drain at desired hardness. However, cook them not for too long.
Cook the rice according to packaging.
Meanwhile, roast the peanuts in a frying pan with a teaspoon of olive oil.
Heat a little olive oil in a wok and fry the red onions until translucent.
Add the chili flakes and squeeze the garlic above the wok while stirring.
After another minute add the cooked rice and Brussels sprouts and toss well.
Finally add the kecap and give it another toss until everything is warmed up.
Bring Asian Brussels sprouts to taste with sambal, pepper and salt if you wish.
Serve half an avocado per person on top.
Prepare scrambled tofu instead of roasted peanuts.
Vegan bacon is also a delicious combination with Brussels sprouts.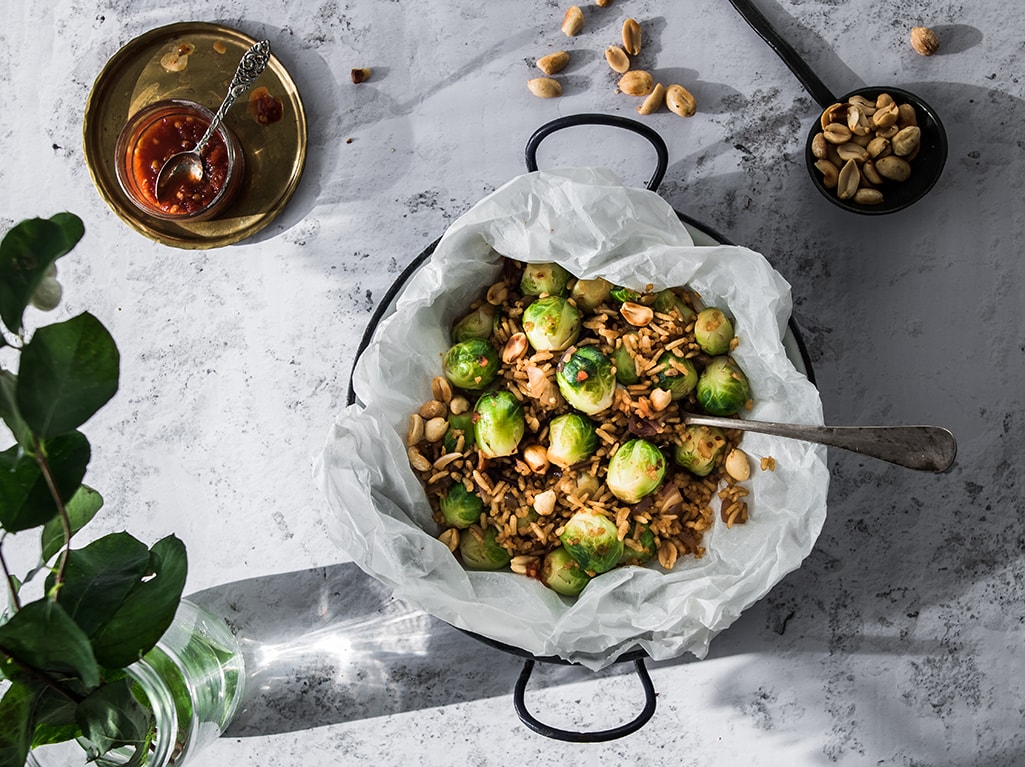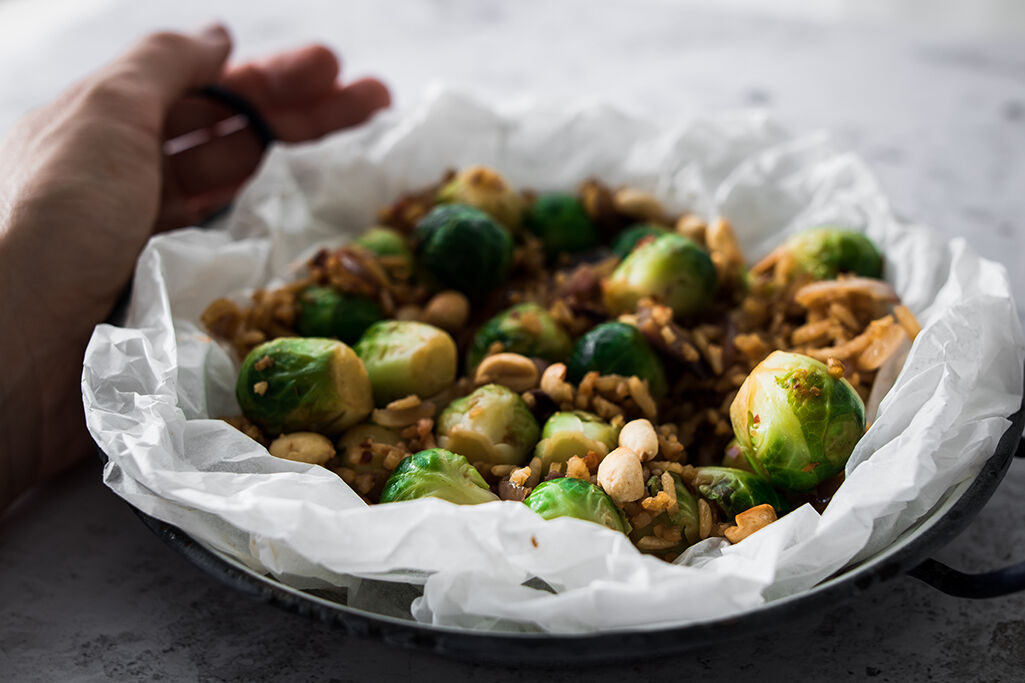 Did you prepare this recipe? Let us know on Instagram. Share it with us using #ERRERFOOD or tag us in your post. We love that! ♥