Asian wok recipe with quinoa
Thursday December 19, 2019 - by Errer
Asian food is always delicious! Lots of vegetables and bursting with flavor, colors and aromas. You can find all these elements in this Asian wok recipe. We served the sauce packed with veggies with quinoa, which is also super healthy. Coconut milk, lime, pepper, soy sauce, garlic, curry powder, ginger and coriander do their work and provide the yummy taste.
The veggies used in this wok recipe are sugar snap peas, red pointed pepper and bok choy. Also, we added plant based chicken pieces for the proteins and because we simply like it. This Asian wok recipe is very easy to prepare. Chopping the veggies takes most of your time. Een if you don't have the time to do this, you can buy veggies which are already chopped for you. What a luxury, right?!
Quinoa, 150 grams
Vivera plant based chicken pieces
Bok choy, 3 pieces, cut the leaves from the stalks, keep seperated and cut the stalks into pieces
Red pointed pepper, 1 piece, chopped
Sugar snap peas, 200 grams
Red onion, 1 piece, diced
Coconut milk, approximately 300 ml
Soy sauce, 1 tablespoon
Half a lime
Garlic, 3 cloves, minced
Fresh ginger, 3 cm, grated
Chili pepper, choose level of heat by yourself, minced
Handful of fresh coriander, chopped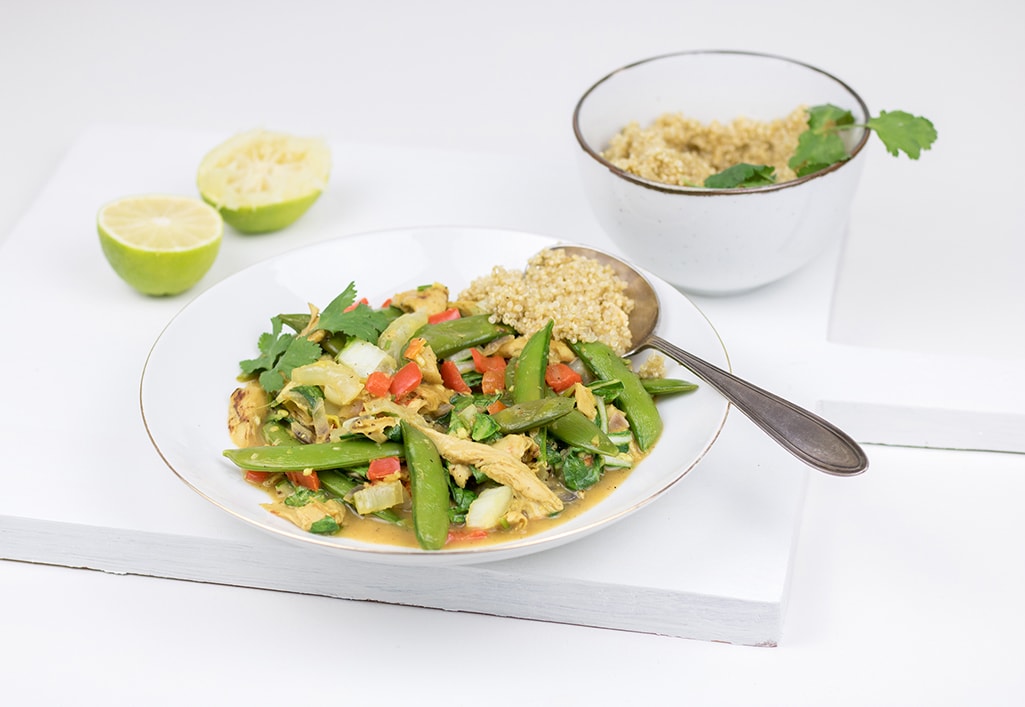 Preperation Asian wok recipe
Prepare the quinoa according to the package.
Put olive oil into a large skillet or wok. Warm up over medium high heat. Add the plant based Vivera pieces and fry for a few minutes. Add the onion and chili pepper and again fry for a few minutes until onion is translucent. Add the garlic, ginger and curry powder. Cook and stir for a minute and add the sugar snap peas and red pointed pepper. Cook and stir until vegetables are tender and add the bolk choy (the pieces stalks).
Lastly add the chopped bok choy leaves and the coconut milk and stir for about six minutes. Squeeze the lime above the wok and add the soy sauce and coriander. Stir and ready until heated.
Serve the sauce with the quinoa and sprinkle the Asian wok with fresh coriander leaves.
Delicious with cassava krupuk (in Dutch kroepoek)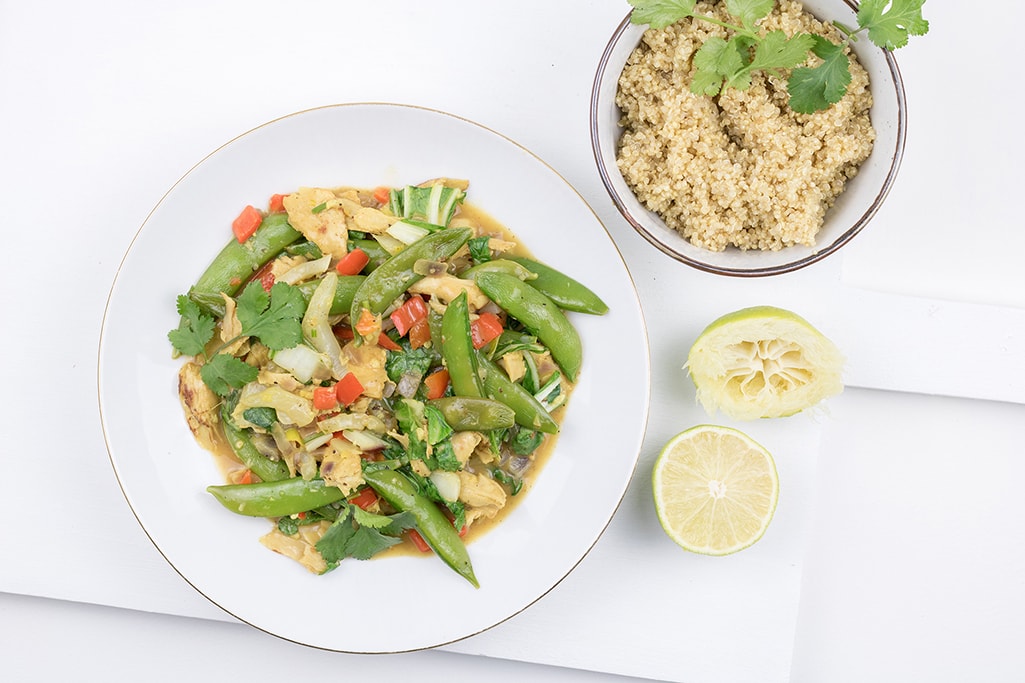 Did you prepare this recipe? Let us know on Instagram. Share it with us using #ERRERFOOD or tag us in your post. We love that! ♥