Sunday September 20, 2020 - by Errer
Super delicious, these oven roasted maple balsamic vinegar carrots! Do you also have certain vegetables always in stock? Such as bell pepper, onion, cucumber and tomatoes? In our home, carrots also belong in that list. They are very versatile and perfect to combine in almost every dish. We often use them raw in a salad or in a stir fry meal. Or just eat them as a healthy snack. But roasted carrots are also freakin delicious. I am sure everyone will like it, both children and adults, no carrot will be untouched. And the great thing is that this recipe is simple and easy!
Caramelized roasted carrots
In this recipe I marinate the carrots with balsamic vinegar and maple syrup, but you can also marinate the carrots with just olive oil and herbs of your choice. The maple syrup gives them sweetness and the balsamic vinegar provides a pleasant bitter taste. Caramelized carrots go with everything and can be served anytime. Just on a weekday, but also at a Christmas dinner. To make the dish perfect I made a simple sauce consisting of yogurt mayonnaise and balsamic vinegar to serve with the carrots.
Carrots, 1 bunch
White onion, 2 pieces, sliced in four wedges
Organic maple syrup, 2 tablespoons
Balsamic vinegar, 1 tablespoon
Olive oil, 1 tablespoon
Garlic, 3 cloves, peeled and halved
Optional: garnish with parsley and sea salt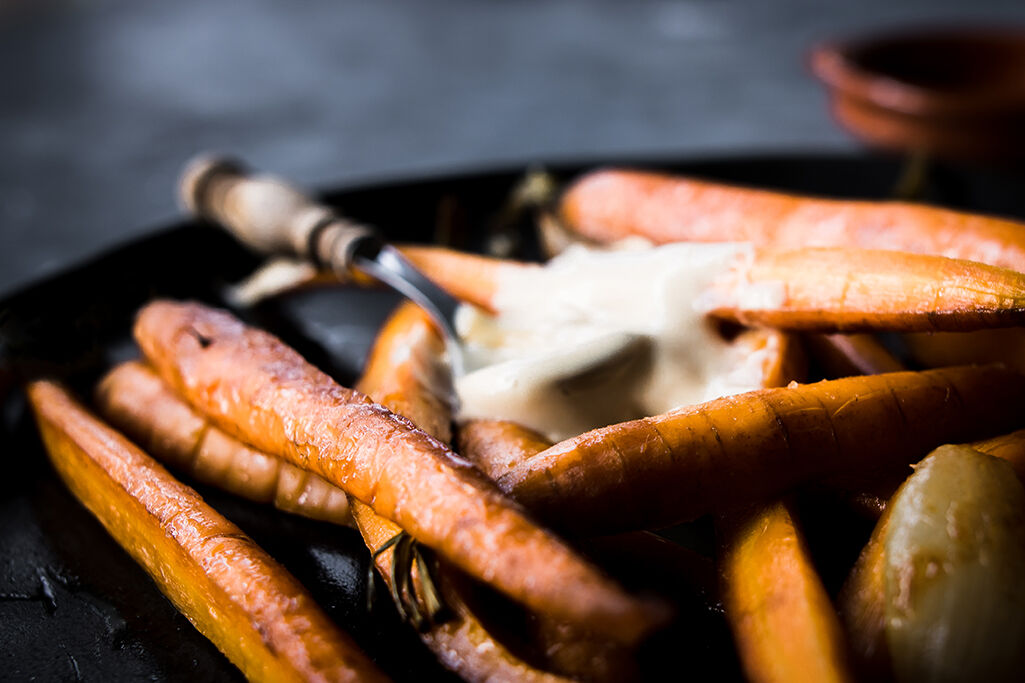 Recipe balsamic vinegar carrots
Preheat the oven to 200 degrees Celsius.
Remove the green from the carrots, tops trimmed to 2 cm. The green little tops just look festive when serving them.
Rinse the carrots and dry them well with a kitchen towel. Peeling is not necessary.
Slice the carrots length-wise. I also had very thick ones that I sliced into quarters. Make sure all the carrots are roughly the same size.
Use a large baking dish (or two) or line an oven tray with parchment paper and place the carrots, onion and garlic. I personally think it's better to put them on a baking tray, because then you can separate the vegetables easier.
Prepare the marinade by mixing the balsamic vinegar, maple syrup, olive oil and pour this over the carrots. Just toss with your hands.
Make sure the carrots don't overlap each other.
Bake in the oven for about 45 minutes. Our oven is not that great, maybe your oven will roast the balsamic carrots in just 30 minutes.
Turn them over halfway through and make sure the edges of the carrots caramelize, but don't let them burn. Use a fork to test if they are soft inside. Serve with balsamic mayonnaise, fresh parsley and sea salt if desired.
If you want you can pre-cook the carrots for 3 minutes to make them softer before roasting, but it's not necessary.
Make an easy dipping sauce with mayonnaise and balsamic vinegar.
The carrots are perfect to serve with roasted potato wedges or with couscous for example.
Easily to combine with Brussels sprouts.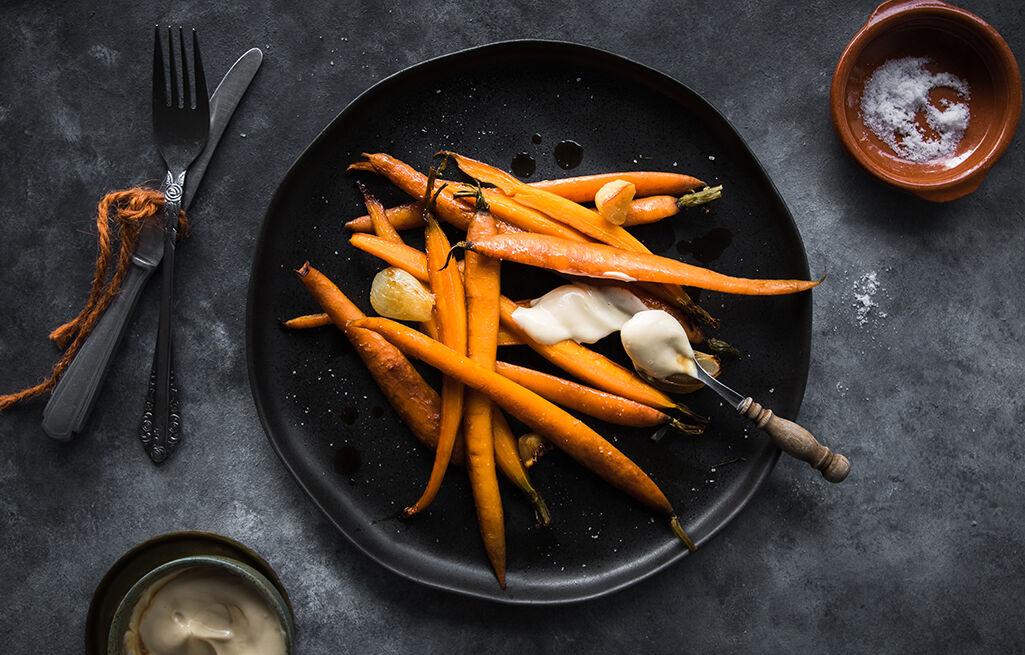 Did you prepare this recipe? Let us know on Instagram. Share it with us using #ERRERFOOD or tag us in your post. We love that! ♥