Bami recipe with scrambled tofu
Sunday July 19, 2020 - by Errer
When I was young my mother always cooked bami, spaghetti or macaroni on Saturdays. Unfortunately, she always cooked bami with meat in it, but my mother did not know otherwise. Our vegan bami recipe includes scrambled tofu instead of meat or egg. Remco and I used to add stir-fried egg into our bami when we still ate eggs. And I must say, the scrambled tofu goes perfectly together with the noodles. In addition, I add lots of vegetables such as carrot, leek, bell pepper and garden peas. Usually, I add proportionately more veggies than carbs in our meals, just like in this recipe. The bami seasoning is very simple, just add together all the spices among which cumin, turmeric and ginger.
Bami (also called bamie or bahmi) comes originally from the Chinese cuisine, where "ba" (or "bak"') means meat and "mie" is the name for noodles made from wheat. Bak-mie also means "wheat noodles suitable for meat dishes" (source Wikipedia). In the Netherlands we basically mean with bami; mie with meat, shrimps or eggs with vegetables. Mie are actually just thick noodles and are being used for bami dishes. For this bami recipe I use Fair trade noodles made from brown rice (50%), rice (30%), rice starches (15%) and tapioca starch. In contrast to the wheat noodles, these rice noodles are much healthier because they contain more fibers. Also, they are gluten-free and ready in just two minutes.
Cassava crackers are incredibly tasty together with the noodles. Just scoop up the noodles and you don't even need a fork anymore. Recently I discovered vegan krupuk from Conimex. Krupuk, kerupuk or kroepoek (Dutch) is normally made from shrimps, but these are plant-based so that's very good news. Furthermore, eating noodles naturally include peanut sauce which you can easily make yourself. Just make sure to buy peanut butter from 100% peanuts without palm oil. Simply heat the peanut butter with a splash of water and season it further with sambal and kecap manis, but that is not even necessary.
Fairtrade brown rice noodles, 200 grams
Red bell pepper, chopped
Leek, washed and cut
Bean sprouts, 200 grams, washed
Carrot, 2 pieces, finely chopped
Tofu, 400 grams, drained
Frozen garden peas, 100 grams
Garlic, 3 cloves
Curry powder, 1 teaspoon
Kecap manis, 2 tablespoons
Soy sauce, 2 tablespoons
Cassava crackers
Coriander powder, 1 teaspoon
Ginger powder, 1 teaspoon
Cumin, 1 teaspoon
Turmeric, 1 teaspoon
Chili powder, ¼ teaspoon
If you don't use fresh garlic, add 1 teaspoon of garlic powder instead
100% peanut butter, about 4 tablespoons
Splash of water
Kecap manis, 1 tablespoon
Sambal, 1 teaspoon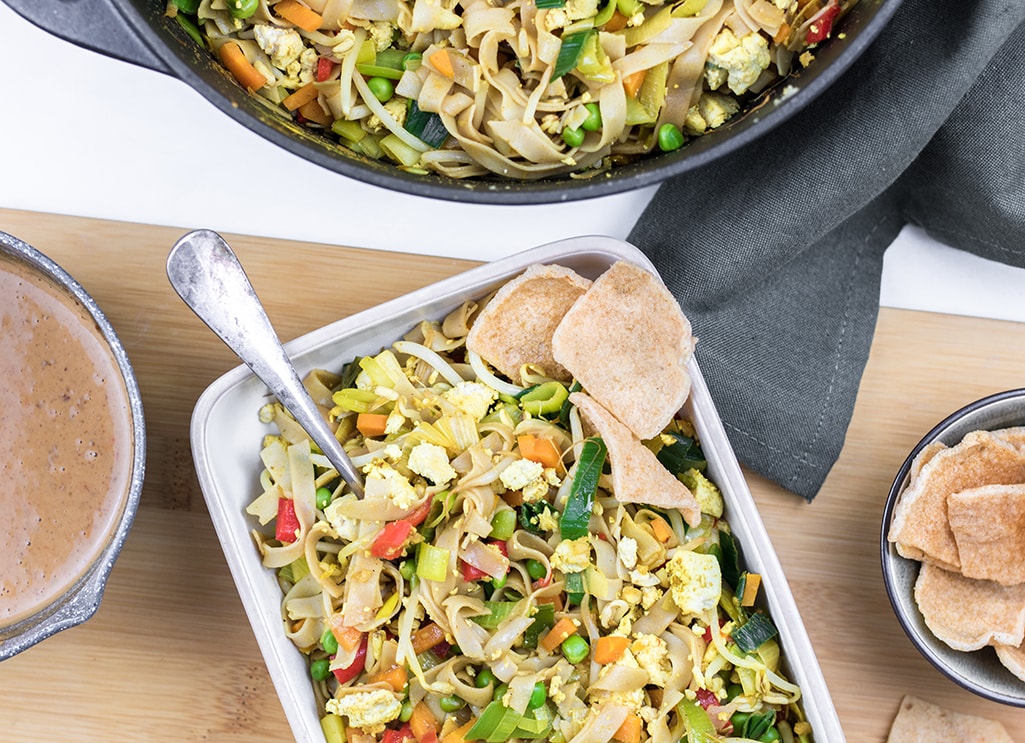 First, cook the noodles in a large amount of boiling water and follow the instructions on the package. These noodles are ready within 2 minutes, stay alert while cooking. Pull apart the noodles with two forks while cooking. Then rinse the noodles with cold water and drain. Mix in a dash of olive oil to prevent sticking and set aside.
After the tofu is drained, you can still try to squeeze out as much moisture as possible. Best way to do this is to cut slices first and then place them between a clean kitchen towel and press gently. Heat a tablespoon of olive oil in a skillet and crumble the tofu using your hands. While stir-frying, add a teaspoon of curry powder. Once the moisture disappeared, your scrambled tofu is ready, set aside.
Meanwhile, heat up a tablespoon of olive oil in a wok or casserole. Then add the carrot and bell pepper and squeeze the garlic in the pan. Cook for a few minutes.
Add the spices, leek and garden peas.
After another 4 minutes you add the bean sprouts and the soy sauce.
Lastly, mix in the noodles, tofu and soy sauce. Make sure everything is mixed well. If you want, you can cut or pull the noodles into pieces. This way you can mix everything easier.
In the meantime, mix the peanut butter and a splash of water in a small sauce pan and heat up until smooth. Pour in more water if the sauce is too thick. Stir in the sambal and the kecap manis.
Present the bami on a plate or bowl and serve with the cassava and peanut sauce. If you wish, add some sambal to make it more spicy.
Plant-based chicken pieces or seitan instead of tofu is also very delicious with noodles.
You can stir fry a chili pepper with the veggies for extra spicy bami.
Vary with vegetables you like. For example spring onion, (Chinese or white) cabbage, snow peas, bok choy or even broccoli.
Serve your bami with fresh herbs such as cilantro or flat-leaf parsley.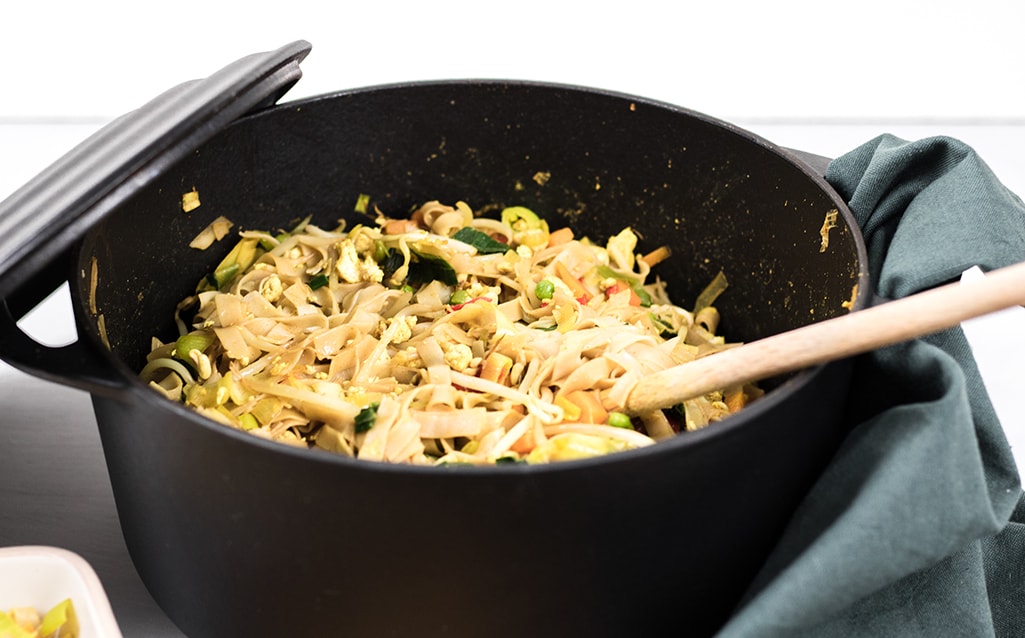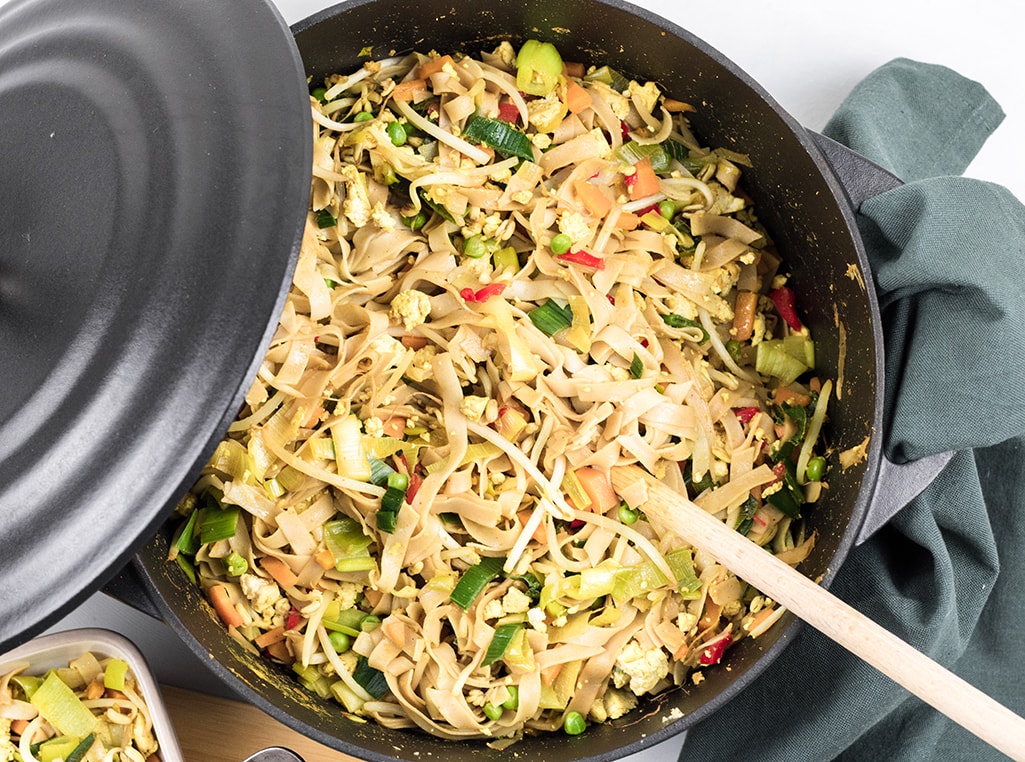 Did you prepare this recipe? Let us know on Instagram. Share it with us using #ERRERFOOD or tag us in your post. We love that! ♥