Saturday July 11, 2020 - by Errer
Our chili sin carne recipe is simply an animal-friendly vegan version of the classic chili con carne. In other words, plant-based without using any meat. This recipe proves once again that eating plant-based doesn't have to be difficult at all. Red kidney beans and chickpeas are packed with proteins and that makes meat totally not necessary. Mexican food is one of our favourites as we always find it very comforting. Previously, we prepared a Mexican lasagna and vegan burritos on our foodblog.
Chili sin carne with chocolate
Extra special in this recipe is the dark chocolate I add in the sauce, which results in a full and deep flavor. While it melts and forms a whole with the chili sin carne you can smell the chocolate rising from the pan. Maybe you are afraid your chili will taste like chocolate. However, when you taste the sauce, it doesn't taste like chocolate at all. As a result, it provides an intense deep flavor and we like it a lot! Just try it, you will love it.
Our recipe for vegan chili sin carne is easy to prepare in large quantities and we usually eat from it for two or even three days. Moreover, the taste will only gets better. It's the ultimate comfort food packed with vegetables and flavor, incredible healthy with only pure ingredients. Besides the kidney beans and chickpeas, I add carrot, celery, bell pepper, onion and corn. To make it a sauce I add passata and tomatoes. You can easily make your own seasoning by combining chili powder, cumin and cinnamon.
Combine tortilla chips or tacos with your chili and eat with your hands. If you want a healthier option, you can use rice or quinoa. When we cook chili we combine it our first day with tortilla chips and the second day with brown rice. Obviously, chips are less healthy, but certainly very tasty. Also, we highly recommend you to make some guacamole, because it's super delicious together with the chili sin carne. Both we love cilantro and it's the perfect combination with chili and guacamole. However, parsley is also possible if you don't like cilantro.
Chickpeas, 1 can 400 grams, rinsed and drained
Red kidney beans, 1 can 400 grams, rinsed and drained
Corn, 1 can 150 grams
White onion, 2 pieces, peeled and diced
Garlic, 3 cloves
Carrot, 2 pieces, chopped
Celery, 2 large (or 3 small) single stalks/ribs, sliced
Red bell pepper, 1,5 piece, chopped
Tomato passata, 1 fles 690 ml
Tomatoes, 2 pieces, chopped
Dark chocolate (vegan), 20 grams, I used 85% cacao
Fresh cilantro
Tortilla chips
Optional: brown rice
Chili powder, 1 level teaspoon, it's not really spicy. Add more if you want it spicier
Cumin, 2 heaped teaspoons
Cinnamon, 1 heaped teaspoon
Pepper and little sea salt
Avocado
Half tomato (remove seeds and moisture)
Garlic, 1 clove
Red onion, minced, half tablespoon
Fresh lemon juice, 1 tablespoon
Fresh cilantro
Pepper and sea salt
Optional: a little bit diced chili pepper or chili powder
Recipe vegan chili sin carne
Put a large wok or casserole on the hob over medium heat and add a teaspoon of olive oil. Firstly, sauté the white onion until soft and translucent. After that, add the bell pepper, carrot and celery pieces.
Squeeze the garlic above the pan and tip in the chili powder, cinnamon and ground cumin. Stir occasionally while cooking for about four minutes.
Add the kidney beans, corn and chickpeas.
Do the same with the passata and the tomato pieces.
Bring to taste with salt and pepper and stir well. After that, add a couple of tablespoons of water and put the lid on the pan. Turn down the heat and let the chili simmer gently for about 15 minutes.
Check the sauce while simmering and make sure the heat is low enough. The sauce may not dry out.
Meanwhile, chop the stalks of the coriander and add this to the vegan chili sin carne sauce.
While the chili is simmering, you can chop the chocolate.
After that, you can prepare the guacamole by putting all ingredients in a food processor. Mix until smooth, scoop into a bowl and set aside.
Lastly, stir in the chocolate.
Finally, serve the vegetarian chili sin carne with the guacamole, tortilla chips and fresh coriander.
You can choose to mix in a meat substitute. For instance, vegetable mince or chopped sausage.
Instead of chili powder you can also add diced chili pepper if you wish. Cook it together with the onion.
Try this recipe for chili sin carne with brown rice or quinoa. It's a perfect side dish and more importantly very nutritious and healthy.
For a bit of freshness, you could drizzle some yogurt or oat fraiche on top of the chili.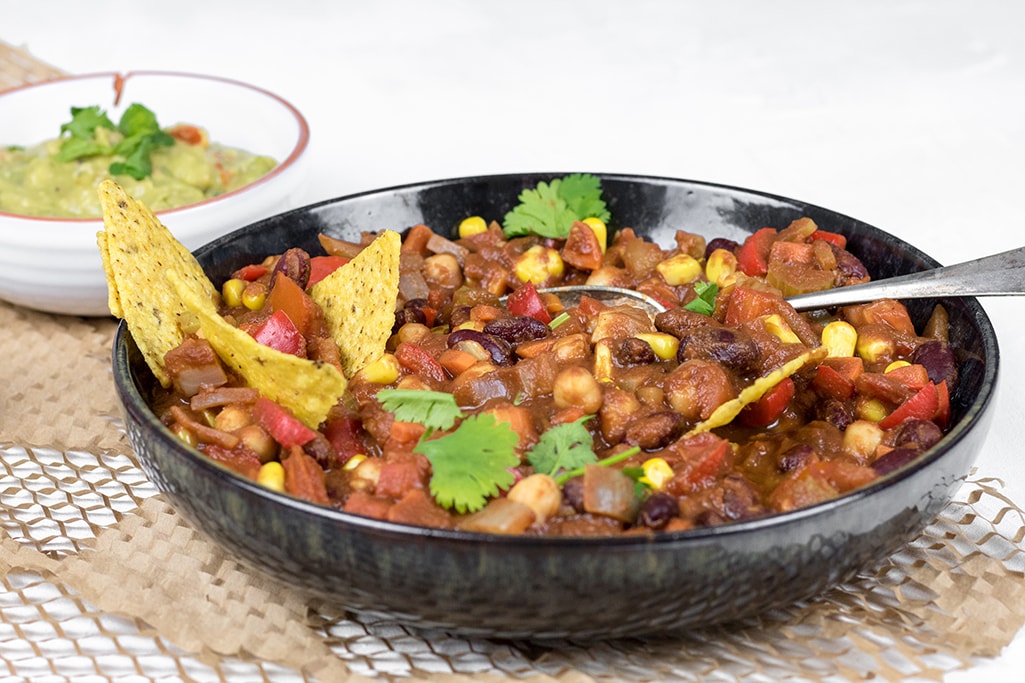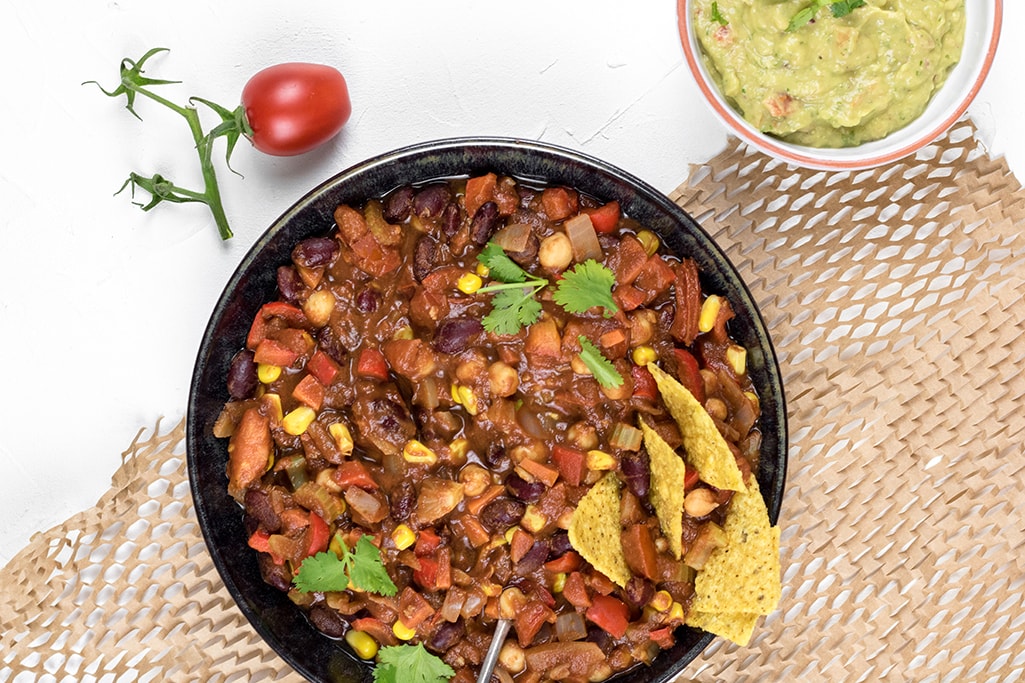 Did you prepare this recipe? Let us know on Instagram. Share it with us using #ERRERFOOD or tag us in your post. We love that! ♥