Sunday May 12, 2019 - by Errer
Coconut rice and beans is a typical side dish in Jamaica. However, the Jamaicans call it also rice with peas. Rice is simply cooked in coconut milk. Since we find it important to eat whole grains as much as we can I used brown rice instead of white rice, it's much more nutritious and full of fibers.
Coconut flavors are very important for the Thai and South Asian kitchen too. We really like the tropical taste of this dish. Onion, garlic and thyme are added to the coconut rice for much more flavor in this dish.
I served this recipe for coconut brown rice with a stew in which I also used coconut milk. But I don't advice you to combine two dishes with coconut milk, because that's an overkill of coconut flavor. Serve the rice with veggie chunks, a curry or a salad. I used Dutch brown beans for this recipe, but kidney beans or pinto beans are perfect too.
Interested in my recipe for Jamaican stew?.
Ingredients coconut rice and beans
Brown rice, 150 grams
Pinto beans, canned 400 grams (or use kidney beans)
Onion, diced
Garlic, 2 cloves, minced
Teaspoon thyme
Coconut milk, 200 ml
Water, 200 ml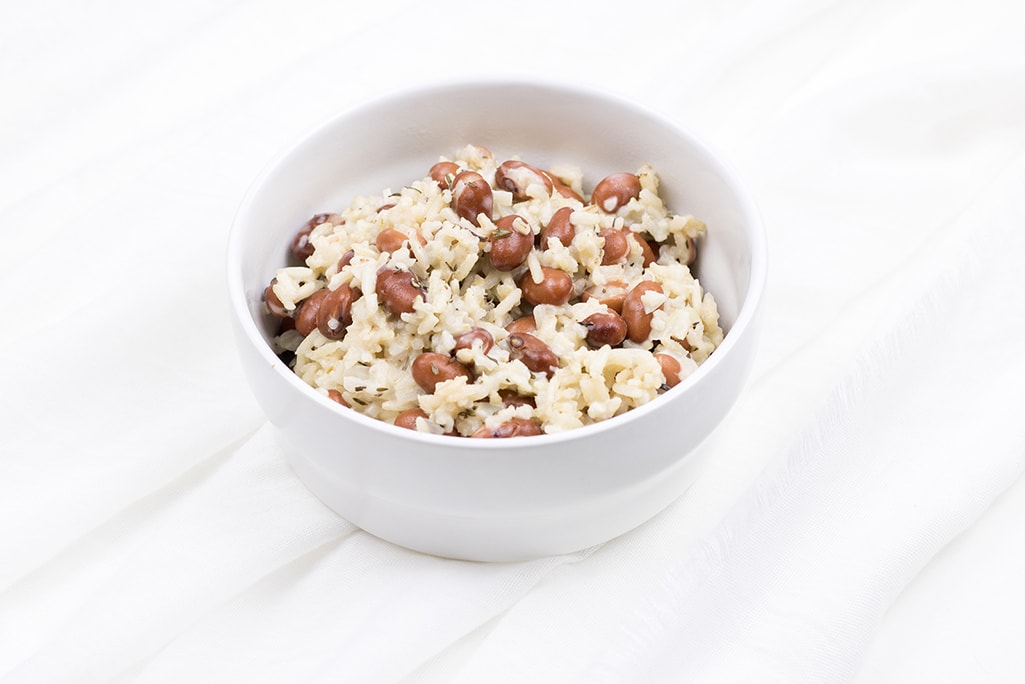 Recipe coconut rice and beans
Drain canned beans in a colander. Remove the thick liquid in which they are packed.
Heat a medium saucepan with some oil and sauté the onions. Add the brown rice, the thyme and the garlic.
Stir and add the coconut milk and 200 ml water. Cook the rice for about 8 minutes until all moisture is absorbed by the rice. It depends which rice you use, read the instructions on the package. Maybe you need to add more water and coconut milk for the rice to be cooked.
At last, add the beans, stir and turn the pan off the heat. Cover with the lid and let the brown coconut rice steam for about 5 minutes. This way the beans will warm up and your tropical dish is ready to eat.
Choose beans you like.
Serve with a fresh salad or grilled veggies.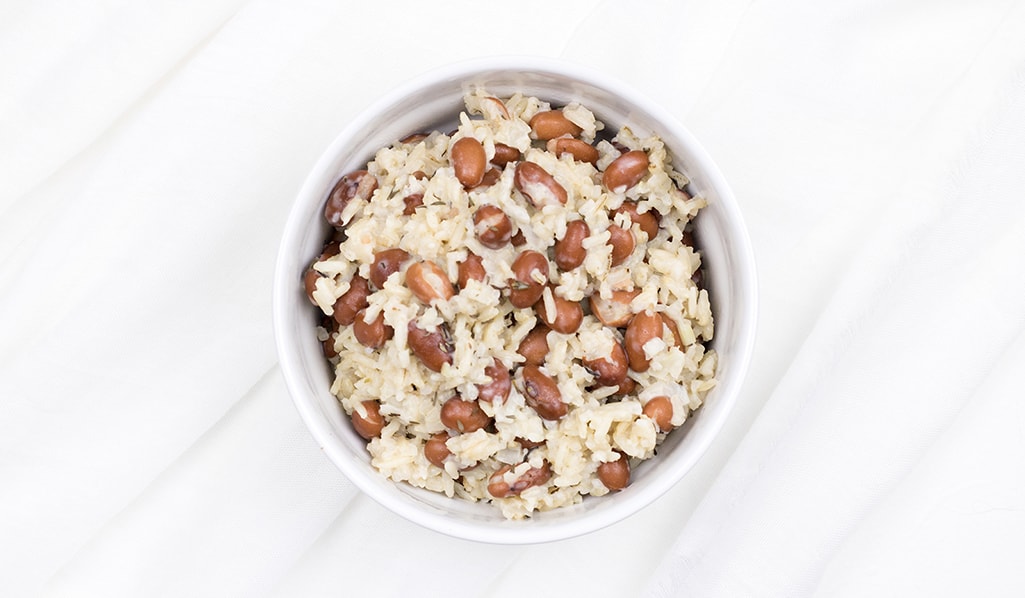 Did you prepare this recipe? Let us know on Instagram. Share it with us using #ERRERFOOD or tag us in your post. We love that! ♥