Wednesday May 1, 2019 - by Errer
While exploring in Jamaica, we tasted some yummy food. For this coconut stew recipe I was inspired by Jamaican flavors. Try to eat traditional food when you are traveling. It's fun, often cheaper than Western food and you learn from other cultures.
Of course, jerk chicken is the number one traditional Jamaican food. We don't eat chicken, but you can try the Jerk seasoning with vega chicken or veggies. Ackee and saltfish is also a famous dish in Jamaica. We ate ackee without the fish for the first time at our guesthouse in Kingston. Betty, the hostess made for us delicious vegan breakfasts during our stay. Ackee is a Jamaican fruit and together with veggies the dish is comparable with scrambled eggs.
Furthermore, we tried patties, plantain (Remco's favorite), bammy, breadfruit and of course fresh fish (we still ate fish that time) cooked on the beach. Rice and peas is a common side dish. Rice is cooked with coconut milk, try this recipe.
This healthy stew packed with vegetables is not that spicy because I didn't use scotch bennet peppers. Pimento, also called allspice is the dried fruit of the pimento dioica plant. It is one of the most important ingredients of the Caribbean cuisine. It's is also used in jerk seasoning. I didn't have it at home, so I've composed the taste by myself using cinnamon, clove powder and nutmeg powder. Combine the coconut stew with rice, salad or flat bread.
Vegan chicken pieces Quorn, or use something similar as meat substitute
Carrots, 2 pieces, chopped
Red bell pepper, chopped
Sweet potato, chopped
White onion, chopped
Cherry tomatoes, 8 pieces, sliced in half
Coconut milk, 200 ml
Garlic, 2 cloves, diced
Green jalapeño pepper, diced
Palm sugar (or brown sugar), 1 tablespoon
Thyme, 1 teaspoon
Cinnamon, 0,5 teaspoon
Clove powder, 0,5 teaspoon
Nutmeg powder, 0,5 teaspoon
Fresh parsley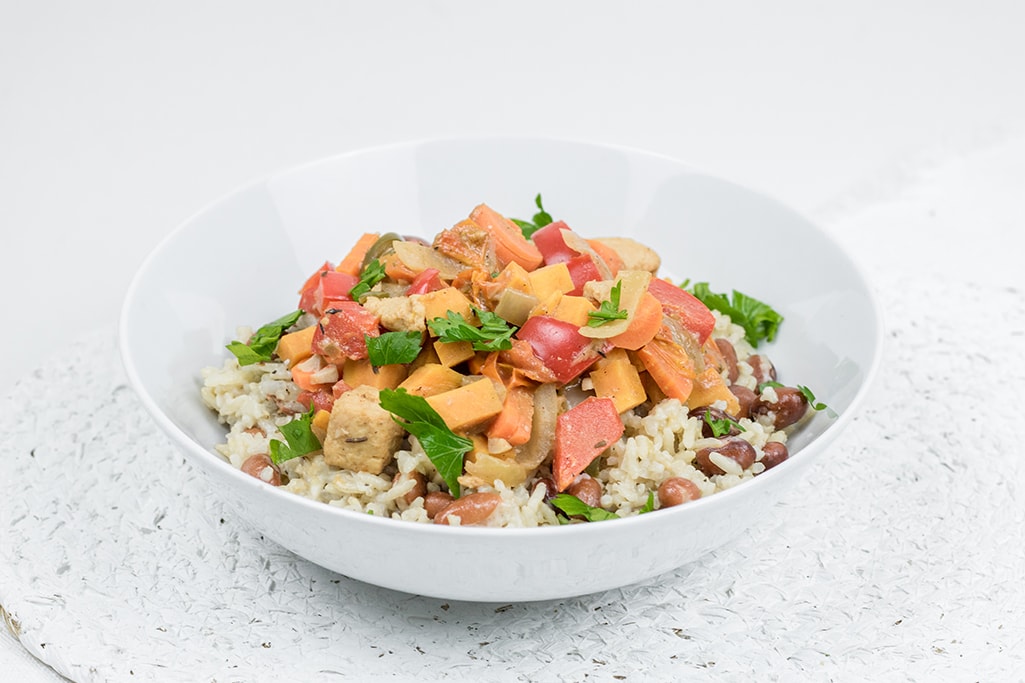 Preheat a stew pan (I used a wok and got it covered with aluminum foil), add some oil and sauté the onion and jalapeño pepper, than add the garlic and plant-based chunks, thyme, cinnamon, clove and nutmeg and stir a few minutes.
Add 200 ml coconut milk and a splash of water (about 1 to 2 coffee cups, see how it works for you). Meanwhile, add the sugar in a small pan together with a tablespoon of water and let the sugar melt slowly. Add this mixture to the wok and let the stew simmer for a few minutes.
Lastly, add the vegetables and ground pepper to taste. Cook the coconut stew on low heat for about 10 minutes, at least until the vegetables are soft. Cover the wok (unless you use a pan with lid) with aluminum foil and reduce the heat to low. Garnish your stew with fresh parsley when ready.
Add some beans, pineapple or mango.
Serve with rice or flat bread.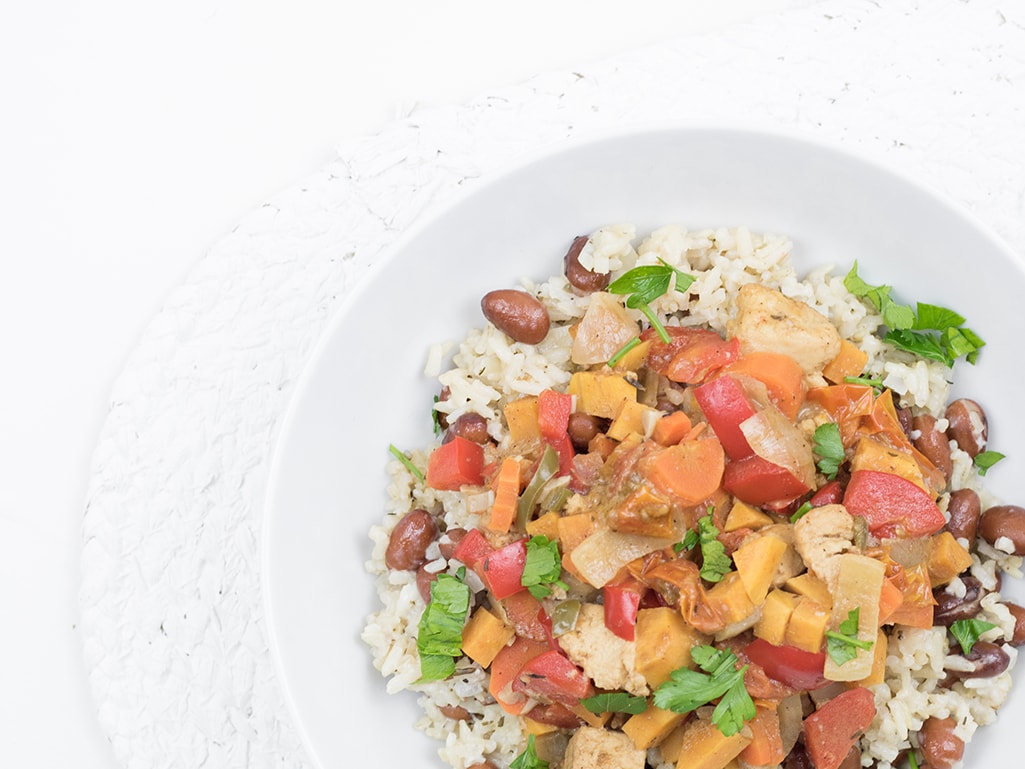 Did you prepare this recipe? Let us know on Instagram. Share it with us using #ERRERFOOD or tag us in your post. We love that! ♥