Dutch spice cookies (pepernoten)
Sunday December 1, 2019 - by Errer
Dutch spice cookies (in Dutch 'pepernoten' or 'kruidnoten') are easy and fun to prepare. Bake the little cookies toegether with your kids. When I was a child we always make them during this time of the year. It was tradition and we had so much fun making it. Since we have no children we are doing it without them. And I can tell you, we still like it making these yummy cookies!
Kruidnoten (spice nuts) are often confused with pepernoten (pepper nuts). This recipe is for kruidnoten, but everyone in Holland calls kruidnoten pepernoten including me. These little Dutch cookies are traditionally eaten in the Netherlands in the months November and December. And the cookies are associated with the Sinterklaas tradition, which is celebrated on 5 December. For most kids here, that's the most important day of the year, because Sinterklaas brings them lots of presents.
Dutch cookies with apple and ginger
Kruidnoten are linked with the tradition and we really love these little spicy cookies and especially with chocolate around it. But homemade kruidnoten are obviously the best! This is not a recipe for the original Dutch cookies. I made my own variations by adding ginger and apple. It's a challenge to add some other spices I think. Also, I made the recipe healthier by using whole meal flour. We really like ginger, so we baked pepernoten with ginger. And apple is always a delicious combination with cinnamon, the main ingredient of Speculaaskruiden (Dutch spice mix).
In this recipe for Dutch spice cookies we first make a dough, divide it into two equal parts and add different ingredients. In one part you add ginger and soy milk and the other part apple. If you only want to make the ginger nuts, just take the dough as whole and add 6 teaspoons of grated ginger and 4 tablespoons of plant based milk.
These small Dutch cookies are very delicious! We liked the ginger nuts the most as they had more flavor and more crunchiness. The apple nuts were softer inside and the apple flavor was not very recognizable, but they were delicious though. Next time I will add less sugar, for us it's always a challenge to use as little sugar as possible.
Wholemeal flour, 250 grams
Speculaaskruiden (dutch spice mix), 2 tablespoons
Palm sugar, 6 tablespoons
Coconut oil, 90 grams, melted
Tartar baking powder, 2 teaspoons
Apple, 60 grams, grated
Ginger, 3 teaspoons, grated
Plant based milk, 2 tablespoons I used soy milk
Pinch of salt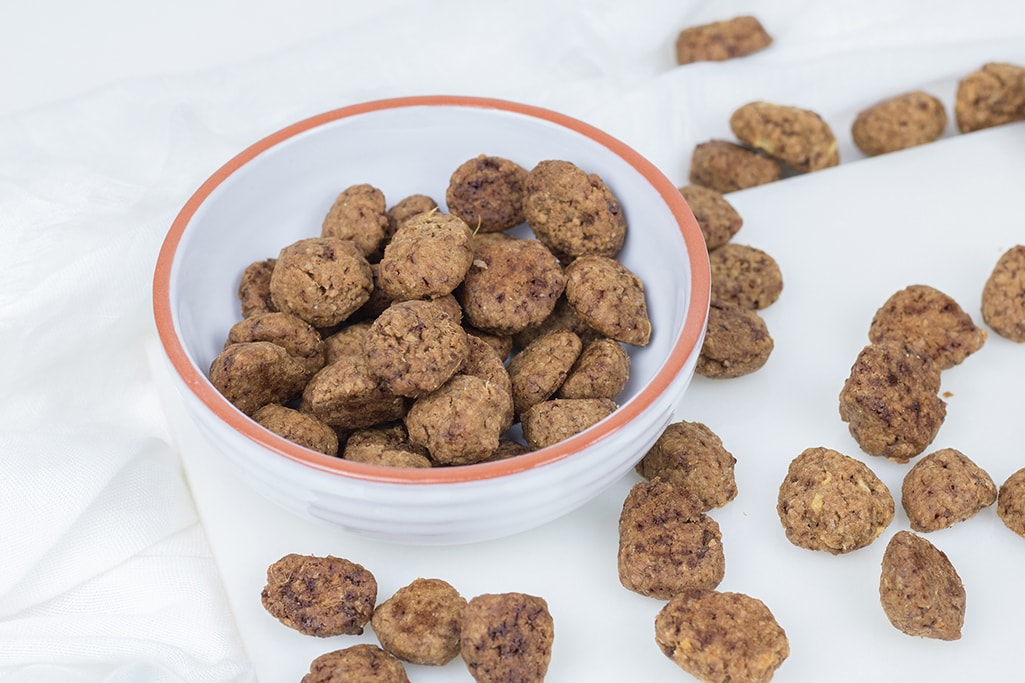 Add the flour in a large bowl together with the sugar, salt, baking powder and the Dutch spices. Mix all the ingredients.
Add the cocunut oil and knead with your hands into a ball. Divide in two equal parts, every part weighs approximately 212 grams. One dough is for the ginger nuts and one for the apple nuts.
Preheat the oven to 160° Celsius.
Add the ginger and 2 tablespoons of soy milk to one dough. Knead again into a dough and make sure you spread the ginger equally in the dough. Now you can start forming little Dutch cookies. Make your hands wet and roll little balls. Place them on an oven tray covered with baking parchment and if you want to press gently on each cookie to flatten, the last step is not necessary. It takes some time but it's very meditating.
Bake for about 15 minutes, depending on the size of your nuts and your oven.
Meanwhile prepare the apple cookies. Add the apple to the other dough and spread into the dough. Form little balls, place them on new parchment paper and press gently. When your ginger cookies are ready, slide the parchment paper with apple nuts carefully on the oven tray. Bake again for 15 minutes.
Cool down the Dutch spice cookies and enjoy.
Check your oven around 15 minutes, each oven is different. We like it when the nuts are crunchy and brown colored, yumm!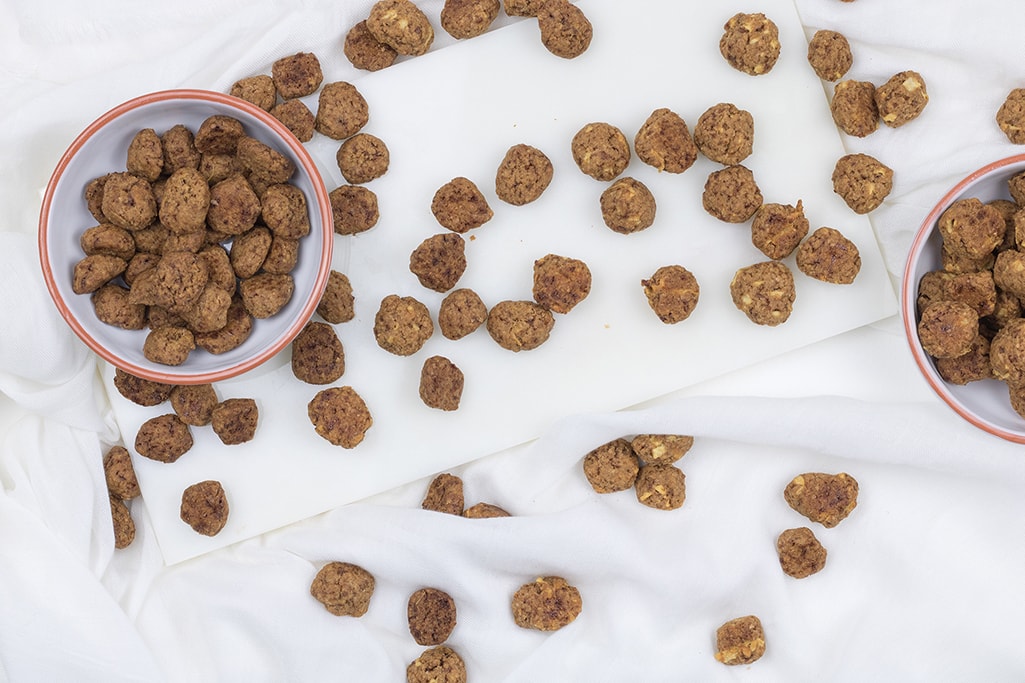 Did you prepare this recipe? Let us know on Instagram. Share it with us using #ERRERFOOD or tag us in your post. We love that! ♥