Tuesday December 15, 2020 - by Errer
8

serves
United States
Snack, Party, Dessert, Christmas
Used backdrop: Old baking tray
It's almost Christmas and what's Christmas without a bundt cake right?! This eggless bundt cake with chocolate and orange juice is super delicious and perfect to serve for dessert. When I was a child I actually never liked bundt cake. I think that's because my mother added store bought candied peel in the cake and I really don't like that. My orange bundt cake is healthy and contains mostly freshly squeezed orange juice, oatmeal and dark chocolate. With a super delicious chocolate sauce on top this cake is heavenly! I think this moist chocolate bundt cake is the most perfect Christmas dessert!
Healthy moist chocolate bundt cake
My vegan bundt cake is not only tempting and festive, but also quite healthy and nutritious. To be honest, I think most bundt cake recipes are way too unhealthy. They usually contain a lot of butter, white flour and loads of refined sugar. It's all too sweet for us and it also feels uncomfortable heavy in our stomach. Personally, I prefer to bake less sweet and much healthier. This means that when I look for inspiration, I always adjust recipes to my own healthier version. Baking is also a matter of trying and practising.
Orange bundt cake without eggs
My eggless bundt cake is 100% plant-based without and eggs. I replace the eggs with linseed and the butter with olive oil. I replace the flour with oatmeal and almond flour. No refined sugar in this cake, I just add some maple syrup. What I like about this cake is that I add freshly squeezed orange juice, pure cacao and chocolate. After making the batter, you divide it into two parts and make from one part a chocolate batter. That is not only very delicious, but the cake also looks less boring. Eventually, the chocolate bundt cake becomes quite moist. Certainly not dry. We really like it to be moist. For this recipe, it's very important you control the oven time and temperature yourself and check when the bundt cake has the perfect doneness, because every oven is different.
Ingredients vegan bundt cake
Broken flax seeds, 3 tablespoons + 9 tablespoons water
Oatmeal finely ground into flour, 200 grams
Almond flour, 100 grams
Baking powder, 1 teaspoon
Baking soda, 1 teaspoon
Maple syrup, 100 ml
Olive oil neutral flavor, 130 ml
Orange zest 1 orange
Orange juice, preferably freshly squeezed, 390 ml (approx. 6 oranges)
Cacao powder, 40 grams
Orange juice, 3 tablespoons
Vegan dark chocolate (74%), finely chopped, 70 grams
Dark chocolate 74%, 200 grams
Plant-based cream Alpro, 250 ml
Coconut oil, 1 teaspoon
Optionally almond milk for a thinner sauce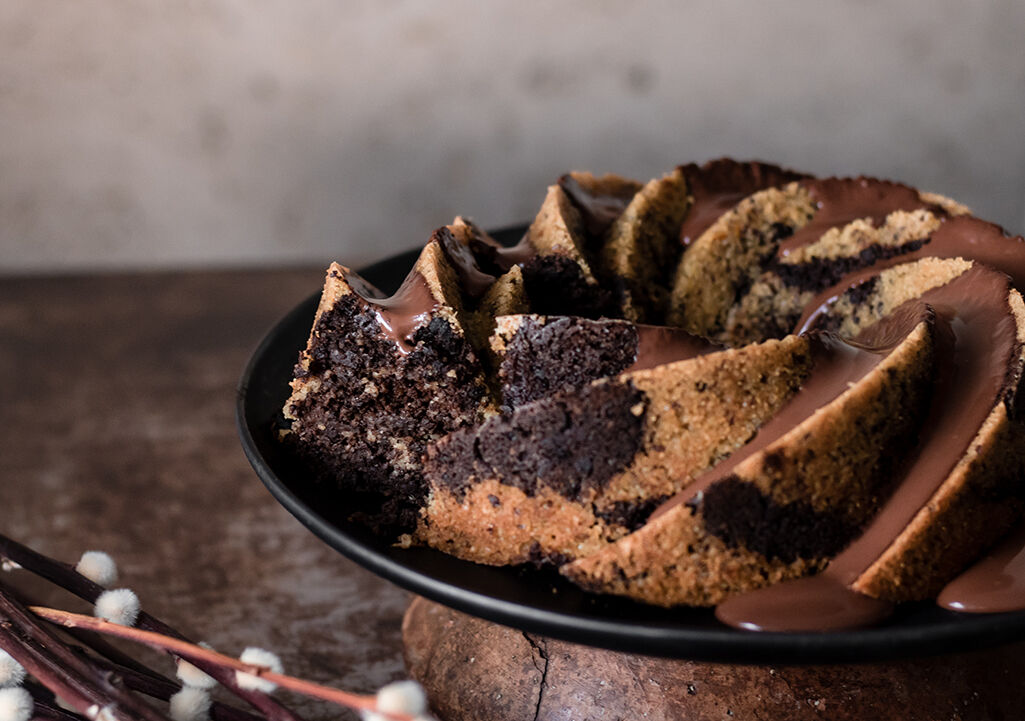 Recipe eggless bundt cake
Preperation bundt cake
Make sure all ingredients are ready to use and at room temperature. Weigh and put everything in separate bowls. This gives you overview and it works easy and fast.
Grease the bundt pan very well with butter using kitchen paper. Dust with flour and then beat the flour out again as much as possible by turning the pan and hitting it a few times carefully at the counter top.
Mix the water with the flaxseed and set aside for at least 10 minutes to thicken.
Preheat your oven to 175 degrees Celsius.
In a large bowl, add the oatmeal flour, almond flour, baking powder and baking soda. Mix everything well with a whisk.
In another bowl, add the maply syrup, 390 ml orange juice, olive oil and orange zest.
Now add the orange mixture to the oatmeal mixture and also add the linseed water mixture. Stir gently until the batter is mixed, but not for long as this will knock out the air.
Now you are gonna make the chocolate batter. Pour half of the batter into another bowl (pour over) and gently mix the chopped chocolate, cacao powder and 3 tablespoons of orange juice into the batter. Now you have an orange batter and a chocolate batter.
Fill the bundt pan alternately with the 2 batters, each with a separate large spoon.
Smooth the top and slide the pan onto a rack in the middle of the oven. Bake the bundt cake in about 40-55 minutes until golden brown and done. Check the cake after 40 minutes for doneness. Do not open the oven earlier! The oven time is really different for every oven and you have to check it yourself. If the bundt cake is browning too much on top, you can put aluminum foil over it. Test the bundt cake for doneness by inserting a wooden skewer. It's ready when it comes out dry. I baked my bundt cake 45 minutes and after I turned off my oven I left the cake in my oven for another 15 minutes with the oven door slightly open. This way it's still baking very softly.
Remove the eggless bundt cake from the oven and let it cool for at least 30 minutes in the pan. Then place a plate on the pan and turn while holding it together. Remove the pan and let the cake cool.
Preparation chocolate sauce
Break the chocolate into pieces and put it in a heatproof bowl. Add the coconut oil. This will make the sauce shine.
Heat the cream in a small sauce pan over medium heat. As soon as it starts to bubble, add the cream to the chocolate.
Stir and let the chocolate melt, this will take about 5 minutes. Now the ganache is quite thick and you can spread it over your cake. I made the sauce thinner by adding almond milk, so that I could pour the sauce easily over the bundt cake.
Add cinnamon to the batter if you like.
The bundt cake can be stored for 2 days in a sealed container. Store the chocolate sauce separately. Freezing is the only way to store the cake longer. Pack it airtight in a freezer container. Let the bundt cake cool down to room temperature and divide the cake into pieces and several containers if you want. Defrost the chocolate cake in the refrigerator when it comes out of the freezer. You can also freeze the chocolate sauce in a little container, but I think that will not be necessary.
Maybe you are interested in my vegan Christmas cookies too. Or you might want to try other cake recipes, like our vegan blueberry cake or vegan carrot cake.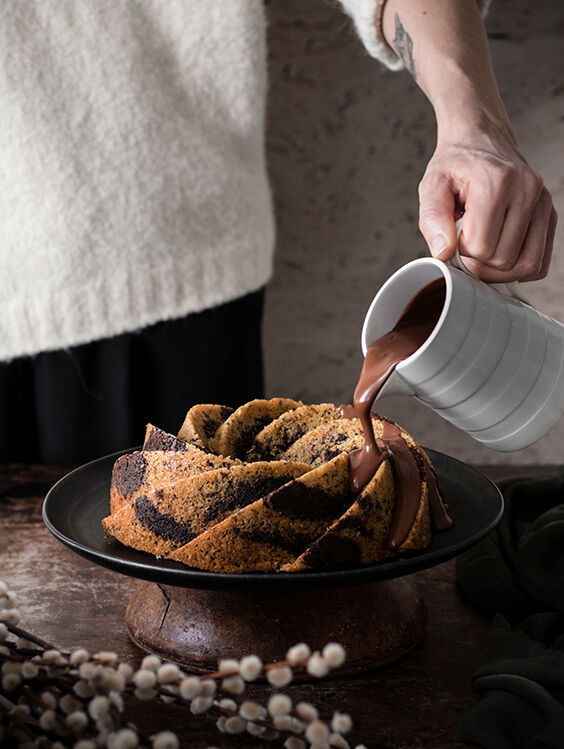 Did you prepare this recipe? Let us know on Instagram. Share it with us using #ERRERFOOD or tag us in your post. We love that! ♥