Forgotten vegetables from the oven
Wednesday October 9, 2019 - by Errer
We never tried Jerusalem artichoke. I don't know why. Jerusalem artichokes is also called sunroot, sunchoke, or earth apple and belong to the forgotten vegetables. How is that possible? These fall veggies are very tasty. They have an earthy and nutty taste. When you prepare them in the oven they become very soft. Sunchokes can be eaten raw, cooked, baked and mashed. We find them raw also very tasty, nutty and refresing.
For this recipe we combined the Jerusalem artichokes with another forgotten autumn vegetable; the Chioggia beet. The Chioggia beet is originally from the town of Chioggia, from Italy. If you cut the beet in half, you will see an amazing white pink striped drawing. Unfortunately the drawing will disappear if you heat the beet. To maintain their appearance you can use the chioggia raw in salads, it will brighten up your dish immediately.
Chioggia beets, 4 pieces
Jerusalem artichokes, 320 grams
White onion, 1 piece
Garlic, 3 cloves
Pistachio nuts, 20 grams
Hazelnuts, 30 grams
Agave, 2 teaspoons
Rosemary, 1 teaspoon
Pinch of sea salt
Olive oil, 1 tablespoon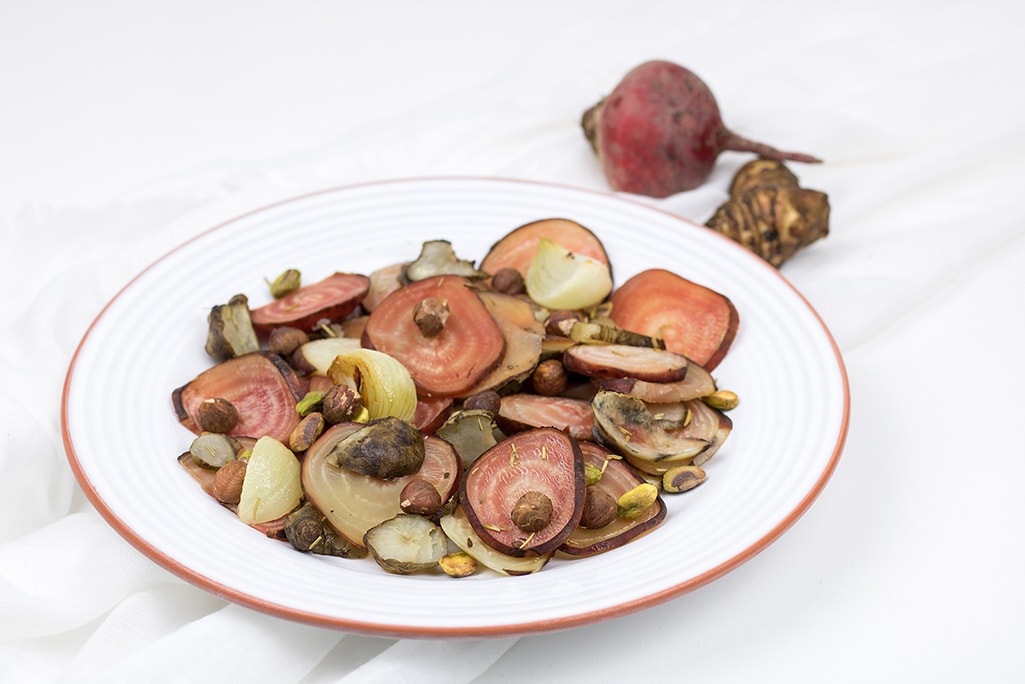 Preheat the oven to 200 degrees celsius.
You don't have to peel Jerusalem artichokes, just scrub and rinse them well. Dirty pieces can be cut off and thrown away. Then you cut the Jerusalem artichokes into slices or pieces.
You don't have to peel the Chioggia beet either, only remove the top. Rinse well and then cut into slices.
Put the Chioggia beets and Jerusalem artichokes in a bowl. Cut the onion into 4 parts, add this to the bowl. Peel the garlic cloves, cut in half and add to the bowl.
Add the olive oil, the agave syrup, a pinch of sea salt and the rosemary to the bowl and mix together.
Place a sheet of oven paper on the oven plate and place the mixture on top. Put it in the oven for about 30 minutes.
In the meanwhile roast the hazelnuts and pistachio nuts.
Remove the plate from the oven and garnish the forgotten vegetables with the nuts. Enjoy your meal!
You can add (sweet) potatoes on the oven plate.
Very delicious with pumpkin.
Of course you can add some other vegetables like carrot, brussels sprouts and parsnip.
Serve with couscous or brown rice.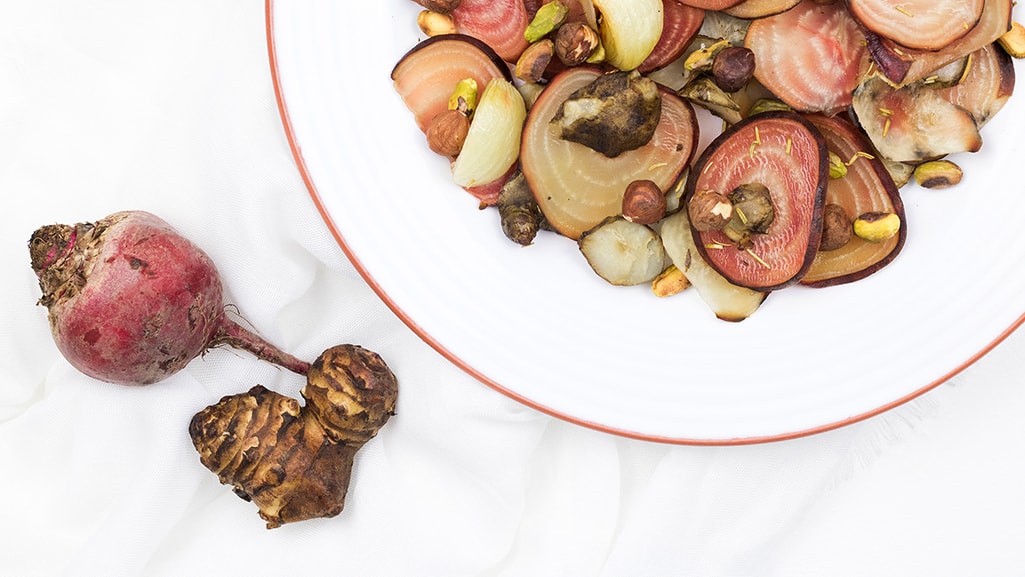 Did you prepare this recipe? Let us know on Instagram. Share it with us using #ERRERFOOD or tag us in your post. We love that! ♥