Grilled green asparagus with pasta
Saturday May 4, 2019 - by Errer
It's spring and we are so happy asparagus are in season right now, yeah! There are several ways you can prepare them. In this grilled asparagus recipe I used green (not the thin ones) asparagus because they work best for grilling. Grilling them results in a delicious nutty taste, yumm!
Pan roasted asparagus are a perfect combination with whole grain fusilli pasta. The grill taste blends into the whole meal. This meal is completely plant-based and super easy to prepare. Besides using asparagus and pasta I add some plant-based cream, vegan smokey ham, onion and garlic. For more flavouring I used oregano, thyme and fresh chives.
Whole grain pasta, 150 grams (we used Fusilli)
Green asparagus, approximately 12 pieces (not the thin ones, because they dry out)
Plant-based cream, 100 ml
Quorn vegan smokey ham 100 grams, or something similar, sliced in pieces
White onion, diced
Garlic, 2 cloves, minced
Thyme, 1 teaspoon
Oregano, 1 teaspoon
Handful of chives, chopped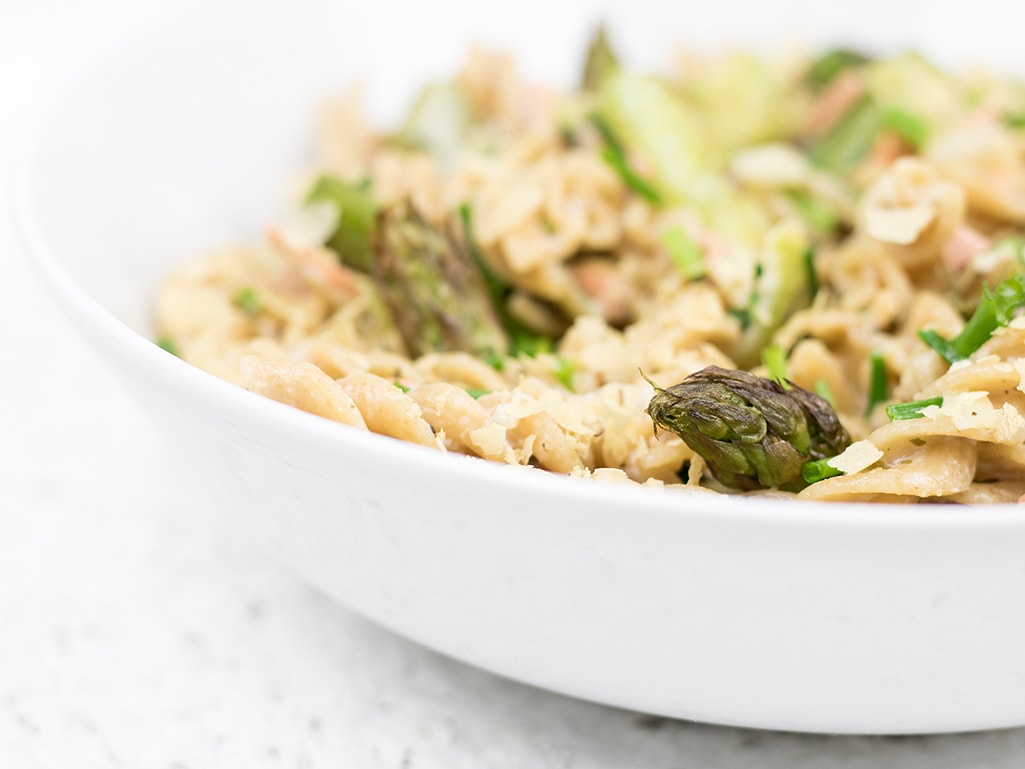 Recipe pan roasted asparagus
Start with the asparagus. Remove 1 cm of the base, because it is too woody to chew.
You normally don't peel green asparagus, but I bought thicker ones, so I peel only the bottom, about 3 cm. If you have the thin green asparagus these steps are really not necessary.
Preheat a grill pan or skillet, put some oil in it and grill the asparagus in 10 to 15 minutes. It depends how thin they are and your desired tenderness. Keep turning when grilling.
Meanwhile, cook the fusilli pasta.
Cut the grilled asparagus into pieces when ready.
Preheat a wok, put some oil in it and add the onion. After one minute you add the garlic together with the thyme, oregano and cream. Add the vegan ham, asparagus, pasta, half the chives and some pepper.
Serve in this recipe for grilled asparagus with the remaining chives and nutritional yeast flakes.
Squeeze some lemon juice over the dish.
Use nutritional yeast flakes for garnish.
Did you prepare this recipe? Let us know on Instagram. Share it with us using #ERRERFOOD or tag us in your post. We love that! ♥