Healthy lasagna without meat
Friday August 7, 2020 - by Errer
For us, lasagna definitely falls into the category comfort food. However, this healthy lasagna recipe packed with vegetables will not only make you happy. It is also very nutritious! On top of that, the dish is completely plant-based and guiltfree. In short, this delicious lasagna is perfect when you want to relax on the couch watching a movie and at the same time want to enjoy a healthy dish.
As said, we really love lasagna. Earlier I published on this foodblog a Mexican lasagna with kidney beans and chickpeas and a pumpkin lasagna with spinach. This recipe actually looks more like a lasagna bolognese. Obviously completely vegan cause hurting animals is totally unnecessary. As you probably know, lasagna originated in Italy. Usually they use minced beef, vegetables, tomato sauce and Parmesan cheese. Although, the recipe is often adapted locally. Besides, bechamel sauce comes from France and actually does not belong in the traditional lasagna at all. We personally like bechamel, because it makes it al more creamy. However, if you don't feel like making bechamel, you can also add some layers of 'cheese' in between.
Healthy plant-based lasagna
Instead of lasagna noodles made of flour without any fibers in it, I use lentil noodles which are much more nutritious. These noodles are gluten-free and lower in carbohydrates than traditional pasta. My sauce also consists passata, garlic and Italian herbs. I add all sorts of delicious vegetables such as leek, bell pepper, mushrooms and celery. Fry the plant 'beef' brown before adding into the sauce. Our bechamel sauce consists wholemeal flour, which makes it much more fiber-rich than traditional bechamel. Flavor the sauce by adding nutritional yeast, onion powder and garlic powder.
Lentil lasagna noodles, or whole wheat noodles
Leek, washed and sliced
White onion, diced
Carrot, finely chopped, 175 grams
Red bell pepper, chopped
Mushrooms, 250 grams, chopped
Celery, 2 single stalks/ribs, sliced
Bottle passata, 690 ml
Garlic, 3 cloves
Plant minced ground, 300 grams
Italian dried herbs, 4 teaspoons
Pepper and salt
Olive oil, 45 grams
Wholemeal flour, 50 grams
Plant-based milk (almond milk), 500 ml
Noble yeast flakes, 5 tablespoons
Onion powder, 1 teaspoon
Garlic powder, 1 teaspoon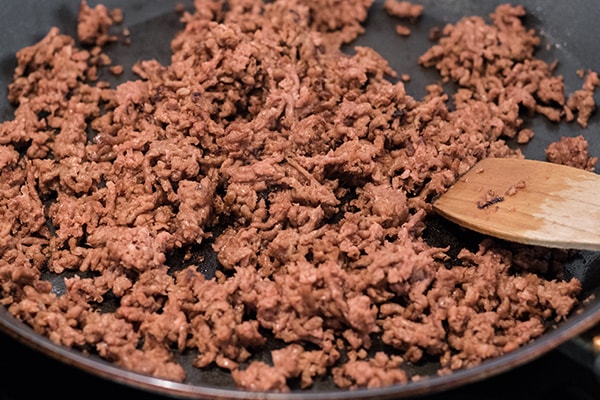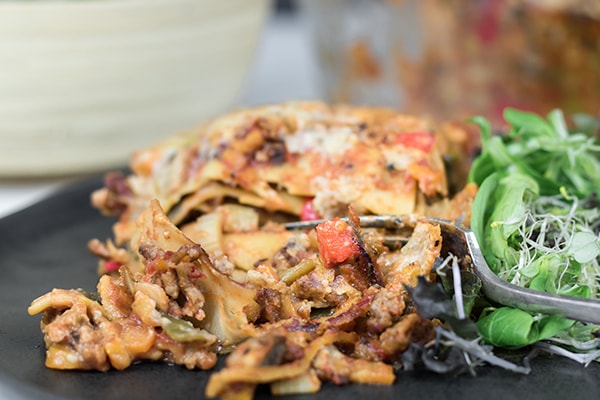 Directions healthy lasagna
Tomato sauce:
Firstly, fry the onion in a large casserole with a little olive oil until glazed. Squeeze the garlic cloves above the pan and add the carrots, bell pepper and celery. After 4 minutes, add the mushrooms and leek as well. Stir occasionally while cooking the vegetables for another 4 minutes.
In the meantime, fry the plant-based beef in a separate skillet until browned. When ready, stir in the passata and the Italian herbs.
Stir the tomato sauce into the vegetables and add a few tablespoons of water. I also added a bit of balsamic vinegar, but this is not necessary if you don't like the taste. Season with salt and pepper to taste.
Preheat the oven to 200 degrees Celsius.
When the lasagna sauce is finished, you continue with the bechamel sauce. Heat the olive oil over medium heat in a small pan, preferably with a thick bottom.
Add the wholemeal flour and cook for about 2 minutes while stirring continiously with a whisk. Now you create a roux which will thicken your sauce.
In small parts, add the almond milk while stirring. You will see the bechamel will thicken now. I occasionally put the pan off the fire to prevent sticking. While cooking on medium heat I slide back and forth my pan.
Once the sauce is thickened and the milk is finished, you can stir in the onion powder, garlic powder and noble yeast flakes. Turn off the heat and set aside.
Building the healthy lasagna:
Grease an oven dish with a little olive oil and spread a layer of tomato sauce in first. Top with a thin layer of bechamel and lastly a layer of lasagna noodles. Repeat with the tomato sauce and so on. Finish the dish with a thick layer of bechamel. Make sure you have enough bechamel at the end. Don't use too much bechamel at the previous layers.
My lasagna had 5 layers of tomato sauce, 5 layers of bechamel and 4 layers of noodles. But obviously this may be different for you, because it depends on the size and height of your oven dish.
Bake the lasagna in about 40 minutes until lightly browned. Perhaps shorter or longer depending on your oven.
When the vegan lasagna is ready, put on the counter for a few minutes before serving. Sprinkle fresh basil on top and serve with a fresh salad.
Vary with vegetables, cook some chopped zucchini for example.
If you like a layer of cheese on top, you can sprinkle it before baking in the oven. Or use nutritional yeast once the lasagna is ready to be served.
Delicious to serve a fresh salad as a side with lettuce, cucumber, olives and tomatoes.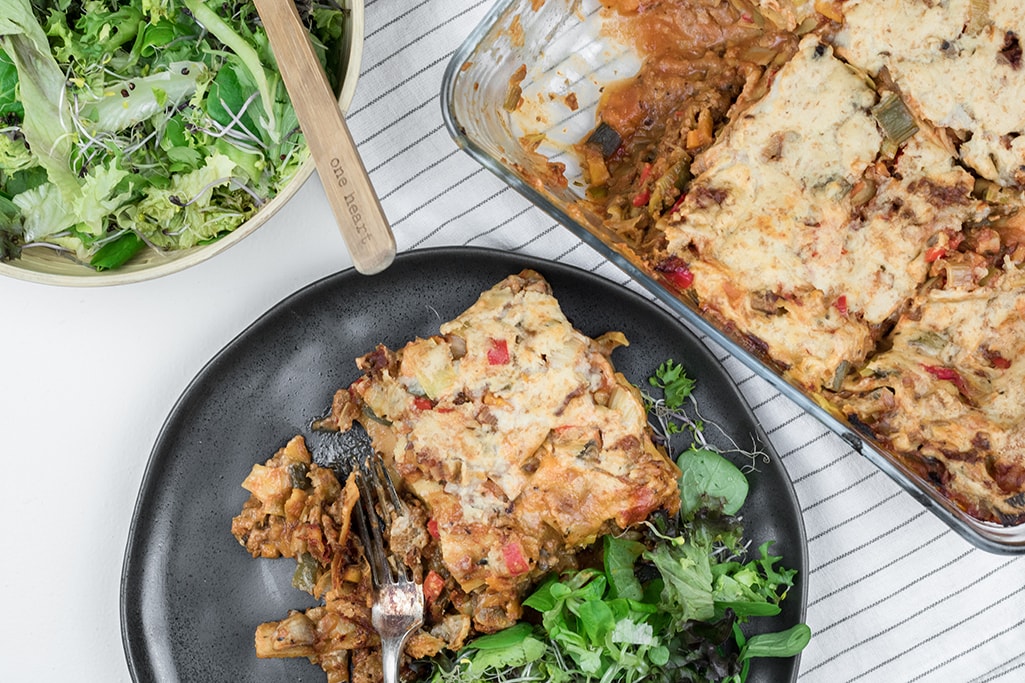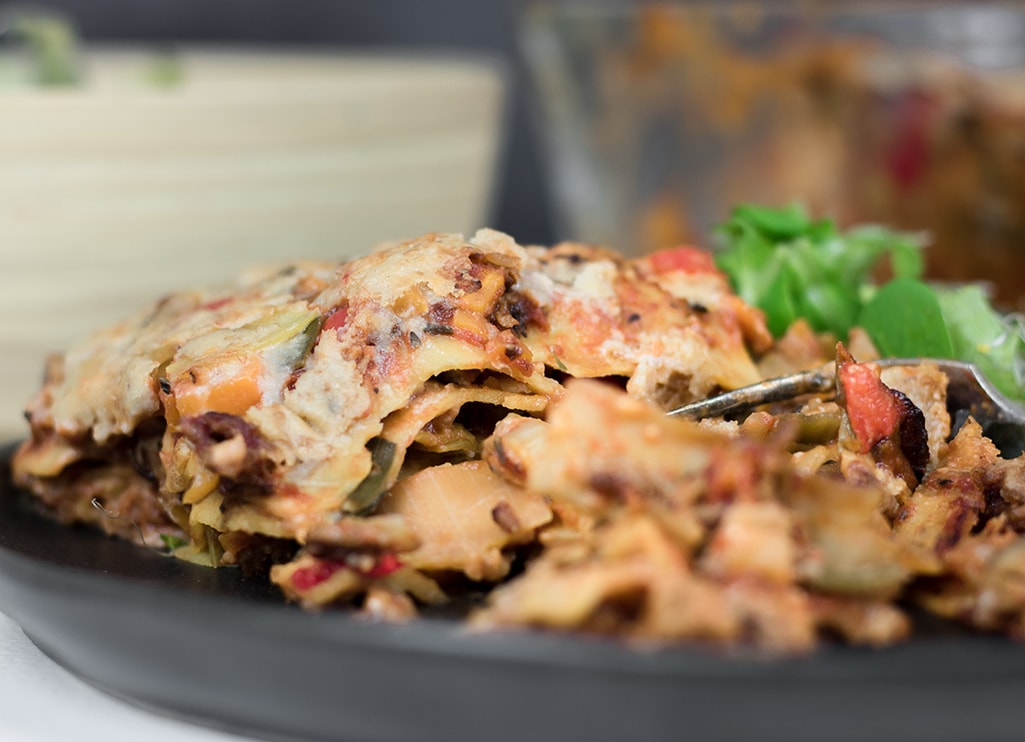 Did you prepare this recipe? Let us know on Instagram. Share it with us using #ERRERFOOD or tag us in your post. We love that! ♥