Healthy mashed sweet potatoes
Thursday October 17, 2019 - by Errer
Have you ever tried vegan fish fingers? You really should as they do an incredible good job replacing real fish. Combine them with this healthy mashed sweet potatoes recipe and you have a delicious simple meal. For this recipe we used the vegan fish sticks. And believe me, these fish fingers are just as tasty as the ones with real fish in it. Great if you don't eat fish anymore, but used to love eating fish like we did.
Fish free sticks are a perfect combination with vegan mashed sweet potatoes. Together with garden peas and sun-dried tomatoes this dish is packed with flavor and colors. Easy recipe and great results! Serve the potato dish with applesauce, highly recommended! I still have homemade applesauce in the freezer and only have to warm it up.
Sweet potatoes, 850 grams
Frozen garden peas, 400 grams
Vegan fish fingers, 1 package
Sun-dried tomatoes, 6 pieces
Plant-based milk, 100 ml, I used almond milk
Pinch of pepper, add to taste
Recipe mashed sweet potatoes
Peel the sweet potatoes, cut into pieces and cook until they are soft.
Boil the garden peas for a few minutes.
Fry the fish fingers in a skillet with a dash of oil until crispy.
Mash the sweet potatoes with the plant-based milk and the ground pepper.
Cut the sun-dried tomatoes into pieces and add them together with the garden peas to the sweet potatoes. Mix all the ingredients. Serve the healthy mashed sweet potatoes with the fried fish fingers.
Serve with (homemade) applesauce and garnish with nutritional yeast if you like.
Combine sweet potatoes with a vegan burger or fried tofu.
Add beans or chickpeas to the sweet potatoes instead of using a fish or meat substitute.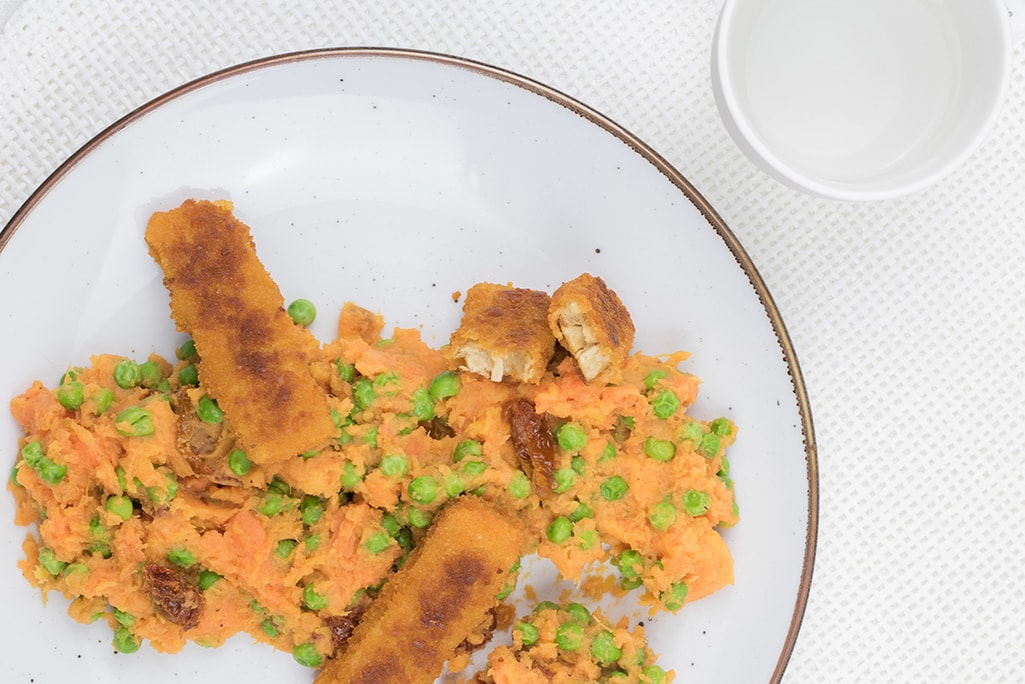 Did you prepare this recipe? Let us know on Instagram. Share it with us using #ERRERFOOD or tag us in your post. We love that! ♥