Saturday November 23, 2019 - by Errer
It is autumn and that means lots of yummy pumpkin dishes. For example this delicious homemade pumpkin soup! We are huge fans of the butternut squash (or butternut pumpkin) because it is packed with flavor and you can make all kinds of recipes with it. The fruit has a sweet, nutty taste. Technically it's a fruit, but the pumpkin is more used as a veggie that can be roasted, pureed, mashed and sauteed. Butternut squash is a good source of fiber and vitamin C.
We like to roast pumpkin in the oven or mix it in a lasagna. Add pumpkin in a hotchpotch or make a pumpkin pie. This tasty pumpkin soup is very easy to prepare and packed of flavor and a bit spicy. You don't have to peel the butternut squash, but cut the sides and wash dirt off the pumpkin.
Coconut milk makes the soup creamy. Garnish the vegan pumpkin soup with fresh herbs like coriander, parsley or chives and yeast flakes.
Butternut squash, 1 piece
White onion, 1 piece, diced
Garlic, 2 cloves, minced
Vegetable bouillon, 1 liter, I only use a half bouillon cube
Cinnamon, half teaspoon
Grounded cumin, half teaspoon
Chili flakes, a pinch
Pumpkin seeds
Coconut milk, 150 ml, add to taste
Yeast flakes, optional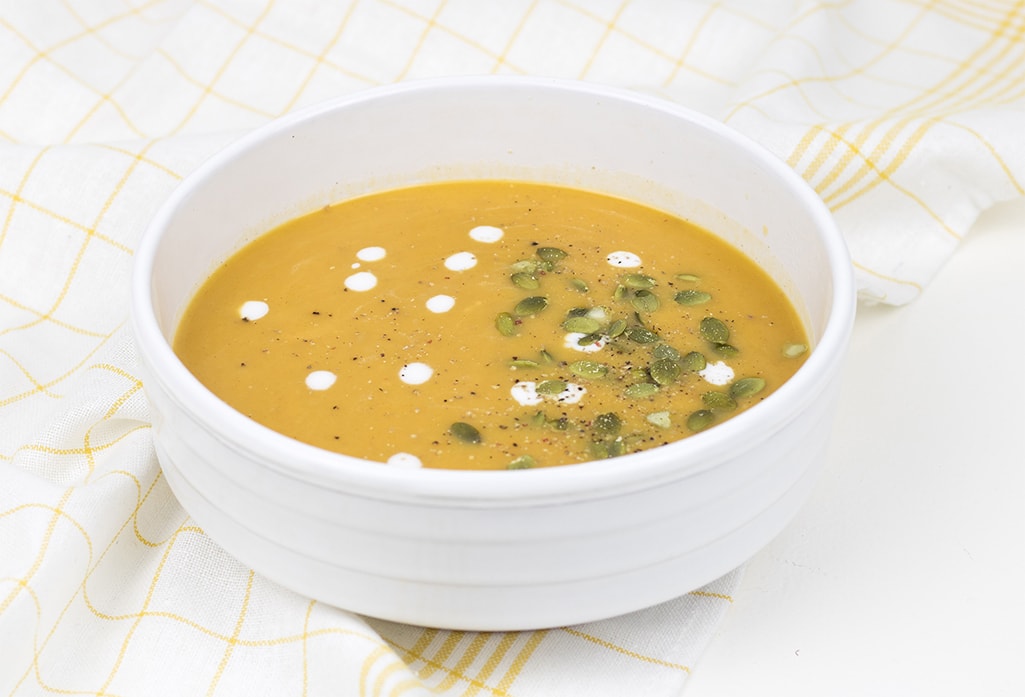 Clean the pumpkin with water and remove both ends. Cut the butternut squash in half widthwise and again in half lengthwise, remove the seeds. Cut the pumpkin into pieces. Don't remove the skin, only dirty spots.
Add a little olive oil in a large stock pot. Doe een beetje olijfolie in een grote soeppan. Saute the onion for 4 minutes, then add the garlic and chili flakes and saute for 30 seconds. Don't burn the garlic. Add the pumpkin pieces, cinnamon, cumin and bouillon.
Simmer for 35 minutes until the pumpkin is soft. Blend the homemade pumpkin soup until smooth.
Lastly, add the cocunut milk and some ground pepper to taste, and optionally a pinch of sea salt.
Serve with the pumpkin seeds and yeast flakes.
Add sweet potato
Vary with spices like ginger and turmeric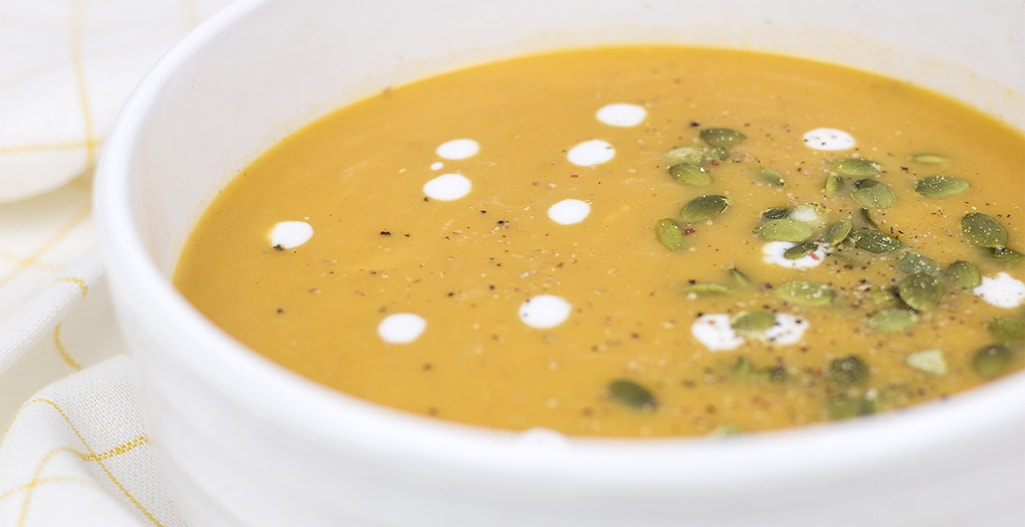 Did you prepare this recipe? Let us know on Instagram. Share it with us using #ERRERFOOD or tag us in your post. We love that! ♥