Homemade sweet and sour sauce
Friday July 19, 2019 - by Errer
Soba noodles with a homemade sweet and sour sauce is a delicious dish! And surprisingly not that difficult. I think preparing the homemade sweet and sour sauce will take 5 minutes of your time. Why should you buy ready-made sauce if you can make it easily by yourself? Go for homemade!
In this recipe I combined the sauce with Soba noodles, pineapple, snow peas, spinach, peanuts and coriander. Pineapple is a perfect combination with homemade sweet and sour sauce, yumm! But if you don't like the yellow fruit, you can use mango or peach instead. Roasted peanuts really complete this dish! Instead of peanuts you can also use cashew nuts if you like. If you don't like nuts at all, you can add some tempeh or tofu. This recipe for sweet and sour noodles is incredibly tasty and full of flavors. Do you like rice or quinoa more? Replace it for noodles, fits also perfectly in this dish.
Noodles, 180 grams, I use Soba noodles
Pineapple, half piece, peeled and chopped
Snow peas, 200 grams
Fresh spinach, 2 hands full, tear into smaller pieces
Red onion, 1 piece, cut into half moons
Raw peanuts, 2 hands full
Coriander, handful
Homemade sweet and sour sauce
White wine vinegar, 3 tablespoons
Ketchup, 3 tablespoons
Kecap manis, 1 tablespoon
Sambal oelek paste, half teaspoon
Garlic, 1 clove, minced
Palm sugar, half tablespoon
Cornstarch, 1 teaspoon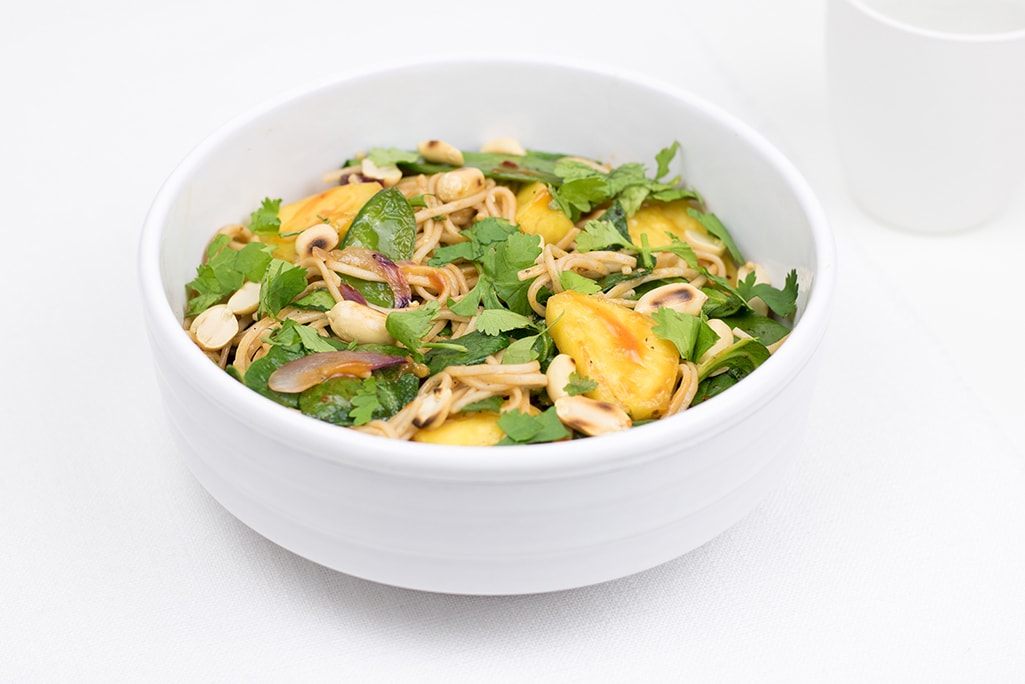 Recipe sweet and sour sauce
Prepare the homemade sweet and sour sauce first. Stir the cornstarch with 2 tablespoons water in a bowl.
Heat a small saucepan with 1 tablespoon olive oil over medium high heat. Add the minced garlic and sauté in 20 seconds or until garlic begins to turn brown (don't burn it!). Add the ketchup, stir and add the vinegar, sambal, kecap and palm sugar. Stir and add the cornstarch/water mixture. Stir and allow the sauce to simmer for 1 minute or until thickened. Then add 2 tablespoons of water and if needed a bit more to thin out the sauce. Turn off the heat, add the pineapple chunks, toss and set aside.
Prepare the Soba noodles according to packing instructions.
Roast the peanuts in a pan, keep tossing. When ready set aside.
Wok the snow peas in 5 minutes on high heat and add the onion. Chop the coriander stalks and add to the peas. Lower heat, add the spinach, Soba noodles and sweet and sour sauce with pineapple chunks.
Garnish the sweet and sour noodles with the roasted peanuts and coriander leaves.
Use mango instead of pineapple.
Vary with veggies.
Add some bell pepper or pak choi.
Use quinoa or brown rice instead of noodles.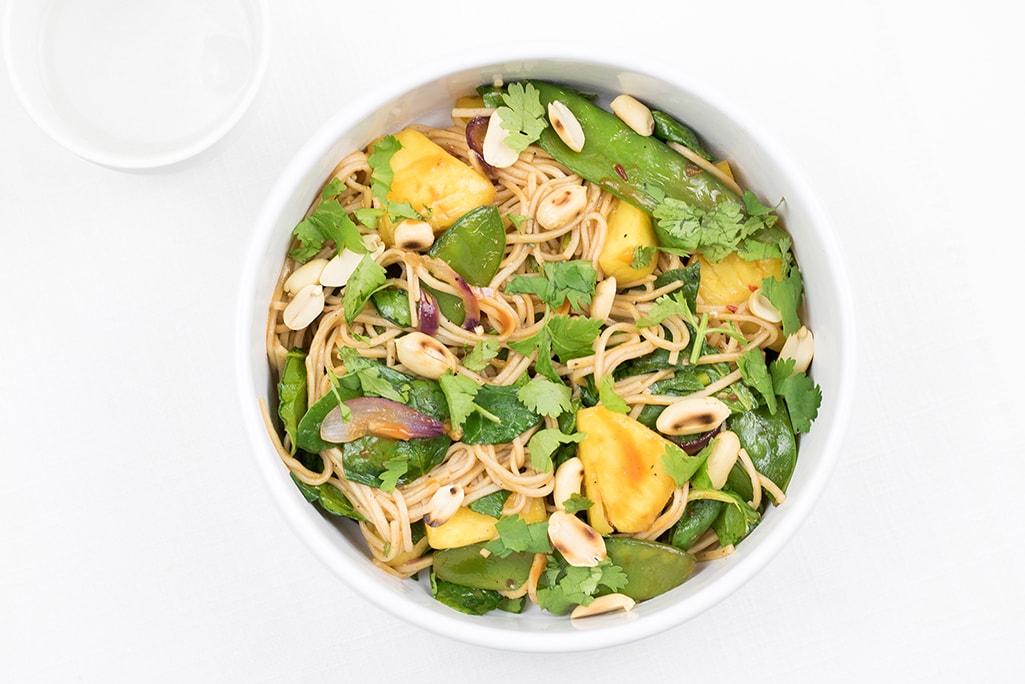 Did you prepare this recipe? Let us know on Instagram. Share it with us using #ERRERFOOD or tag us in your post. We love that! ♥