Lasagna with pumpkin and spinach
Sunday November 17, 2019 - by Errer
Who doesn't love Italian food? Lasagna is one of our favorite dishes. Pumpkins are in season now, yeah! I am very happy that I cooked this tasty lasagna with pumpkin, spinach and bechamel sauce. Very yummy and comforting. For lasagna recipes you can use all kinds of veggies. For us, lasagna means packed with all sort of healthy vegetables and delicious flavors. Check out our vegetarian Mexican lasagna too. For the pumpkin lasagna, I used lasagna sheets made from lentils. Normally, lasagna is made of white flour sheets, which is less healty.
The sauce for this recipe meal consists pumpkin, spinach and tomatoes, garlic and onion. Our vegan bechamel sauce is not made from cow milk and white flour. Instead, we use whole wheat flour and almond milk. Cruelty free and much more nutritious. Easy peasy!
I don't know why but oven-baked meals feel very cozy somehow, the oven warms up your home and it's like the oven prepares a gift for you. What I love about the lasagna with pumpkin is that it's a real autumn recipe and the texture feels so surprisingly smooth. Mash the pumpkin and mix it with the spinach-tomato sauce. Sprinke the vegetarian lasagna with roasted sunflower seeds and noble yeast flakes. This recipe serves four people, but we can eat two days from it. That means we have a day off in the kitchen, yeah!
Butternut, 1 piece, squash in pieces, don't need to be peeled
Spinach from the freezer, 900 grams
Lasagna sheets made of lentils (or use whole grain sheets), I used 15 sheets
Tomatoes, 2 pieces, canned, each 400 grams
Garlic, 4 cloves, minced
White onion, 1 piece, diced
Sunflower seeds
Noble yeast flakes or grated vegan cheese
Dairy-free butter, 45 grams
Whole wheat flour, 50 grams
Plant-based cold milk, 500 ml (I use almond milk)
Nutmeg powder, 1 teaspoon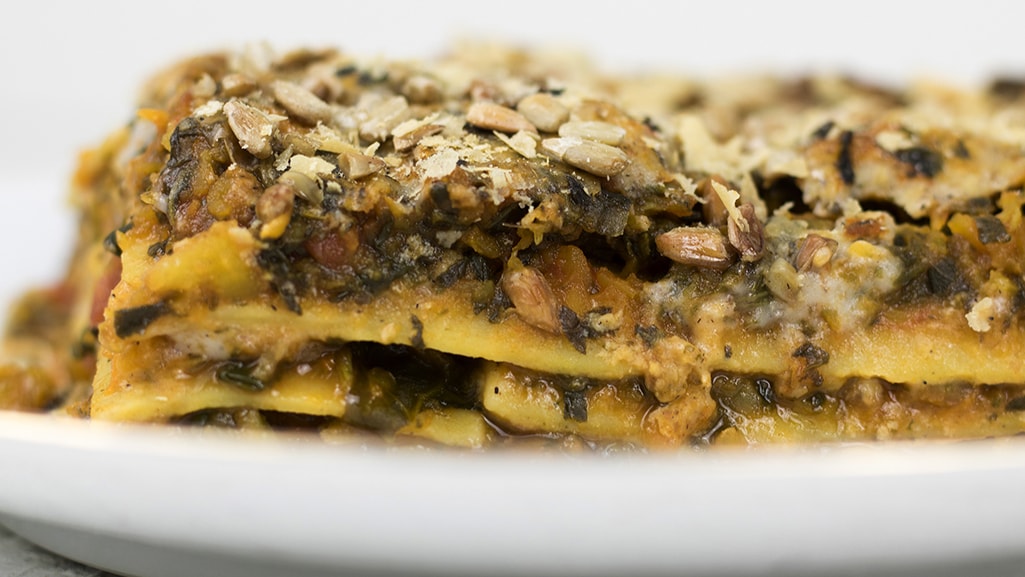 Recipe lasagna pumpkin spinach
Preperation pumpkin sauce
Heat a dash of olive oil in a large sauce pan and sauté the onion. Add the garlic and after a few seconds you add the pumpkin chunks. Stir and add a coffee cup filled with water. Reduce heat to low and cover with the lid. Let it simmer and stir occasionally.
In a second sauce pan heat the spinach until it's warmed up and melted. Turn off the heat, add the tomato sauce and mix.
When the pumpkin is softened you can mash it into a puree. Just use a potato masher. Stir in the spinach tomato sauce and add a little grounded pepper.
Preheat the oven to 200°c and grease a baking dish with olive oil.
In a small sauce pan, preferable with a thick bottom, melt the butter over low heat. Add the flour and keep stirring with a whisk for about two minutes continuously until a pasta forms. This is what you call a roux.
Add the milk gradually while stirring until a smooth sauce exists. Cook for 5 minutes or more while stirring, until the sauce has thickened. Lastly, you can stir in the nutmeg powder.
Now we can build the lasagna. Firstly, spread a layer of pumpkin sauce, as second layer the vegan bechamel sauce. As third layer you can spread the lasagna sheets, overlapping slightly. Start over again and end with on top the bechamel. Every sauce has about 3 or 4 layers, but that depends on how large your baking dish is.
Place the dish in the oven for about 30 to 40 minutes. Check the lasagna sheets if softened during the last minutes.
Meanwhile, roast the sunflower seeds in a frying pan.
Take the dish out of the oven and sprinkle the pumpkin lasagna with the sunflower seeds and yeast flakes.
Instead of yeast flakes you can use vegan cheese as well. Sprinkle before the lasagna goes in the oven.
Lay flat the butternut squash, cut both sides off and cut into slices. Lay down each slice and cut into pieces.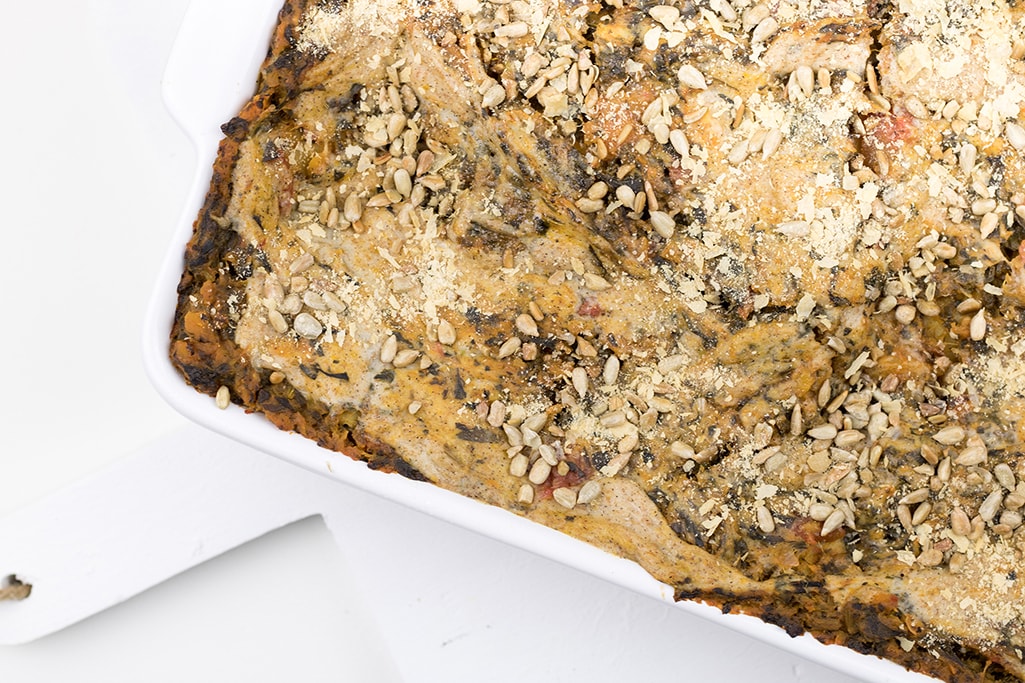 Did you prepare this recipe? Let us know on Instagram. Share it with us using #ERRERFOOD or tag us in your post. We love that! ♥