Tuesday August 6, 2019 - by Errer
Do you like seaweed salad, tofu, lots of veggies and Japanese mayo sauce? Than you might want to try this recipe for marinated tofu salad. Low carb dish packed with vegetables and Asian flavors! We like to eat low carb for dinner few days a week and salads are obviously perfect for that. If you like this recipe and still want some carbs, just add them. Always choose for whole grain ingredients as it is much more nutritious and healthier.
Fresh spinach, 2 hands full, tear in parts
Bean sprouts, 125 grams, rinse and drain first
Mango, 1 piece, peeled and chopped
Red bell pepper, 1 piece, sliced
Avocado, 1 piece, peeled and chopped
Tofu, 200 grams
Seaweed salad, 100 grams, we buy it in the grocery store
Sesame seeds, handful
Kecap manis, half tablespoon, (Also spelled as ketjap)
Olive oil, 1 tablespoon
Lemon, half piece, squeezed
Garlic, 1 clove, minced
Ginger, 1 teaspoon, grated
Chili powder, half teaspoon
Plant-based yogurt, 2 tablespoons
Vegan mayo (We used egg free mayo from Bio Bandits), 1 tablespoon
Sesame oil, 1 teaspoon
Wasabi, 2 cm, add to taste
Soy sauce low salt, 1 teaspoon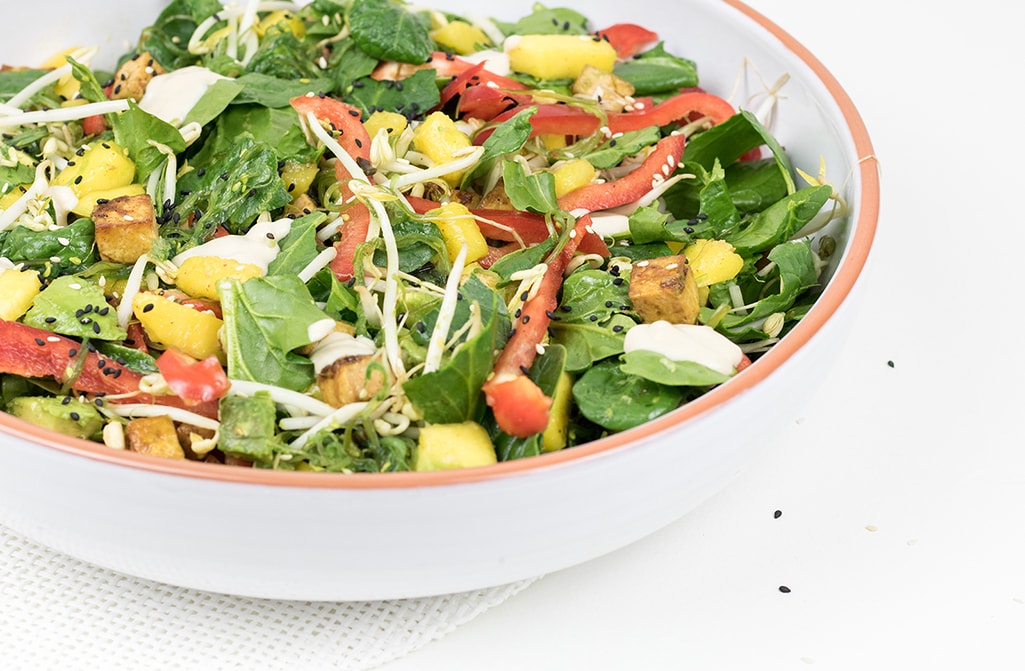 Drain the tofu and press as much as possible moisture out of it. Wrap a clean dish towel around the tofu and press. Cut into chunks. Fry the tofu lightly browned in a frying pan with a little olive oil.
Prepare in the meantime the marinade. Turn off the heat and add the tofu to the marinade. Stir and set aside for at least 30 minutes.
Put the spinach in a large bowl. Add the bean sprouts, bell pepper, mango, avocado and seaweed salad.
Stir fry again the tofu in the same frying pan until browned.
Meanwhile, prepare the Japanese mayo. Stir all the ingredients in a bowl and taste.
Add the marinated tofu in the salad, drizzle the Japanese sauce over the salad and sprinkle with the sesame seeds.
Grill the red bell pepper first before adding to the salad.
If you want you can add some carbs like couscous or quinoa.
Use tempeh instead of tofu.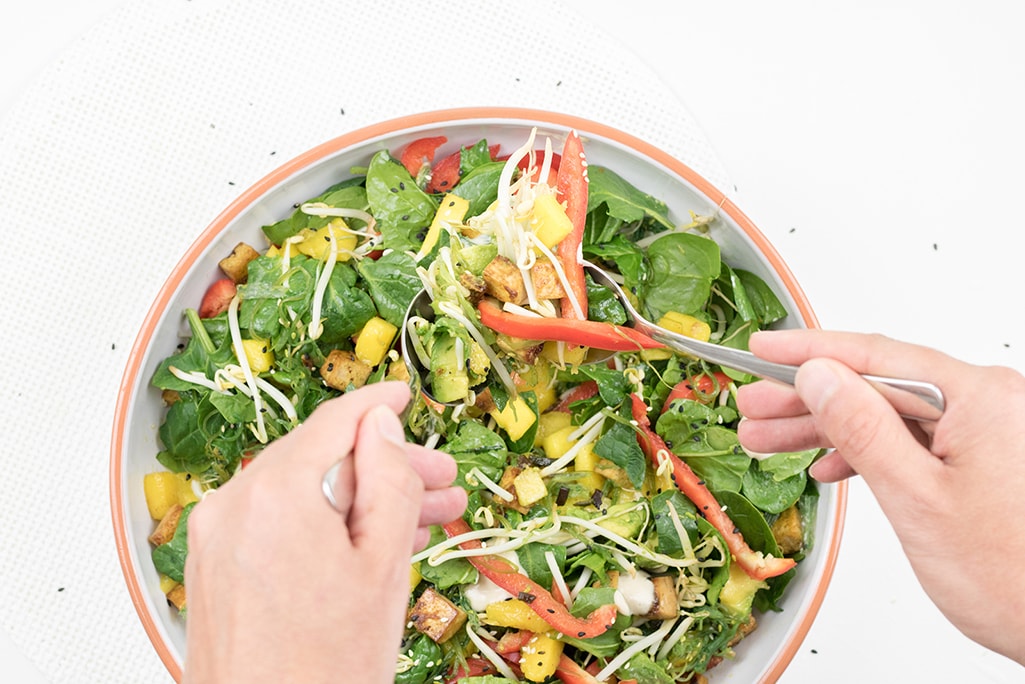 Did you prepare this recipe? Let us know on Instagram. Share it with us using #ERRERFOOD or tag us in your post. We love that! ♥