Moroccan couscous salad with pomegranate
Monday July 15, 2019 - by Errer
We really love couscous! It's perfect for a delicious Moroccan couscous salad. Simple to prepare and fast to cook. Perfect for busy days. For this recipe you don't even need a stove, only a water kettle. Within half an hour you have a tasty salad packed with healthy ingredients. Couscous salad full of flavor, you don't even need a dressing. Good quality olive oil is all you need to finish it.
This recipe with whole wheat couscous is loaded with spinach, avocado, dates, pomegranate, pistachio nuts and fresh parsley. Dates give some sweetness in this recipe.
Pomegranate is super healthy and contains a lot of vitamin c and potassium. It's the symbol of good fortune and good health. Besides, the beautiful red seeds brighten up any dish. Take this delicious vegan couscous salad with you for a picknick in the park or for dinner at the beach.
Whole wheat couscous, 150 gram
Dates, 8 pieces chopped
Pomegranate, 1 piece
Fresh spinach, 2 hands full
Avocado, 1 large or 2 small ones, peeled and chopped
Flat leaf fresh parsley, 1 handful, chopped
Pistachios, 50 grams (2 ounces), unsalted
Olive oil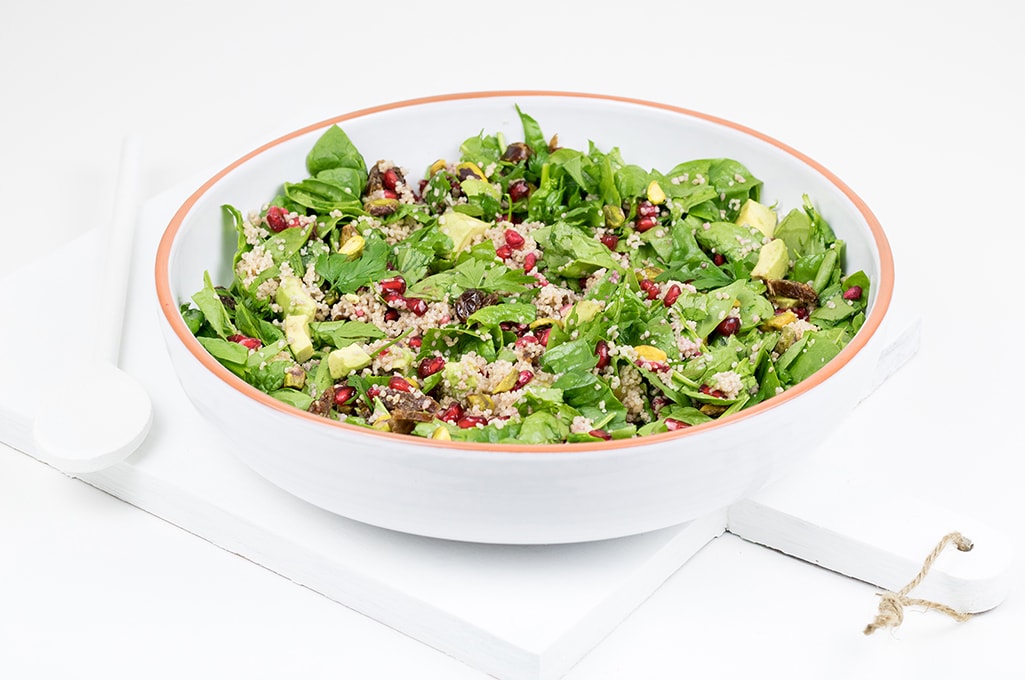 Recipe Moroccan couscous salad
Prepare the couscous according to the instructions on the package.
Remove the seeds from the pomegranate. First roll the fruit over the counter top to loosen the seeds. Cut the pomegranate in halves. Hold each half over a large bowl, seeds facing down and hit with a spoon on the fruit. The seeds will fall down. Watch out for stains!
Tear the spinach into smaller pieces with your hands if you have large leaves.
Add the couscous, avocado, spinach, dates, parsley and the pistachios in the bowl with the pomegranate seeds.
Serve the couscous salad with a good quality olive oil.
Add some squeezed lemon juice above the couscous salad.
Use other herbs, for example coriander.
Use almonds instead of pistachios.
No fan of dates? Add raisins instead.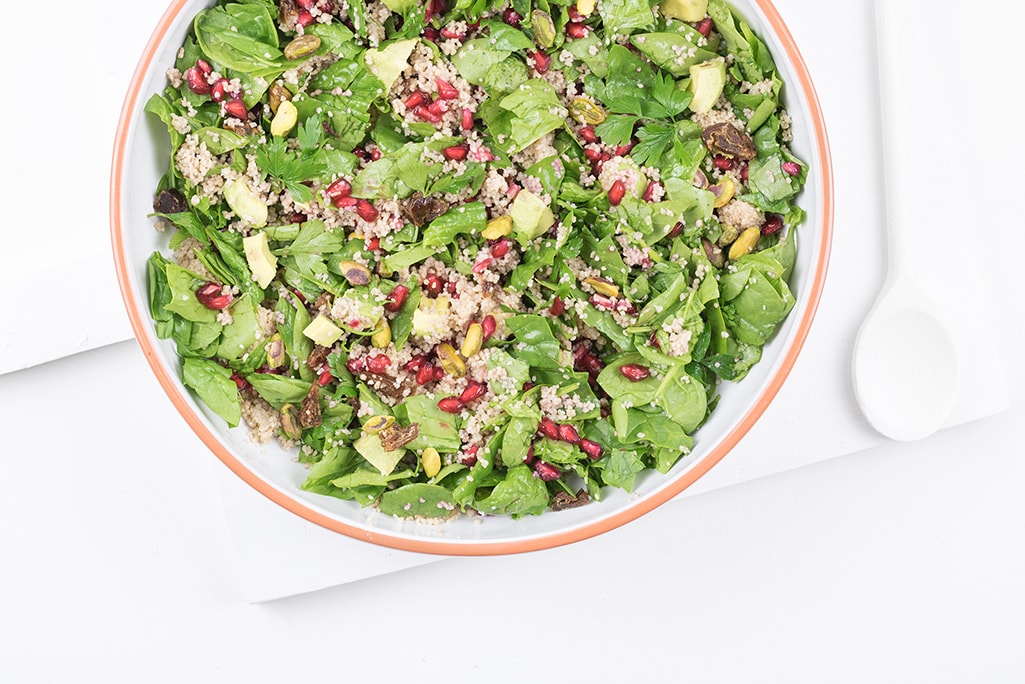 Did you prepare this recipe? Let us know on Instagram. Share it with us using #ERRERFOOD or tag us in your post. We love that! ♥