Nectarine salad with couscous and tofu
Wednesday July 22, 2020 - by Errer
Nectarines are super tasty and sweet and very refreshing on a hot summer day. Good thing is, you can easily use them for a delicious nectarine salad with couscous and tofu. In the Netherlands, they are now widely available and we certainly buy them a lot in summer. Nectarine is closely related with the peach, but is slightly firmer and has a smooth skin. However, nectarine is more suitable to use for a salad, because the flesh is more solid.
Besides the fact nectarines are flavorful, they have many health benefits too. Nectarines are sources of antioxidants, vitamin C and lutein. They improve immunity, protect vision and improve your skin. In addition, the fruit is also low in colories and packed with fibers as well. If you prefer to eat the nectarine without his skin, don't use a knife but carefully peel it off using your hands. This is due to the fact that just below the skin there are the most antioxidants. And antioxidants protect your body from free radicals, which play a role in several diseases.
Furthermore, I add whole grain couscous, tofu, cucumber and red onion to my nectarine salad. Couscous is such an easy and simple ingredient. Earlier I have shared couscous recipes with lentil balls, tempeh and broccoli and a Maroccan salad. Tofu is a perfect addition to salads and it is totally not boring if you fry them brown and crispy. I marinated the tofu in soy sauce, sesame oil and garlic. Lastly, sprinkle the salad with a fresh lemon juice and a tasty olive oil. This vegan salad doesn't need more fuss. Perfect to take it with you for a picnic or to serve as a side for a barbecue.
Ingredients nectarine salad
Couscous, 150 grams
Nectarines, 3 pieces
Half a cucumber
Tofu, 250 grams
Half red onion
Soy sauce, 1 tablespoon
Sesame oil, 1 tablespoon
Garlic, 1 clove
Extra virgin olive oil
Half a lemon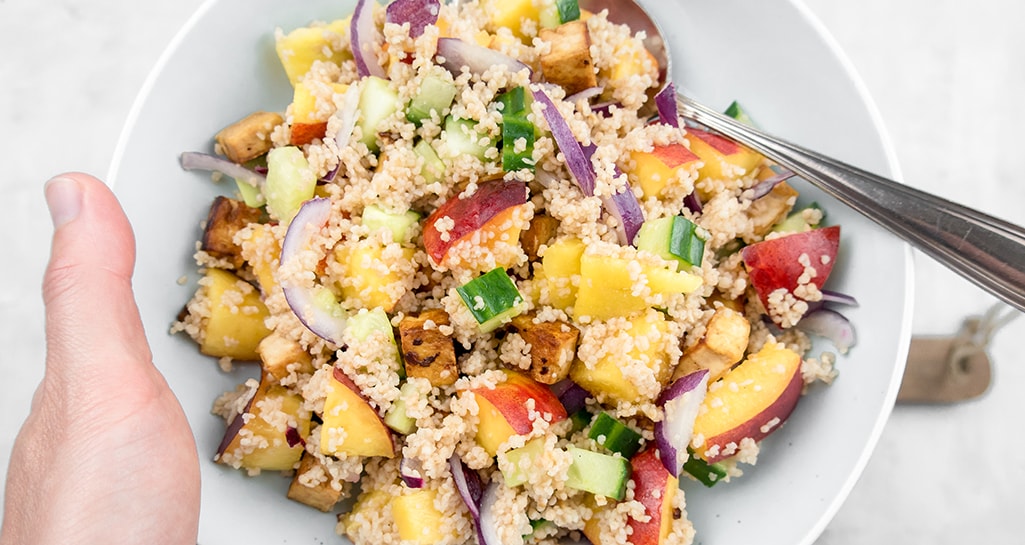 Preparation nectarine salad
First remove the tofu from the packaging and let it drain (unless you bought firm tofu). Cut into slices and then place all the slices between a clean kitchen towel. Squeeze the moisture out of it, but do it gently. When ready, cut into little cubes. Heat some oil in a frying pan and fry the tofu until slightly brown colored. Set the pan aside.
Meanwhile, combine the marinade ingredients in a bowl by mixing the soy sauce, sesame oil, a dash of olive oil and squeezing the garlic. Stir well to mix all the ingredients. Add the tofu cubes and stir again. Marinate the tofu for at least 15 minutes.
While the tofu is marinating, boil 200 ml water. You can do that easily with a kettle. Add the water in a large bowl together with the couscous. Cover and set aside for 5 minutes. Then add a tablespoon of olive oil and scoop everything well. Allow to cool.
Cut the cucumber into pieces and the red onion into half moons.
Wash the nectarines, remove the pit (slice into halves lengthwise. Twist halves and now you can easily remove the pit). Cut into pieces.
Place the tofu in a hot pan and fry again until brown on all sides. To prevent sticking, fry without moving the cubes for about 3 minutes on medium high heat. Repeat once you flip the tofu until all sides are crispy.
Now you can finish your nectarine salad by adding the nectarine, cucumber, tofu and red onion to the couscous. Finally, sprinle a good quality olive oil and squeeze the lemon above the salad.
If you prefer tempeh or plant chicken instead of tofu, it's possible of course. Nuts are also a good combination with nectarine.
If you don't like nectarine you can also choose mango for example.
Add some plant-based feta to enrich your salad.
If you like you can grill the nectarine first.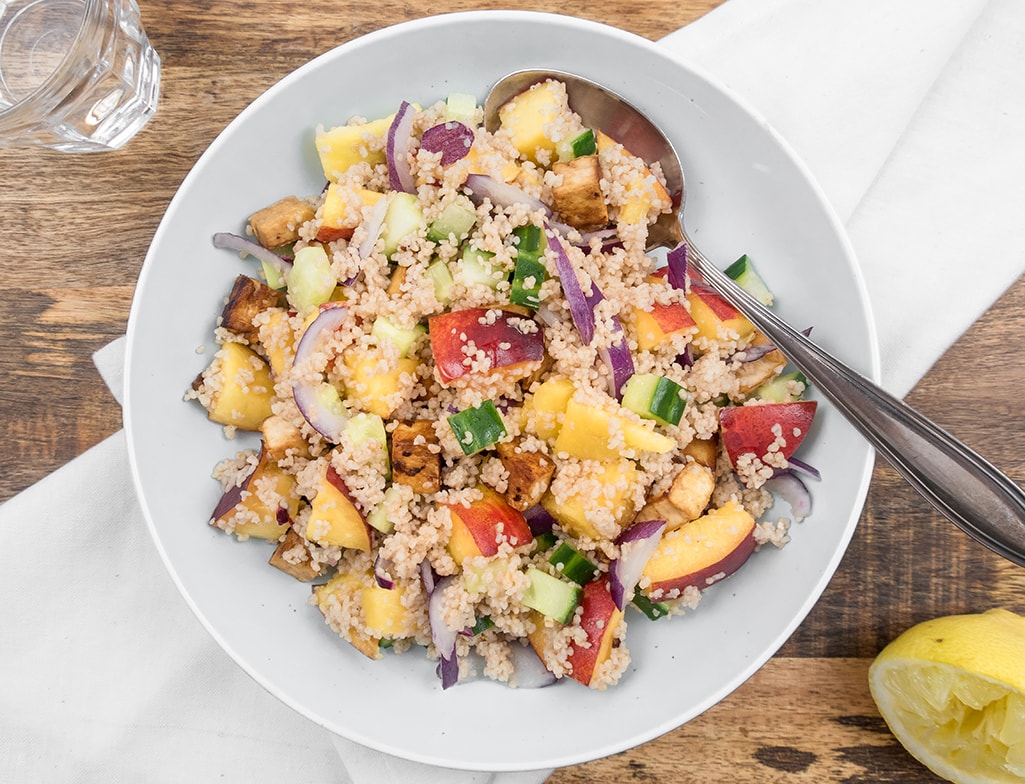 Did you prepare this recipe? Let us know on Instagram. Share it with us using #ERRERFOOD or tag us in your post. We love that! ♥