Oven baked brussels sprouts
Thursday November 14, 2019 - by Errer
Brussels sprouts are in season right now and we love them! You can prepare them in different ways; in the oven, cooked, in a hotchpotch. This time I prepared oven baked brussels sprouts with carrots, walnuts and red bell pepper. Before going in the oven I marinate the sprouts with chili powder and agave syrop to give a sweet spicy taste.
Sprouts are a winter vegetable, which grows widely in the Netherlands. Brussels sprouts are low in calories and high in fiber, vitamins and minerals. A vegetable with a lot of health benefits among which loaded with plenty of vitamin C and vitamin K. Furthermore, sprouts contain magnesium, iron, calcium, phosphorus and manganese. Full of fibers and relatively high in protein.
In this recipe I cooked the brussels sprouts for 6 minutes first before roasting. After cooking they go in the oven together with the other veggies and the walnuts. The nuts are from my parent's walnut tree. We are lucky, we never have to buy walnuts. This autumn dish is actually a very simple low carb meal but very tasteful and healthy! Naturally, you can add some potatoes or rice if you want to eat some carbs with the sprouts.
Oven baked brussels sprouts
Brussel sprouts, 500 grams, peeled
Walnuts, 20 pieces
Dutch carrots, 5 pieces
Yellow and red bell pepper
Chili powder, half teaspoon
Agave syrup, honey or ahorn syrup, 2 tablespoons
Olive oil
Plant-based yogurt, 3 tablespoons (You can add some vegan mayo)
Harissa, 1 teaspoon
Paprika powder, 1 teaspoon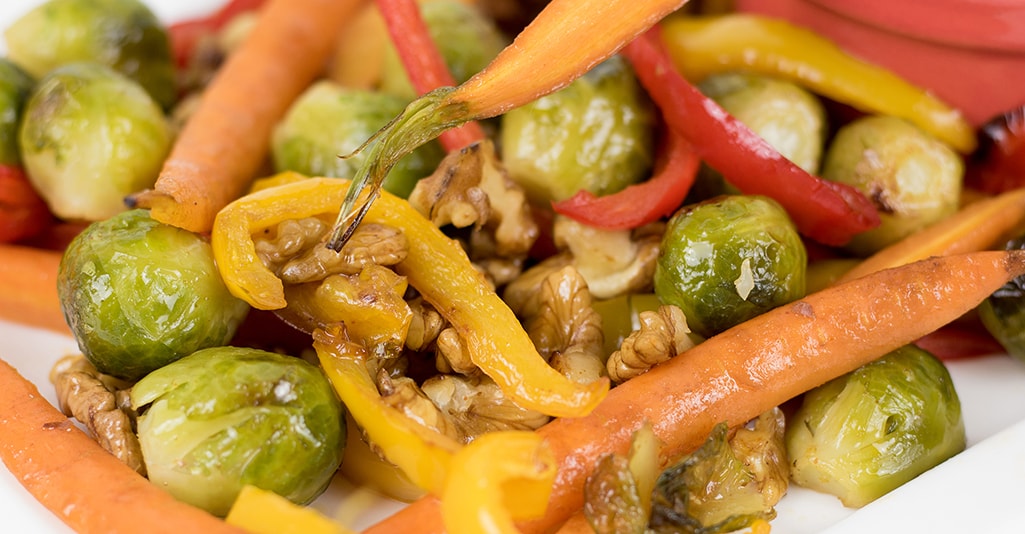 Recipe oven baked brussels sprouts
Add the peeled brussels sprouts to boiling water and cook for 6 minutes. Cooking time based on average size sprouts.
Preheat the oven to 200°c.
Clean the Dutch carrots and cut in length. If the carrot is very thick, cut them twice in length.
Crack the walnuts if you bought them with shell.
Clean the bell peppers and cut into strips.
Put everything on the oven tray and sprinkle with chili powder, syrup and a few tablespoons of olive oil. Toss and place the oven tray in the oven.
Meanwhile, prepare the harrisa dipping sauce by mixing the ingredients.
See for yourself when you take the tray out of the oven. It takes about 30 minutes, it depends on your oven. When the sprouts and carrots are soft, you know the veggies are ready.
Put the oven baked brussels sprouts on a large plate to make it festive start dipping the veggies in the sauce.
Vary your veggies, whatever you like. For example, try some cauliflower or parsnip.
Choose other spices for marinating the sprouts.
Did you prepare this recipe? Let us know on Instagram. Share it with us using #ERRERFOOD or tag us in your post. We love that! ♥