Sunday March 28, 2021 - by Errer
4

serves
Fusion
Snacks, Baking
Used backdrop: Rough wood
Our pesto twists recipe is an outcome for vegans. Because buying puff pastry cheese straws in the supermarket is not longer an option. But no worries, we can make our own plant-based version with nutritional yeast flakes. It's very easy and quick to make. In the Netherlands, it's not difficult to find vegan puff pastry in the supermarket. We can find rolled puff pastry or little squared sheets. In this recipe I spread the dough with green pesto and sprinkle them with yeast flakes. Pesto cheese straws are the perfect snack for the weekend. For this recipe, I didn't make the pesto myself, because I didn't have the time. Make sure that you buy good quality pesto with pure ingredients.
Twisting vegan cheese straws
I guarantee you my recipe is very simple. However, the hardest part is twisting the puff pastry. It's not really difficult but it just makes a mess. You can buy squared sheets or rolled pastry. Whatever is available for you. When you have a large sheet you can cut it into equal parts. Spread them with pesto and fold the pastry. Then twist at both sides. I bought slices of pastry and glued them together to make longer straws. Obviously, you can make shorter ones if you like. Please place them first on the baking tray before you twist them as they are difficult to move after twisting.
Vegan store-bought puff pastry, 10 squares
Nutritional yeast flakes
Almond milk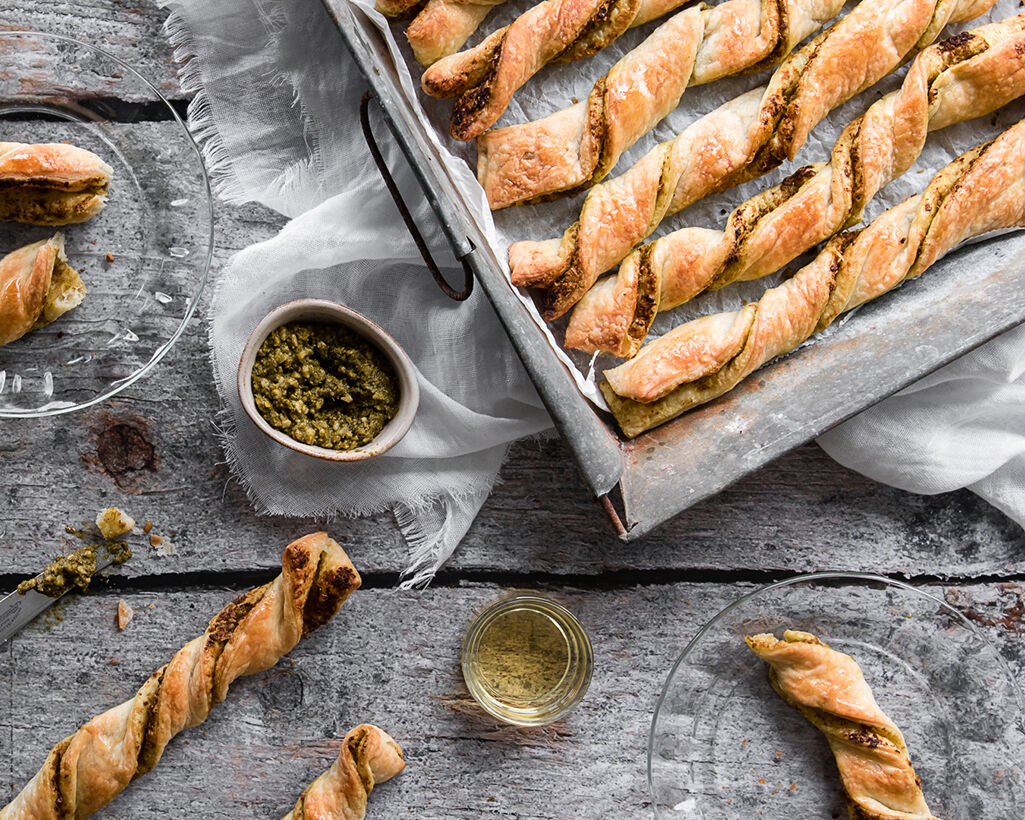 How to make pesto twists?
Remove the puff pastry from the freezer and let it thaw if necessary.
Remove the baking tray from the oven and line with parchment paper. Preheat your oven to 225 degrees Celsius.
Place 2 pastry slices against each other and mold them together. Spread with a layer of pesto and sprinkle with yeast flakes.
Mold two other pastry sheets together and place them on top so that everything is covered.
Now cut into four equal straws lengthwise and place them carefully on a baking tray covered with parchment paper. Gently twist the straws while holding the ends. First one side and then the other side in reverse direction.
When you have two slices left like I did you can cut these both in half to make four slices in total. Mold them again in pairs lengthwise and spread with pesto and yeast flakes. Cover with the two other slices and twist again. Now you have two more straws. I had 10 pesto twists in total.
Spread the straws slightly with almond milk and bake for about 15 to 20 minutes until golden brown. Let them cool slightly to become crispy.
Make shorter straws if you like.
They are super delicious with a pinch of sea salt too. Brush the pastry slightly with almond milk and sprinkle with sea salt. Press lightly and twist.
Use plant-based grated cheese instead of yeast flakes.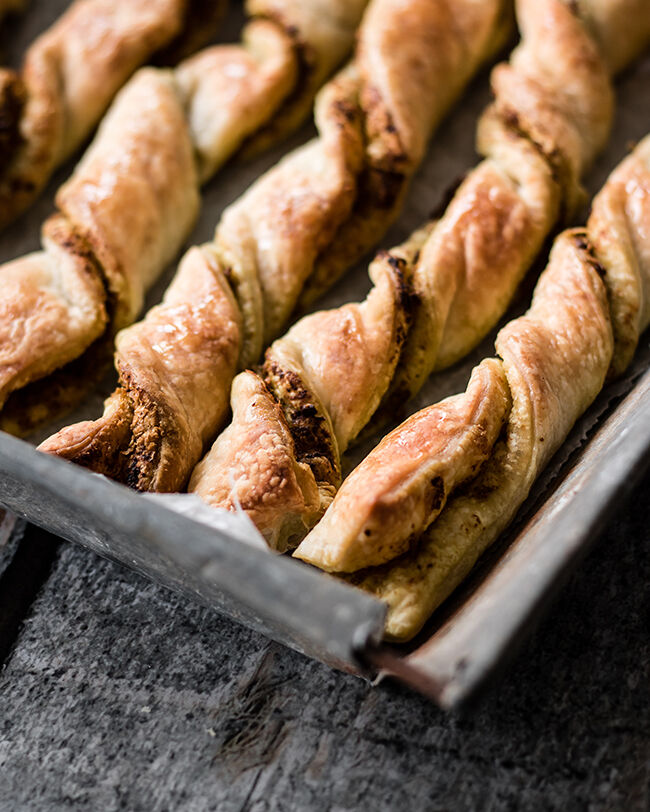 Vegan puff pastry cheese straws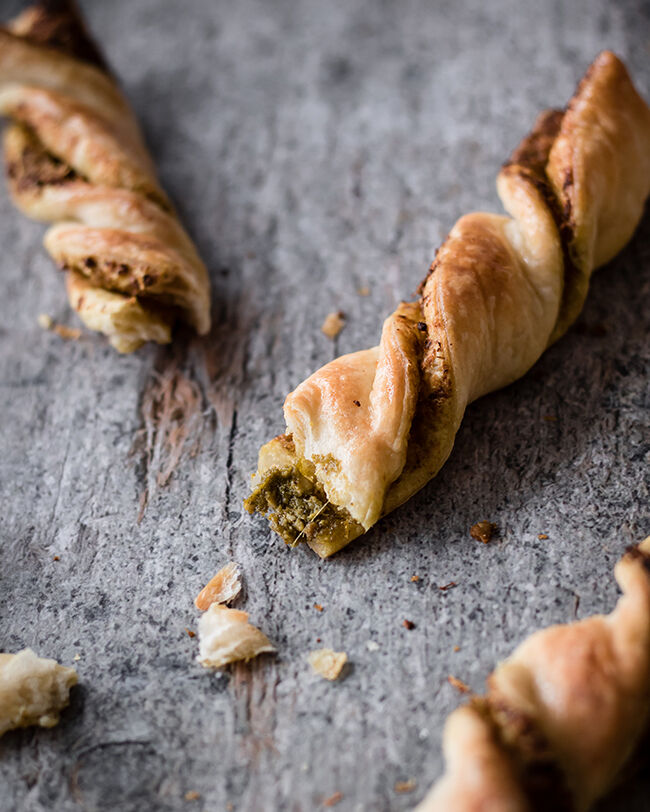 Pesto straws are the perfect snack
Did you prepare this recipe? Let us know on Instagram. Share it with us using #ERRERFOOD or tag us in your post. We love that! ♥