Homemade whole wheat pita bread
Sunday March 1, 2020 - by Errer
This is a recipe for homemade pita bread made from oranic whole grain spelt flour and linseed flour. These pita's are so much tastier and healthier than the pita's you buy in the grocery store. We don't even add salt. Pita bread is also called shawarma bread, but we certainly don't eat animal shawarma anymore. By the way, the vegetarian shawarma from Vivera is really a good replacement. They did such a good job with the spicing. It is incredibly delicious and you hardly taste the difference. However, we like the plant-based shawarma more because it's less fat.
Making shawarma bread is very easy. In addition to linseed flour and whole grain flour, add yeast, water and olive oil. I also try to use as little yeast as possible in our recipes, so I tried to minimize the use of yeast in this homemade pita bread too. Kneading the dough is very important for the rising, take your time doing this.
Usually pita bread is made from white flour, but this is naturally not very nutritious. So why shouldn't we use whole grain flour which contains lots of fibers? You can make the pita entirely from whole grain flour, but we also add some linseed flour. Linseed flour is very nutritious and can usually be puchased at the grocery store.
We really love whole wheat pita bread, because we can fill them with anything we like. They are very versatile, you can fill the pockets with anything. Both cold and warm ingredients. Try all sort of fillings, for example lettuce, cucumber, sun-dried tomatos and hummus. Or with warm ingredients such as vegetarian gyros or spicy marinated plant-based chicken pieces. Delicious with homemade garlic sauce as well.
Organic whole grain spelt flour, 260 grams
Linseed flour, 150 grams
Instant dry gist, 5 grams
Olive oil, 1 tablespoon
Lukewarm water, 300 ml
Recipe whole wheat pita bread
Dissolve the yeast in 300 ml lukewarm water in a large bowl.
Mix the whole grain flour with the linseed flour. Add the yeast/water mixture and the olive oil. Knead for 15 minutes into a smooth dough.
Divide the dough into 6 equal balls. If you want, you can use a kitchen scale, but that's not necessary.
Cover your oven tray with parchment paper and dust a little flour on the paper. Push the balls into flat round slices of circa 13 cm in diameter and place on the paper.
Allow to rise the pita bread for at least an hour under a slightly wet kitchen towel in a warm draft-free place.
Preheat the oven to 230 degrees celsius and bake the pita's for about 15 minutes, until the pita bread turns brown.
Switch off the oven, remove the whole wheat pita bread and let them cool on a rack. Put the pita's flat on the cutting board, poke a sharp knife into the pita and cut open. The pita has a ''pocket'' which you can fill with all kinds of delicious veggies, sauces and other plant-based ingredients.
If the dough is too sticky, add a little whole grain flour until it no longer sticks. Warm weather influences the preparation of the dough, because it easily turns out ''wetter''.
Also, you can add some herbs while you are making the dough, such as thyme and oregano. This way you add some taste to the whole wheat pita bread.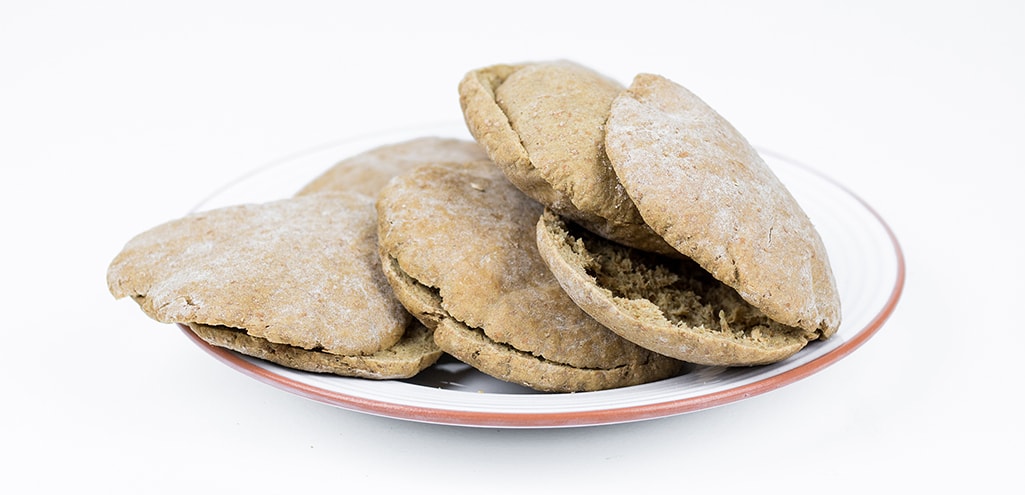 Did you prepare this recipe? Let us know on Instagram. Share it with us using #ERRERFOOD or tag us in your post. We love that! ♥