Smoky tempeh with couscous
Tuesday May 28, 2019 - by Errer
Since we don't eat meat anymore, we search for other meatless sources of protein. Tempeh is our favorite; it's healthy and easy to prepare. In this recipe for smoky tempeh I tried to achieve a bacon taste. We combine tempeh for example with noodles or rice and put it in salads. You can also crumble it and add it to pasta sauces or soups for example. Tempeh itself is flavorless, but you can add any flavor you like.
Tempeh is healthier dan tofu, both are made from soy, but tempeh is less processed than tofu and is healthier in general because it contains more protein and fiber.
The best way to prepare tempeh is to steam it first to absorb the marinade at his best. But I don't feel like taking this extra step, so I add the chunks directly to the bacon marinade, set aside for about 30 minutes. Once marinated stir fry the tempeh in a hot pan. For the tempeh bacon marinade I used liquid smoke to achieve the desired smoky flavor. I never used liquid smoke before and we both were very curious about how it tastes. I bought the Hickory Smoke from Mex-Al on the Internet, because it's difficult to find it in stores.
Don't add too much, because its highly concentrated. But the smoky tempeh has certainly that 'bacon taste'. Together with couscous, broccoli and cucumber this salad is very tasty and nutritious.
Whole wheat couscous, 150 grams
Water, 200 ml
Tempeh, 250 grams, chunks
Cucumber, 1 piece
Broccoli, 200 grams, stalks sliced, top cut into small florets
Red onion, 1 piece diced
Ground pepper
Half lime, juiced
Smoky tempeh bacon marinade
Olive oil, 2,5 tablespoon
Soy sauce, 1 tablespoon
Liquid smoke, 2 teaspoons, We use Mex-Al, Hickory Smoke
Sweet smoked paprika powder, 1 teaspoon, We use La Chinata
Garlic powder, 1 teaspoon
Ginger grated, 1,5 teaspoon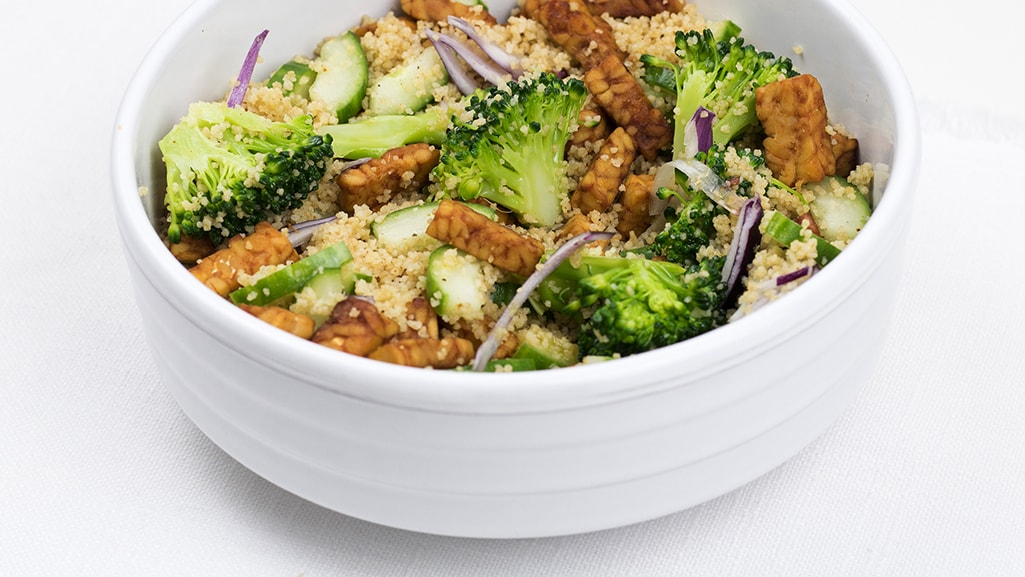 Add all the ingredients for the tempeh bacon marinade in a bowl and add the tempeh chunks. Stir and set aside for at least 30 minutes.
Place the couscous in a large bowl. Pour over 200 ml boiling water and cover with a plate. Set aside for 5 minutes.
Bring water to a boil, add the broccoli and cook for 4 minutes. Drain and immediately pour over cold water. Drain and set aside.
Cut the cucumber in half lengthwise and remove the seeds (the 'wet' part inside) with a teaspoon. Again, cut the cucumber in half lengthwise and cut in pieces.
Add the tempeh in a hot pan and stir fry all sides until browned.
Now add the couscous, smoky tempeh, cucumber, onion and broccoli together in a large bowl, toss and sprinkle with black pepper, lime juice and olive oil.
Don't add too much liquid smoke for the smoky tempeh in this recipe because its highly concentrated.
Instead of using tempeh you can use tofu as well.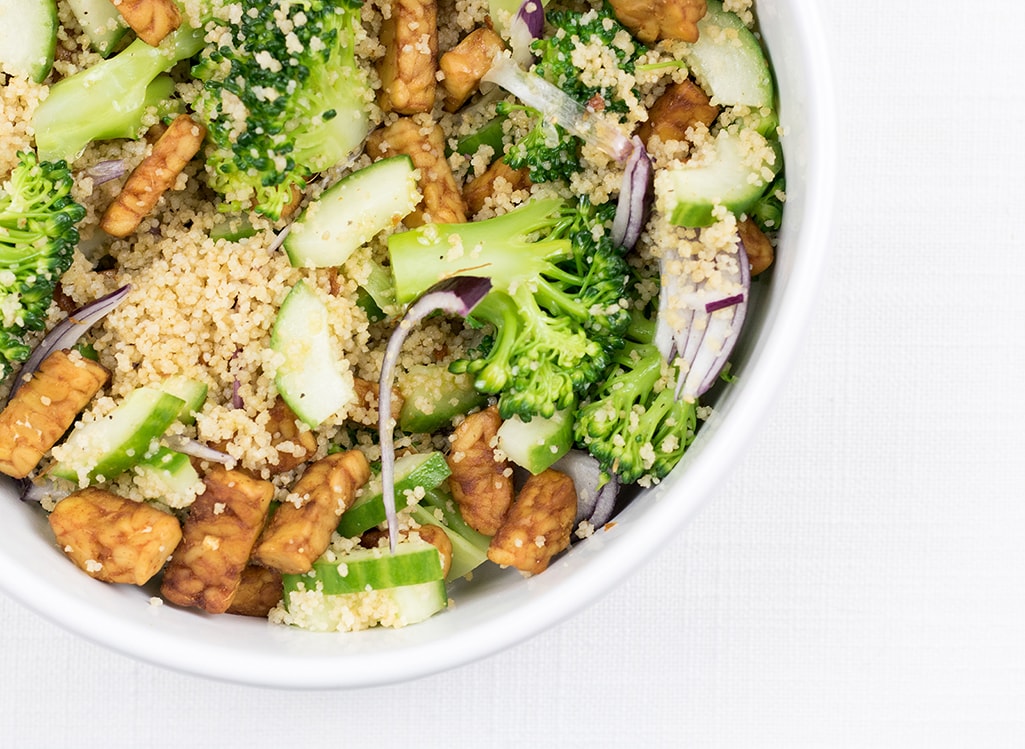 Did you prepare this recipe? Let us know on Instagram. Share it with us using #ERRERFOOD or tag us in your post. We love that! ♥