Tuesday October 27, 2020 - by Errer
6

serves
French, Dutch
Dessert, Lunch, Side dish, Christmas, Party
Used backdrop: Chipped wall
Stewed pears is a classic recipe in the Netherlands ("stoofpeertjes" in Dutch). Super delicious and easy to make. "It's like I am eating in a restaurant", my boyfriend said when he ate the pears. I love it when he compliments me for my cooking. At the same time, I enjoy it to spoil people with good food. To be honest, I never made stewed pears before. I guess because my mother always used to make them like every week when I was a child and I never really liked them. She always cooked them in the same way and I got bored of the pears I guess. Besides, I always thought cooking poached pears would be a lot of work, but it isn't. While the pears are simmering you can prepare your main course or bake a delicious crumble to serve with the pears. Crunchiness is a super combo with the softness of the pears.
The pears I used in this recipe were a gift from a friend of mine who has a tree in his garden. So I was very excited to make this dish for the first time. Now, I don't really know what kind of stewing pear this is, but I have read that the Gieser Wildeman is a good pear for stewing. So I would buy that one if it's available. Saint Remy also seems to be a good choice. Both pears are now in season and available everywhere in the Dutch supermarkets. You can buy them for about five months from October to March. That's a long time to try different pear recipes. Now, when these specific types of pears are not available where you live try to find other suitable pears for stewing or just use regular firm pears and cook them shorter. However, don't use overripe soft pears.
Recipe stewed pears without alcohol?
I decided to stew my pears in red grape juice with cinnamon and star anise. Without any alcohol but it's possible to use red wine if you like. If you want to use red wine instead of grape juice, I recommend 350 ml and add more water. It's useful to know that the pears are often already softened after one hour or even earlier, but if you cook them longer they will have a deeper color. Decide for yourself. Moreover, the color doesn't say anything about the taste. However, they look beautiful when they turn red. Indispensable is the viscous sauce that you must make from the leftover cooking liquid. You will not be disapointed as this autumn dish is full of flavor. You can combine the stewed pears very easily and look very festive on a plate. Perfect for Christmas dinner as well.
Stewing pears (or firm regular ones), 1,5 kilo (I had 5 big pears)
Red grape juice, 500 ml
Cinnamon sticks, 2 pieces
Star anise, 2 pieces
Palm sugar, 3 tablespoons
Water
Potato starch, 1 level tablespoon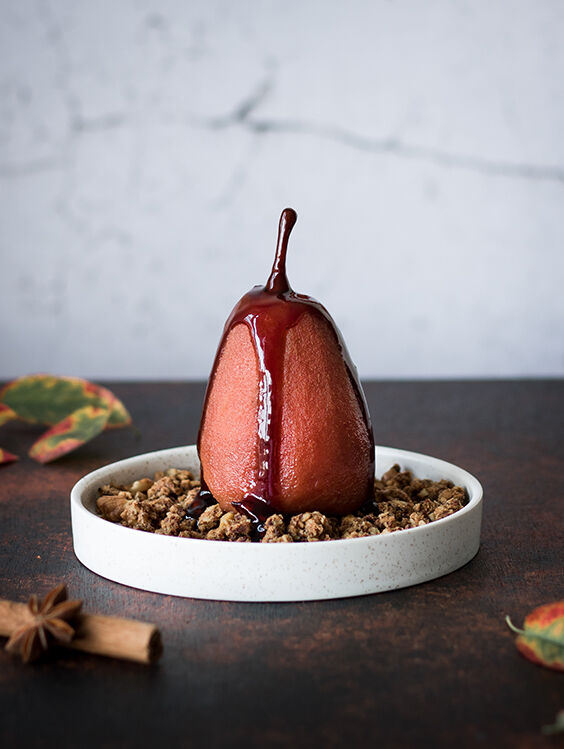 Peel the pears with a peeler and leave the stalk intact. Cut a small piece of the bottom of the pear so they can easily stand up straight. Wash the pears under running water and place them in a large pot.
Pour in the grape juice and add the cinnamon sticks, palm sugar and star anise.
Fill with water until the pears are covered with liquid.
Bring everything to a boil. As soon as the pears are boiling, turn down the heat and simmer gently.
Stew the pears for about 1 to 1.5 hours and cover with the lid slightly off the pot. Cook until the pears are tender. Decide for yourself if you want to cook them longer for a deeper color, but don't cook them too soft to prevent the pears from falling apart. While simmering, pour the pears with the cooking liquid a few times.
Carefully remove the pears from the pot, as they easily break. Use a slotted spoon and place them gently on a plate. Remove the cinnamon sticks and star anise or strain the cooking water if you want and return it in the pot.
Cook the remaining liquid and prepare the sauce. I cooked it for a long time until there was a small amount of liquid left. The flavors are very full and powerful if you do that.
Make a mixture by combining the potato starch and 2 tablespoons of cooking liquid in a separate bowl. Add this to the cooking liquid while stirring on medium heat until you get a sticky sauce. Let it simmer until the sauce has thickened and turn off the heat.
Serve the stewed pears warm or cold and pour the sauce over it. Delicious to serve with the crumble.
Combine this stewed pears recipe with a crumble to add crunchiness in your dish.
It's possible to prepare the poached pears a day in advance. Cover them and store them in the fridge. Put the sauce in a separate bowl and cover as well.
Cloves and vanilla are also delicious with pears.
Serve with some ice cream or yogurt as a dessert.
Talking about pears, check also our healthy breakfast galette with pear and persimmon.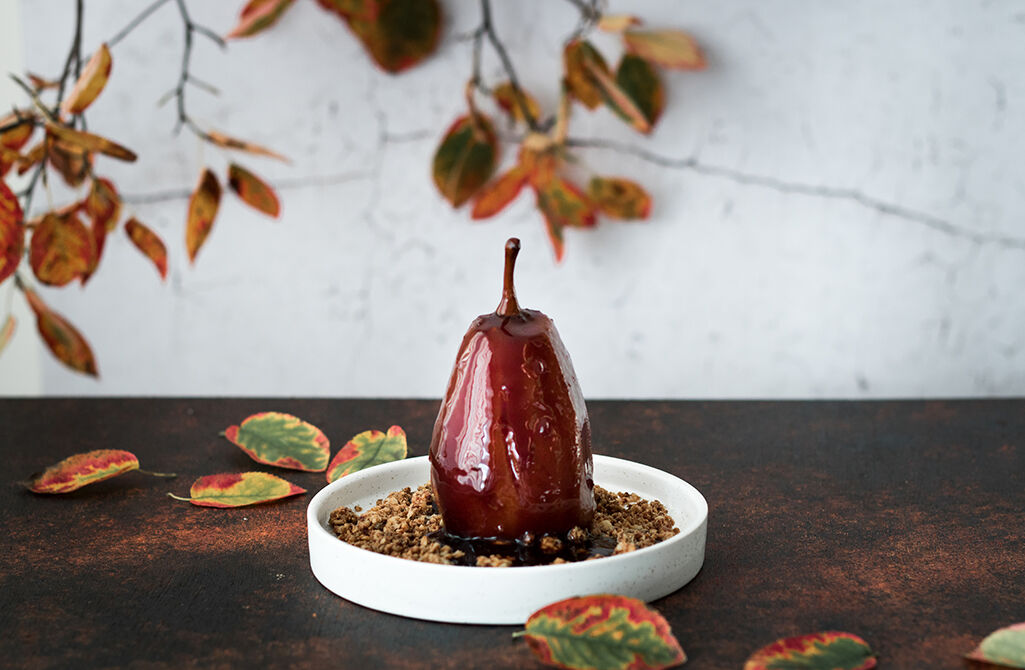 Did you prepare this recipe? Let us know on Instagram. Share it with us using #ERRERFOOD or tag us in your post. We love that! ♥