Sunday May 3, 2020 - by Errer
It sounds self-righteous, but I find this strawberry pasta with asparagus recipe quite surprising. Earlier I described a pasta recipe with grilled green asparagus with pasta.This recipe is totally different. What I had in mind was to combine white asparagus with strawberries. Two super delicious Dutch products. Combining strawberries and asparagus in a salad is well known, but I wanted to make a pasta. Immediately I thought about a smooth strawberry sauce for my pasta with mint and cream. Turns out, this recipe is very simple. However, the dish looks stunning and original. A beautiful looking dish that will surprise everyone at you dinner table.
Fusilli pasta with asparagus and strawberry sauce is combined with Violife Greek White block and roasted sunflower seeds. Violife is a Greek brand and they offer different types of vegan non-dairy cheeses since the 90's. We are huge fan of their products as they are very delicious.
Grated cheese, slices, cream cheeses, cheddar and many more. Remco and I love the brand and we regularly eat the slices and the Greek White, which is comparable with feta. For making cheese toastie their cheese slices are perfect, because they melt very good. Violife's Greek White is similar to feta, but frankly we like the vegan cheese even better. The cheese tastes very creamy and soft. Perfect to add in a salad with olives and tomatoes or in this vegan asparagus recipe. In Holland Violife is available at Albert Heijn. Search on their website where you can buy their vegan products.
Ingredients strawberry pasta
Whole grain fusilli, 90 grams (low carbohydrate diet). You can add more.
White asparagus, 600 grams, unpeeled (350 grams peeled)
Strawberries 250 grams for strawberry sauce + circa 5 strawberries
Soy cream, 80 grams
Lemon juice, 1 tablespoon
Handful fresh mint
Lettuce, 100 gram
Pepper
Mixture lettuce; leaf and lamb's lettuce, 100 gram
Greek White block Violife, 50 grams, in pieces
Handful of sunflower seeds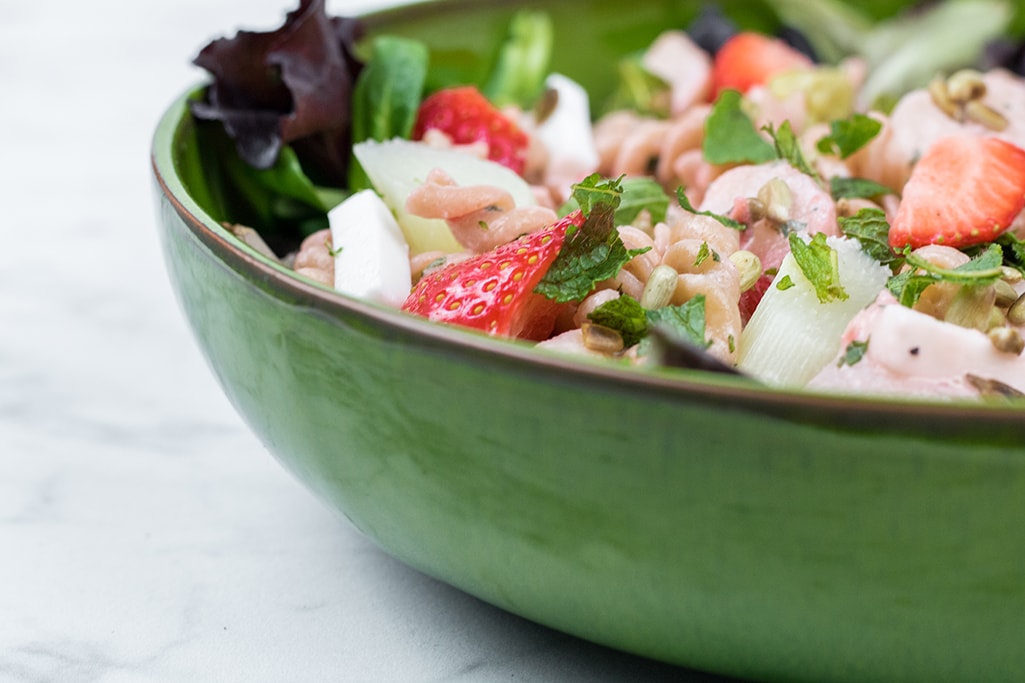 Preperation strawberry pasta
Peel the asparagus. Trim 1,5 cm off the bottom of each stalk. Cut into pieces and add to boiling water. Check softness after 6 minutes, depending on thickness. When ready, drain asparagus and set aside.
Cook the fusilli pasta according to package description.
Roast the sunflower seeds in a frying pan until lightly browned.
Wash the strawberries and cut off the crowns.
Add in a blender, 250 grams strawberries, 80 grams soy cream, the mint, a pinch of pepper and a tablespoon of lemon juice. Mix into a smooth strawberry sauce.
In a saucepan, add the fusilli pasta, strawberry sauce and the asperagus. Cut the strawberries you have left into pieces and stir into the pasta. Do the same with the Violife cheese.
On a deep plate, make a layer of lettuce, divide the vegan asparagus pasta and sprinkle with sunflower seeds, finely chopped mint.
Obviously, you can also choose for another type of pasta such as penne, farfalle or tagliatelle. Choose for whole-grain if possible as it is much more healthy.
Instead of mint you can use basil. We prefer mint for the strawberry pasta, but basil is possible too.
Add green asparagus instead of white. Grill them before adding.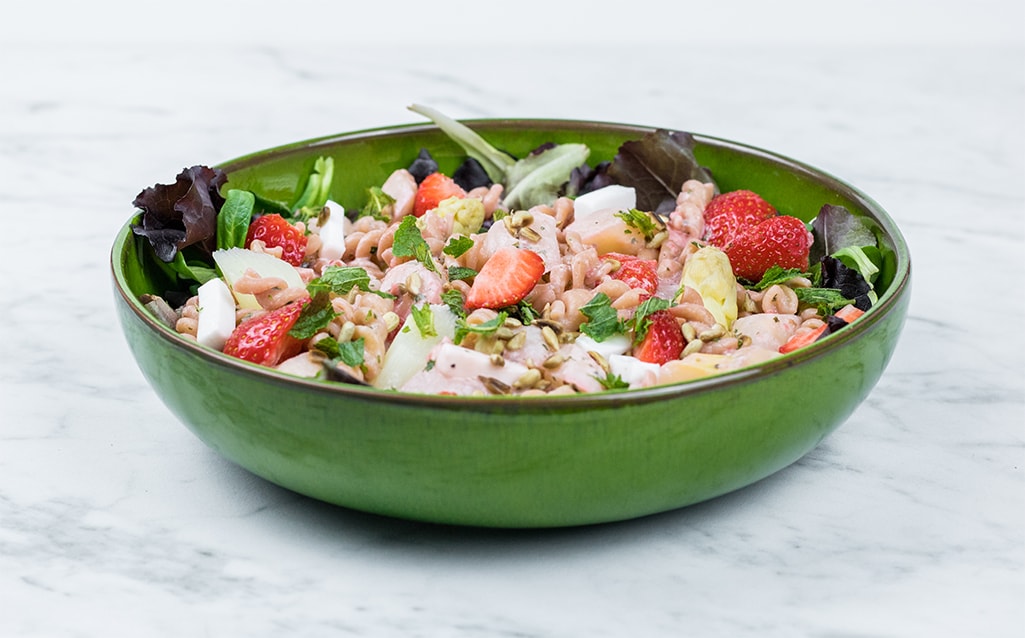 Did you prepare this recipe? Let us know on Instagram. Share it with us using #ERRERFOOD or tag us in your post. We love that! ♥