Stuffed pitas with Brussels sprouts
Thursday March 5, 2020 - by Errer
You really should try our recipe and make these stuffed pitas with a crumb of Brussels sprouts and plant-based mince. Have you ever tried meat free mince? Give it a try if you never have. You can easily replace it for animal mince. Add it in your spaghetti, lasagna or vegan quiche and season to taste.
For this recipe we used the Beyond Meat plant-based burgers, we like these burgers. But you can use another fake meat brand of course. As long as you use plant-based mince (or burgers) it will definitely work. To make the filling, I crumble the burgers into little pieces. Together with a crumble of Brussels sprouts I put it in the pita bread. Maybe you find it strange to grind the sprouts and stuff it in a pita, but I can ensure you it's very tasty. The filling is packed with flavors such as sambal, onion and garlic. And on top of that, I made a bell pepper spread which is easy to make and tasty.
Check out our recipe for homemade whole grain pita bread. Much healthier and tastier than pita bread you buy in the grocery store. These stuffed pitas are super delicious but also very healthy since the Brussels sprouts contain lots of Vitamin C. If you have children, this is a great way to hide the veggies. It's like you are eating comfort food on a rainy day. We always feel very happy to eat our food with our hands and stuffed pita bread is the perfect meal doing that.
Brussels sprouts, 600 grams, peeled
Vegan plant-based burgers or mince
Add sambal to taste, I used 1 teaspoon
Garlic, 2 cloves
Onion, 1 piece, diced
Cherry tomatoes
Hummus, 2 tablespoons
Paprika powder, 1 teaspoon
Roasted bell peppers, 2 pieces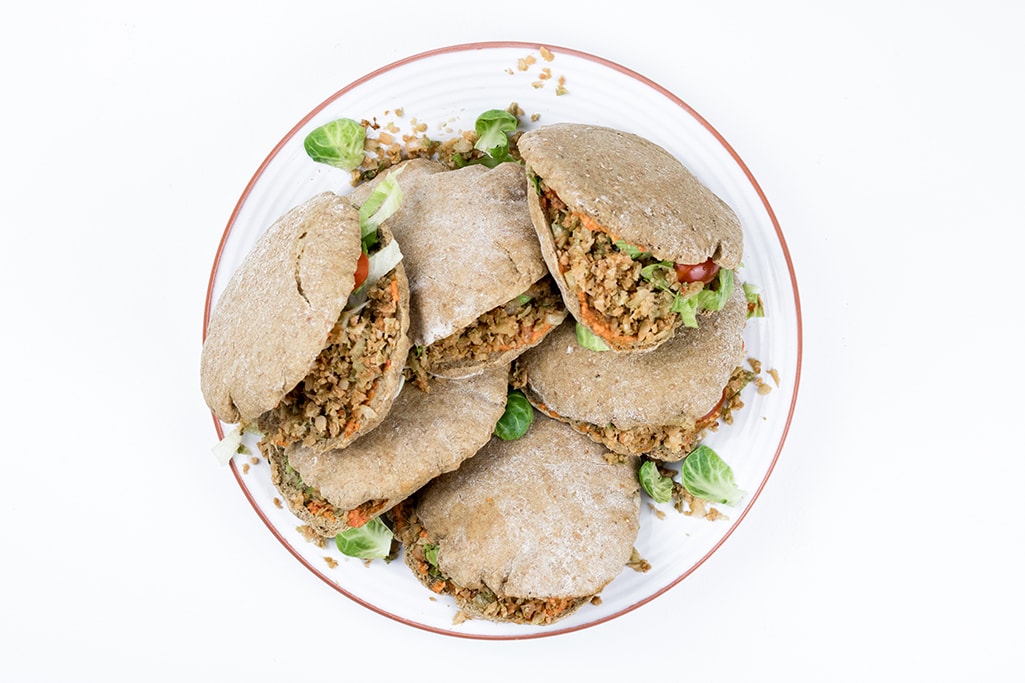 Prepare the pita breads. Read here our pita bread recipe. Of course, you can buy pita bread in the grocery store, but homemade bread is much tastier.
Remove with a knife a small amount of leaves of the end of the sprouts. Boil them for 6 minutes. Drain and put the lid on the pan so the sprouts steam a little further.
Prepare the bell pepper spread by adding the ingredients in the food processor. Grind into a smooth sauce. Add the sauce in a little bowl and clean the food processor.
Tear the plant-based burgers (if you use burgers instead of mince obviously) into pieces and put it in the food processor together with the Brussels sprouts and the sambal. Squeeze the garlic cloves. Grind the mixture but be careful; don't over process the mixture to a pulp.
Fry this mixture together with the onion for about 8 minutes over medium heat.
Cut open the pita bread and spread the sauce inside the pita bread. Fill the pita pockets with the crumb. Garnish the stuffed pita bread with cherry tomatoes and lettuce.
For seasoning we added sambal and garlic, but decide yourself which herbs and spices you like.
This mixture of sprouts and mince is also delicious to combine in a tortilla wrap.
Garnish the stuffed pita bread with your favorite ingredients, such as cheese, lettuce, avocado, pickle, cucumber and fresh herbs.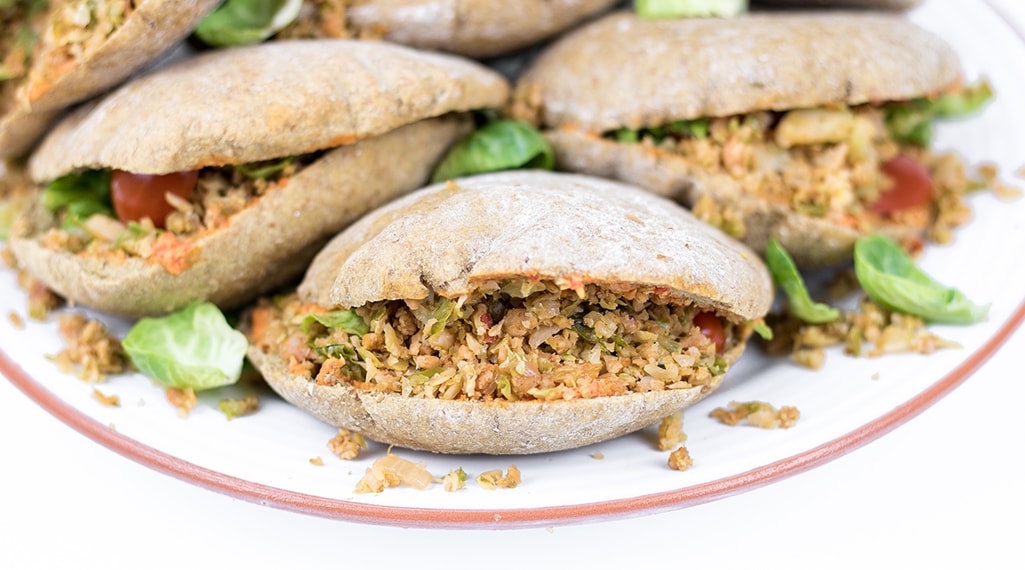 Did you prepare this recipe? Let us know on Instagram. Share it with us using #ERRERFOOD or tag us in your post. We love that! ♥