Friday July 12, 2019 - by Errer
No time or too lazy to make sushi rolls, but still want the taste of sushi? No worry, this sushi salad recipe is a delicious outcome. Sushi always was our favorite meal. Since we only eat plant-based now, this salad is without fish. It really doesn't matter, because you still can achieve the flavors of sushi.
This vegetarian sushi salad contains brown rice, lots of veggies, nori and a wasabi sauce. We always pack our recipes full with vegetables. For this salad I use cabbage, carrot, cucumber, avocado and bell pepper. All super healthy ingredients. Prepare the wasabi sauce and mix with the rice. Add the veggies and finish with avocado, sesame seeds and nori. Enjoy your vegetarian sushi bowl. No fish needed, I guarantee you.
Brown rice, 150 grams
Avocado, 1 piece, peeled and sliced
Nori, 3 sheets, in pieces
Red cabbage, shredded
Cucumber, 1/3 part, chopped
Carrot, 1 piece, peeled and grated
Red and yellow bell pepper, both 1 piece, finely chopped
Sesame seeds, handful
Vegan mayo, 1,5 tablespoon
Rice vinegar, 1 tablespoon
Wasabi paste, add to taste (we used 2 cm)
Pickled ginger, add to taste
Optional: soy sauce, don't use too much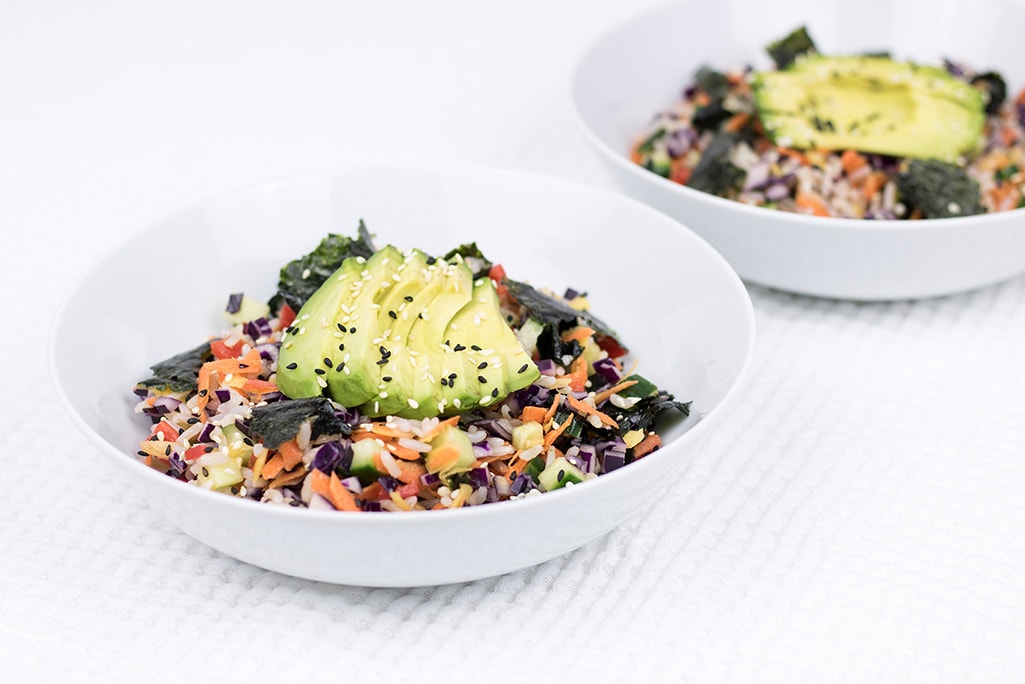 Recipe vegetarian sushi bowl
Boil the rice according to the instructions on the package.
Place the rice in a large bowl, add the rice vinegar, toss and let it cool down to room temperature.
Than mix the rice with the vegan mayo and the wasabi paste.
Add the cabbage, cucumber, carrot, bell pepper and nori (don't add the nori when you expect to have leftovers, because it becomes soaked). Toss the salad.
Serve the sushi salad with the sesame seeds, nori, avocado slices, ginger and if you feel like soy sauce.
Add tofu or tempeh to your vegetarian sushi bowl.
Combine with edamame beans or seaweed.
Choose your own favorite vegetables.
Did you prepare this recipe? Let us know on Instagram. Share it with us using #ERRERFOOD or tag us in your post. We love that! ♥