Sunday February 14, 2021 - by Errer
Egg salad was one of our favorite salads. But how to make egg salad without eggs? Let me tell you, it's easier then you think. This tofu egg salad recipe is super tasty. You will be surprised how much my vegan egg salad tastes like the traditional salad. The reason is a secret ingredient that I add, namely Kala Namak. Once you are familiair with this you cannot miss it, especially vegans.
Boiled eggs have a characteristic sulfur flavor, a typical egg flavor. So how do we make this tofu salad taste like eggs? Well, that can be done very easily. You add a little bit of Kala Namak. This ingredient literally means black salt and has a very unique taste. Volcanic rock salt from India that is often used in Indian cuisine. It contains mineral sulfur components and therefore it tastes like boiled eggs. And yes, this is the solution for having the egg flavor in this tofu egg salad. Kala Namak can also be used in scrambled tofu.
Besides tofu; onion, mayonnaise, pepper and Kala Namak are indispensable in an egg salad is my opinion. I also add mustard to make it more spicy and the turmeric makes the salad gorgeous yellow. Fresh herbs for the freshness and the green color. In this recipe I use chives, but parsley is also perfect. If you want you can use yogurt instad of mayonnaise or replace it partially. Freshly squeezed lemon juice is also a winner in this salad.
Tofu organic, pack of 375 grams
Mayonnaise, 3 tablespoons
Mild or spicy mustard, 1 teaspoon
Turmeric, half teaspoon
White onion medium size, finely chopped
Kala Namak, large pinch, add to taste
Fresh chives
Pepper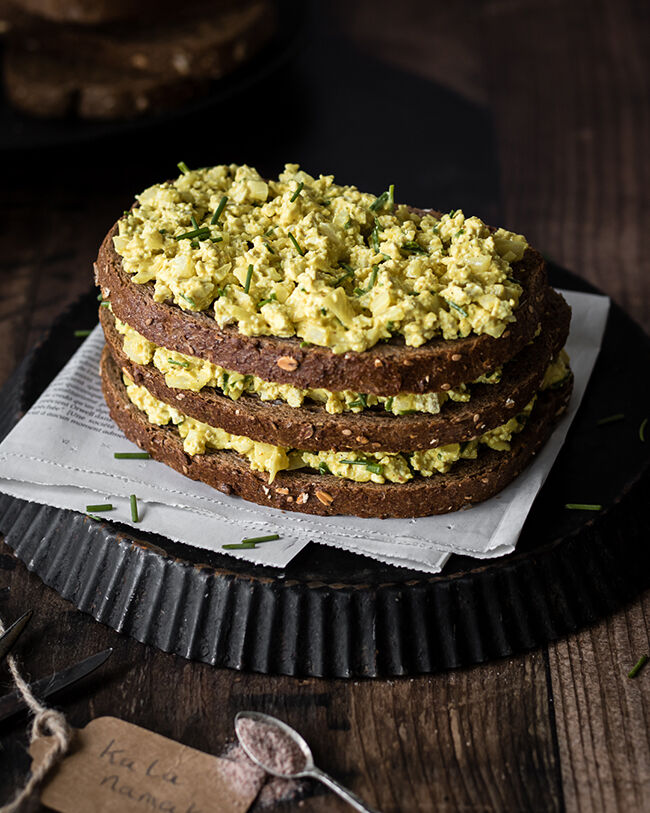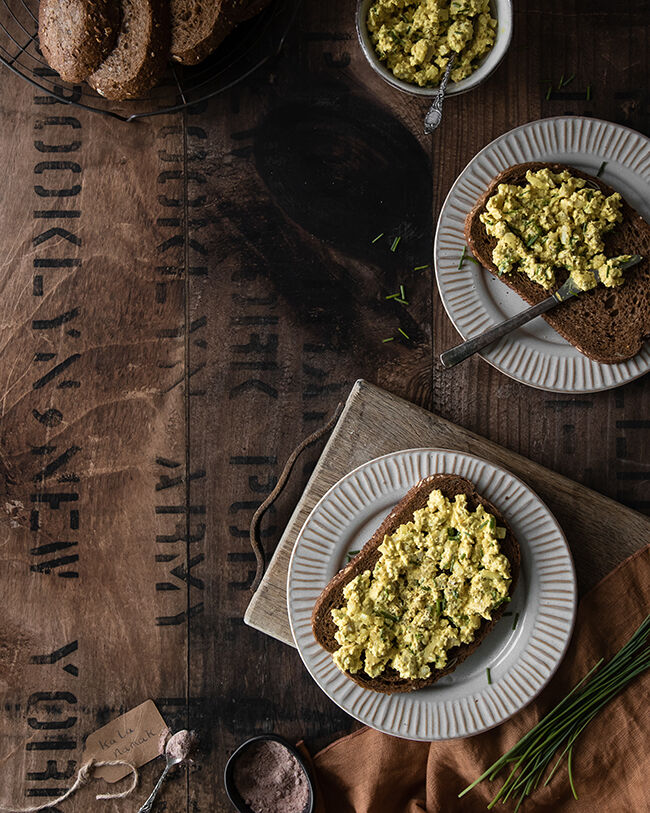 Drain the tofu and squeeze out the excess moisture if necessary. Heat a little olive oil in a skillet over medium heat and crumble the tofu with your hands above the pan. Cook it "dry" in about 5 minutes. Then let it cool slightly.
Meanwhile, finely chop the onion and the chives.
Take a large bowl and add the tofu, mayonnaise and mustard.
Also add the turmeric, Kala Namak, grounded pepper and a handful of finely chopped chives. Mix everything well and your super delicious egg salad without eggs is ready to serve.
Super delicious to serve the egg salad on a sandwich or on toast.
Fresh herbs are highly recommended for an egg salad. Greens are not only great for the taste, but also for the color. Use Parsley or chives.
Turmeric provides a gorgeous yellow color, but you can use curry powder as well.
This tofu egg salad is delicious on toast or on a sandwich with lettuce and cucumber.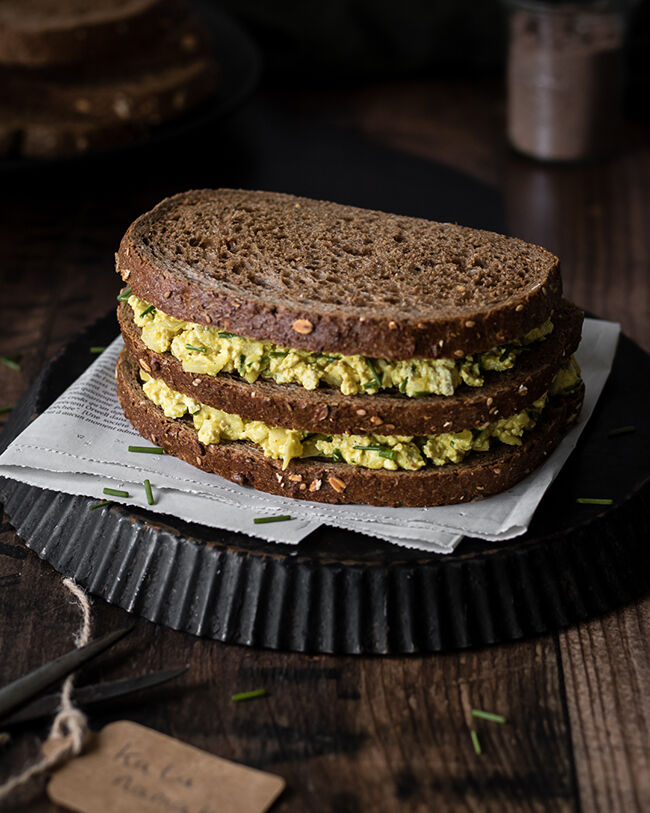 Did you prepare this recipe? Let us know on Instagram. Share it with us using #ERRERFOOD or tag us in your post. We love that! ♥