Vegan blueberry cake recipe
Friday September 25, 2020 - by Errer
8

serves
International
Snacks, Baking, Desserts, Party
Used backdrop: Chipped wall
This delicious vegan blueberry cake with cinnamon and coconut is super easy to make. I love the way this cake reminds me of fall due to the addition of cinnamon. Somehow cinnamon is always associated to stormy and cold days and the smell gives me a comfy feeling. Simply enjoy eating this cake with a cappuccino or a cup of tea and I am sure you will like it.
Inspiration for my blueberry cake
I get inspired for recipes from everywhere. The best thing is always to bake and experience as much as you can and read loads of recipes too. From magazines, a family recipe or Instagram. We also have an Instagram account and it's fun and inspiring to follow other food bloggers. Both for recipes and food photography as well. For this cake recipe I was inspired by Vegafoodness. Dianne's peach cake looked super delicious and I immediately thought about making my own cake. Eventually, my cake turned out to be completely different due to the use of other ingredients. And that's precisely the point I am trying to make. Because it's fun to inspire and get inspired, because in the end you always create your own original recipe.
My blueberry cake turned out great and I have to say that I find my cake super handsome too. The good thing is that the cake is not only tasty and beautiful, but it's also quite healthy too. I use wholemeal flour and I have kept the amout of sugar to a minimum. Because the coconut, blueberries and cinnamon already provide enough flavor, so why would I add a lot of sugar right?! In all my recipes I try to use as little sugar as possible. At some point, you also get used to a certain level of sweetness. In other words; for us this cake tastes sweet enough but for someone else maybe not. It's a matter of getting used to it. Anyhow, if you really like sweet cakes you have to add more sugar I suppose. Still, I would recommend trying this cake recipe first.
Blueberries, 150 grams halved for the batter + extra for topping
Whole wheat flour, 260 grams
Palm sugar, 70 gram
Baking powder, 2 teaspoons
Baking soda, 1 teaspoon
Cinnamon powder, 1 teaspoon
Almond milk, 180 ml
Lemon juice, 2 tablespoons
Soy yogurt, 45 grams
Olive oil, 120 ml
Grated coconut, 6 tablespoons + extra for topping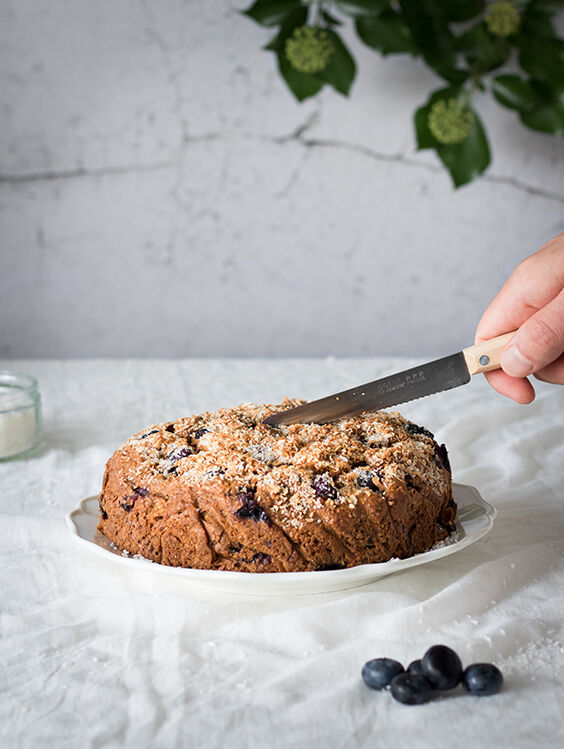 Recipe vegan blueberry cake
Preheat the oven to 180 degrees Celsius.
Get a large bowl and add all the dry ingredients, so combine the whole wheat flour, baking powder, baking soda, cinnamon, coconut and sugar. Stir well with a whisk.
In another bowl, mix the milk, oil, lemon juice and yogurt together.
Add the wet and dry ingredients together with the halved blueberries and mix well.
Take a springform pan (I used a 18 cm diameter form) and line with baking paper. A larger springform makes a lower cake. It is always useful to grease the form with butter first, to make sure the paper remains in place.
Now spoon the batter into the springform. Divide a handful of blueberries over the batter and press gently into the batter. Finally, add some grated coconut over the cake too.
Bake the cake for about 50 minutes until nicely browned and the top is crispy. Turn off the oven and leave the door open, so the cake is still gently baking in the oven. Take the cake out of the oven after about 15 minutes and let cool down on a wire rack before serving.
Serve the vegan blueberry cake with grated coconut and whipped cream if desired.
Add chopped walnuts to the cake batter.
You can add more sugar if you wish. We personally do not like very sweet and try to limit sugar as much as possible.
Check out our recipe for whole wheat carrot cake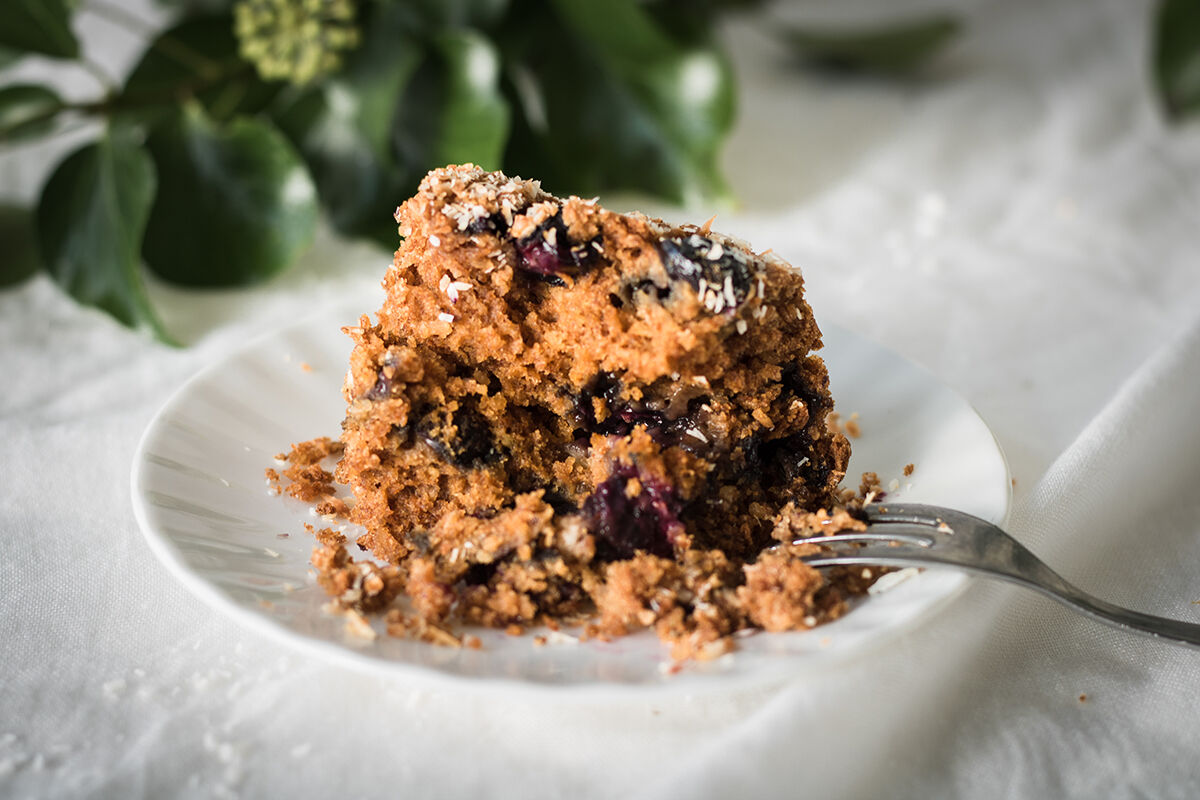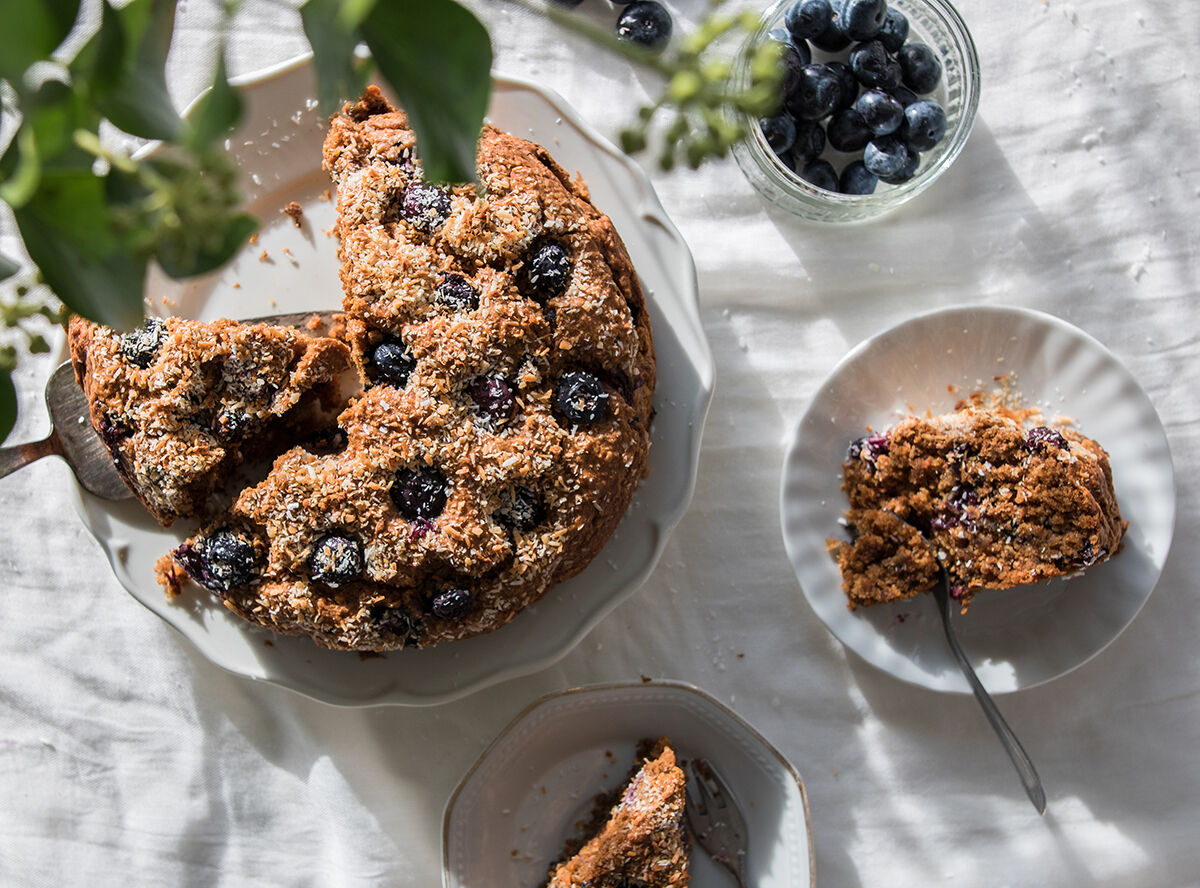 Did you prepare this recipe? Let us know on Instagram. Share it with us using #ERRERFOOD or tag us in your post. We love that! ♥