Vegan curry chicken salad
Friday November 13, 2020 - by Errer
Curry chicken salad always reminds me of birthday parties, but they were definitely not vegan. Often these salads were served in bowls together with a plate of toast. I don't know for sure, but it's probably a Dutch tradition. In the supermarket you can find a range of salads like satay salad, egg salad, tuna salad, cucumber salad and many more. But sadly almost all these salads contain animal products. My vegan curried chicken salad is delicious on toast or on a sandwich with lettuce.
Replace chicken easily in a curry salad
To be honest, I made a curried chicken salad before, but with jackfruit in it instead of vegan chicken. That's also fine, but then the salad is 'lighter' in taste and we missed the bite. That's why I made the curry salad again with chicken in it. I used the Dutch brand Vegetarian Butcher, but you can use vegan chicken from any brand you can find. Not a problem at all. This curry salad recipe is really simple and easy to make in only half an hour. Besides chicken and curry powder I also add mango, because it's sweetness gives so much more value to this salad. If you don't like mango, you can use apple as well.
Vegan Nochicken chunks, Vivera or comparable, 160 grams
Curry powder, 2 teaspoons
Turmeric, 0,5 teaspoon
Mango, 75 grams
Plant-based light mayonnaise, 2 tablespoons
Mustard, 1 teaspoon
Red onion, 1 tablespoon, finely chopped
How to make vegan curry chicken salad?
First, finely chop the Nochicken chunks.
Heat a little olive oil in a frying pan and add the vegan chicken. After two minutes or when they turn golden brown you can add the curry powder and turmeric. Turn of the heat after another minute.
Spoon the mixture into a bowl.
In the meantime, cut the mango and red onion finely.
Add the mayonnaise, mustard, mango, onion to the curry salad. Mix everything well.
Season the vegan chicken curry salad with salt and pepper to your taste.
Instead of mango you can use pineapple.
You can add pickle or apple. That makes the curried salad fresh and crunchy.
Instead of vegan chicken you can add jackfruit as well for a lighter curry salad.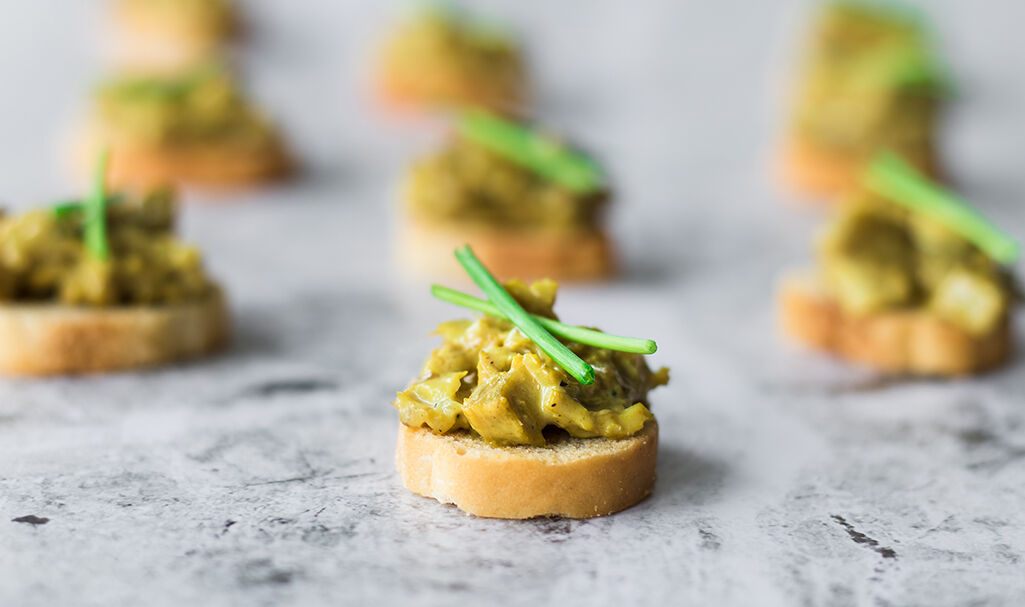 Did you prepare this recipe? Let us know on Instagram. Share it with us using #ERRERFOOD or tag us in your post. We love that! ♥