Vegan millionaire shortbread recipe
Saturday April 3, 2021 - by Errer
8

serves
International
Snacks, Baking
Used backdrop: Evening stone
Maybe you have tried the classic millionaire's shortbread before. This vegan millionaire shortbread recipe is a healthy alternative. It's also super delicious and full of protein. If you are looking for the classic shortbread recipe with caramel, I advise you to look further. Because my recipe is completely different. But before you look further, you might try this recipe first.
The bottom consists of oatmeal, chickpeas and raisins. You have to agree with me that's a very nutritious base. Chickpeas are packed with protein and gives a nice structure to the cake. I spread the bottom with date syrup (I didn't have maple syrup) with on top chopped peanuts and raisins. Pour over the delicious chocolate layer and what I personally like is a layer of grated coconut on top. This recipe is incredibly easy and quick to make. Good thing is, you don't need an oven and it doesn't contain added sugars.
Chickpeas, 220 grams, drained and rinsed
Oatmeal, 55 grams
Raisins, 90 grams
Peanut butter, 1 tablespoon
Vanilla extract, 1 teaspoon
Date syrup or maple syrup, 1 tablespoon
Pinch of sea salt
Vegan dark chocolate, 100 grams
Peanuts, 30 grams, roughly chopped
Grated coconut, handful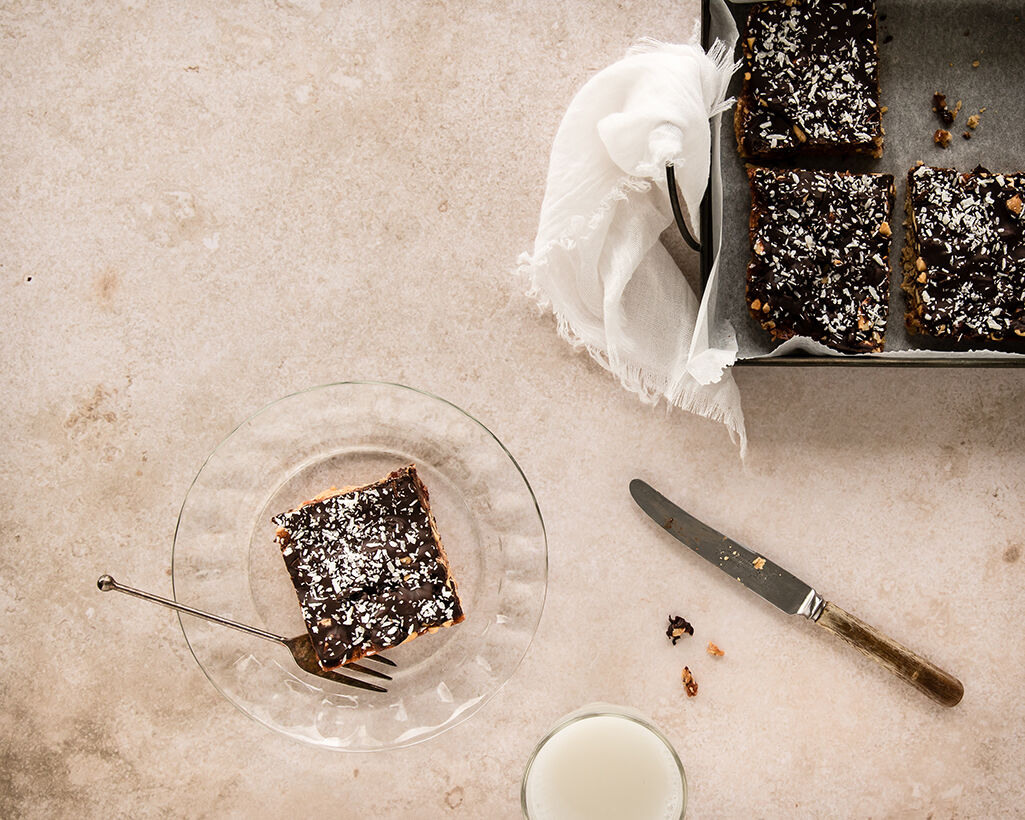 How to make vegan millionaire shortbread?
First, chop 60 grams of raisins.
Put the oatmeal in a food processor and grind finely. Also add the drained chickpeas, peanut butter, vanilla, 60 grams chopped raisins and the sea salt. Mix everything into a cohesive whole. While mixing, you will see the dough starts to clump together and form a whole.
Line a rectangular baking pan with parchment paper and put the dough in it. Use your hands to form a smooth cake of about 1,5 cm thick. Press very firmly. I used a pan of 24 cm by 15 cm and that was the perfect size.
Cut the remaining 30 grams of raisins into little pieces with a knife. Coarsely chop the peanuts. A pestle (without using the mortar) and a cutting board are the perfect tools for doing this job.
Spread the date syrup or maply syrup evenly over the cake and divide the chopped raisins and peanuts. Press lightly with a spoon.
In the meantime, set the cake in the fridge.
Heat the chocolate au-bain-marie. Place a small saucepan filled with water on the fire. First you add two thirds of chocolate in the pan. When this is melted, add the rest of the chocolate. Divide the chocolate sauce over the shortcake and sprinkle with coconut.
Place the millionaire shortbread in the fridge or freezer until the chocolate has hardened. Cut into squares and enjoy! Can be stored in a closed conainer in the fridge for several days.
It's a great idea to eat these delicious milionaire bars as a snack or with breakfast. They are quite healthy, so why not?!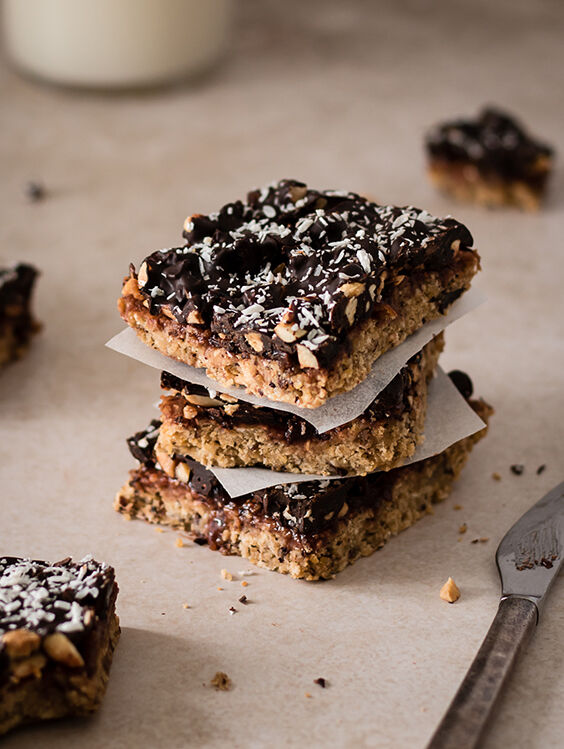 Did you prepare this recipe? Let us know on Instagram. Share it with us using #ERRERFOOD or tag us in your post. We love that! ♥