Thursday April 1, 2021 - by Errer
10

serves
International
Snacks, Baking
Used backdrop: Light peach
Every now and then I really need to make oat bars, because it's a perfect healthy snack. You will probably recognize those weak moments at the end of the day to eat something not so healthy. What you need is a good alternative. This recipe for vegan oat bars is perfect as they are nutritious and full of fibers. You can easily take them to school, your work or eat it before exercising.
These oat bars with bananas are super healthy because they are packed with good fats and lots of fibers. Incidentally, you can easily adjust this recipe yourself if you don't have an ingredient at home. Replace seeds with finely chopped nuts or replace raisins with chopped dates, for example. These delicious bars do not contain added sugars. The bananas provide the sweetness as well as the binding. I also used a little date syrup, but you can also use agave or maple syrup. Don't expect these bars taste super sweet, because they are not. But then they wouldn't be that healthy either.
Ripe bananas, 2 pieces
Oatmeal, 100 grams
Puffed buckwheat, 25 grams
Pumpkin seeds, 30 grams
Sunflower seeds, 25 grams
Raisins, 50 grams
Broken flaxseed, 2 tablespoons
Date syrup, 2 tablespoons
Cinnamon powder, 1 teaspoon
Pinch of ginger, optional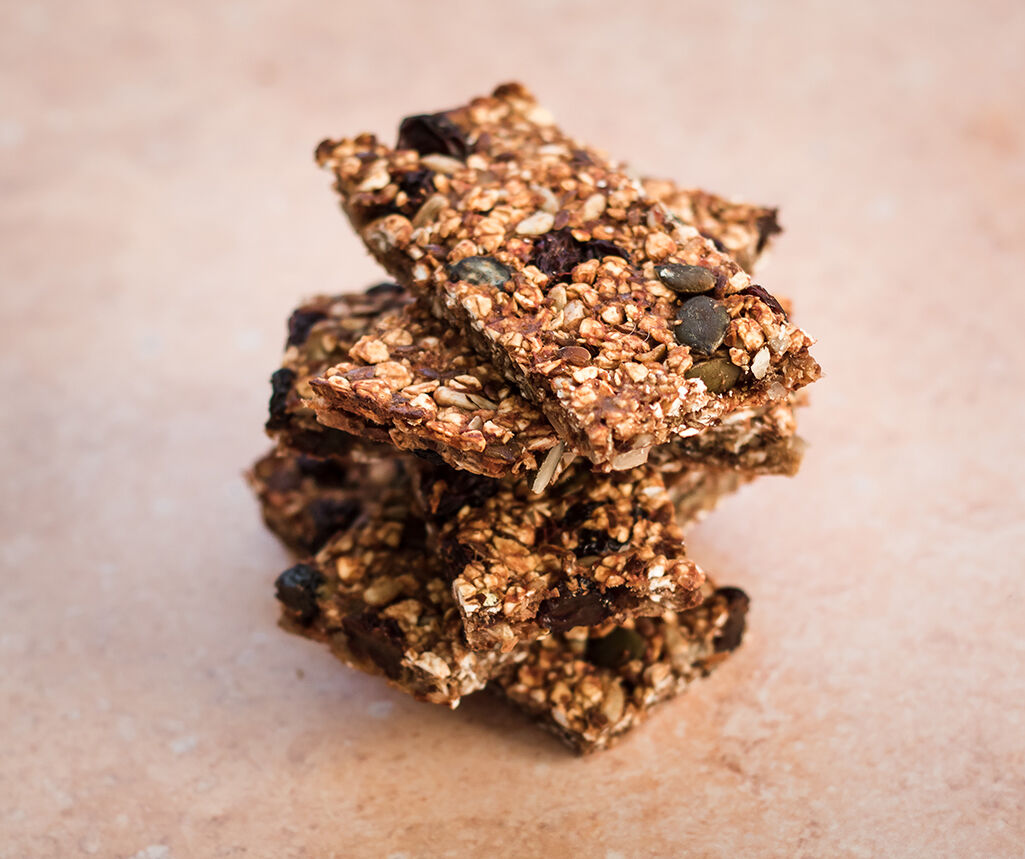 Preheat your oven to 180 degrees Celsius.
Lightly grease a square bake pan and cover with parchment paper. Or put a sheet of paper on the oven baking tray.
Mash the bananas in a large bowl.
Add the oatmeal, buckwheat, flaxseed, syrup, seeds, raisins, cinnamon and mix everything well.
Put the mixture in the baking tin and form a large slice of about 1 centimeter thick using your hands. I used a square pan of 25 cm diameter. Press firmly with slightly damp hands.
Place in the oven and bake until light brown. This will take approximately 25 minutes.
Let it cool on a grid and then cut into slices. Choose by yourself how large you want the oat bars to be.
You can store the banana oat bars in a closed container for several days.
Use ripe bananas, as this works best with baking.
Maybe you are also interested in my ginger cookies made from oatmeal and ginger.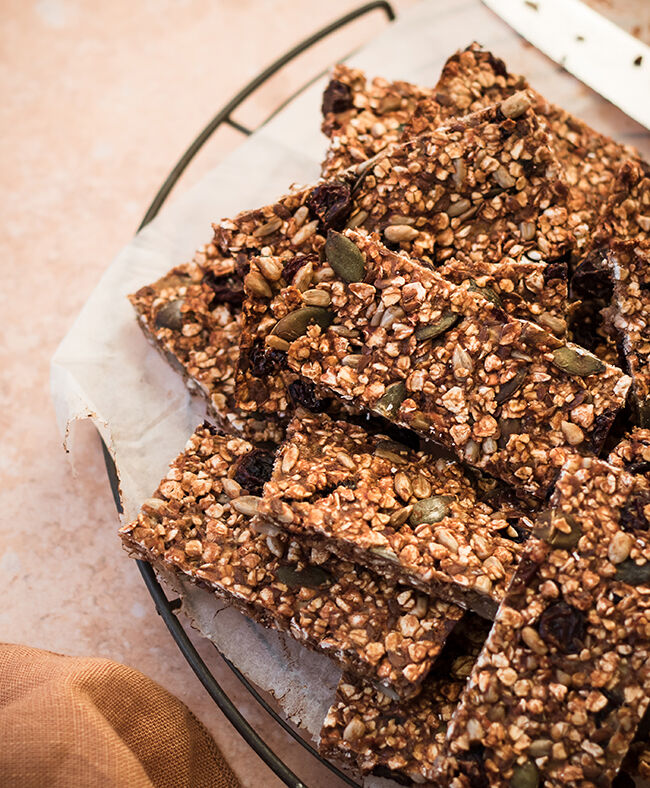 Did you prepare this recipe? Let us know on Instagram. Share it with us using #ERRERFOOD or tag us in your post. We love that! ♥