Vegan potato casserole with leek
Sunday April 19, 2020 - by Errer
When making this vegan potato casserole I was inspired by a well-known dish in my home country. In the Netherlands ''Aardappel Anders'' is a popular potato dish. Aardappel Anders means ''Potato Different'' and the fuss is all about a ready-made sauce you can buy in the store.I suspect every Dutchie has eaten this at some point. We certainly have, although it has been years ago. The dish naturally contains potato and often meat and vegetables with the ''Aardappel Anders'' sauce on top. You can find this sauce in the flavors ham-cheese, bacon-onion and garden herbs-garlic. All these sauces aren't vegan, because they contain egg yolk. The bacon and ham sauces are obviously not even vegetarian as they contain pork. Rarely do we use ready-made seasoning mixes, packages or sauces. Mainly because they contain all kinds of unhealthy ingredients. Also, it is usually not that difficult to make these things yourself. Although, making sauces is a bit more complicated than putting together some spices.
I never made this potato sauce from scratch, so making this recipe is the first time for me. You can easily adjust the taste of the sauce by adding or leaving out some spices and herbs. The sauce for this vegan potato casserole did not turn out how I thought it would be, because I had to add a tablespoon of cornstarch. We never use this, but apparently, I have it in my kitchen cabinet. Problem is, I have mistaken the amount of sauce I needed for the potato dish in relation to the roux I made. There was not enough roux to make the desired amount of sauce. With as result, sauce was too thin. But using a little cornstarch to fix it does not matter at all, right?! The thickener provides a lovely sauce in the end. You can use cornstarch just like me, but it's also possible to increase the amount of roux.
Besides potatoes and the homemade sauce, I add leek, garlic, vegan mince, tomatoes, dry spices and lots of fresh herbs. I garnish the vegan potato casserole with grated Violife cheese. If you don't like vegan cheese, you can add nutritional yeast flakes or roasted pine nuts for example. Add this after baking obviously. Instead of leeks, you can also add broccoli, onions, bell pepper, carrot and cauliflower. If you don't want to eat meat substitutes, you can replace the mince perfectly for lentils. This recipe is really recommended if you like potato dishes. In any case, we will definitely make it again.
Ingredients vegan potato casserole
Leek, 3 pieces, cleaned and sliced
Waxy potatoes, 1 kilo, peeled and pre-cooked
Vegan Beyond Beef 1 package Beyond meat
Garlic, 4 cloves, minced
Tomatoes, 2 pieces, sliced
Fresh herbs like parsley and chives
Optional: Violife grated cheese or nutritional yeast flakes
Almond milk, 200 ml
Whole wheat flour, 2 tablespoons
Soy cream, 5 tablespoons
Plant-based margarine, 1 tablespoon
Half bouillon cube for 350 ml bouillon
Herbs and spices to taste; I used dried Italian herbs and curry powder
Cornstarch, 1 tablespoon + 2 tablespoons water
Pepper
Preperation vegan potato casserole
Grease a large casserole dish with olive oil.
Cut the potatoes into slices and cover the baking dish with half of the potatoes.
Fry the plant-based mince in a small pan.
Heat some oil in a wok over medium heat. Cook while stirring the leek and garlic until tender.
Bring 500 ml water to a boil and place half bouillon cube into the pan, set aside when dissolved.
Divide the leek over the potatoes in the baking dish.
After the leek, divide the mince and as the fourth layer the remaining potato slices.
Step 8 and 9 – Prepare the sauce:
Dissolve the bouillon cube in 350 ml water. Melt the margarine in another saucepan. Add the flour and stir well with a whisk continuously for 1 minute over medium heat. This is the roux. Pour in the almond milk gradually and stir until the sauce has thickened.
Add the bouillon gradually while stirring. Choose yourself the desired thickness of the sauce. Meanwhile, the sauce was too thin for me, because I made too little roux for the desired amount of sauce. But I solved it by adding storncarch. Mix 1 tablespoon cornstarch with 2 tablespoons of water into a paste in a small bowl. Then add the paste to the sauce while stirring. You can see the sauce is already thickening. Now you can add any leftover bouillon. Lastly, add the cream and the curry powder, some pepper and dried herbs.
Divide the tomato slices over the potatoes and finally the homemade sauce.
Optionally you can add vegan cheese.
Place the vegan potato casserole in the preheated oven at 200 degrees Celsius for 30 minutes.
Remove the dish from the oven and garnish with fresh herbs like chives and parsley.
Choose your own favorite herbs and spices. Make it spicy by adding some chili for example.
Instead of leek, you can perfectly add broccoli, mushrooms, cauliflower, onions or bell pepper.
Use lentils if you don't want to add a meat substitute.
Garnish the vegan potato dish with roasted sunflower seeds or pine nuts. Or sprinkle with nutritional yeast flakes.
Delicious with a fresh salad with lettuce and cucumber.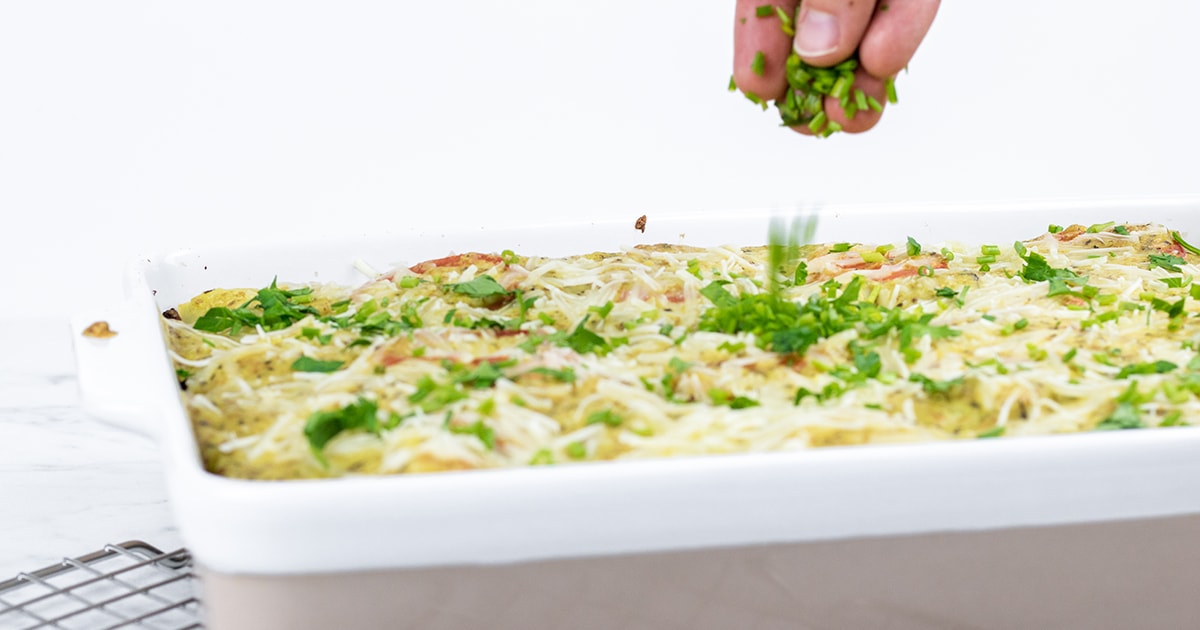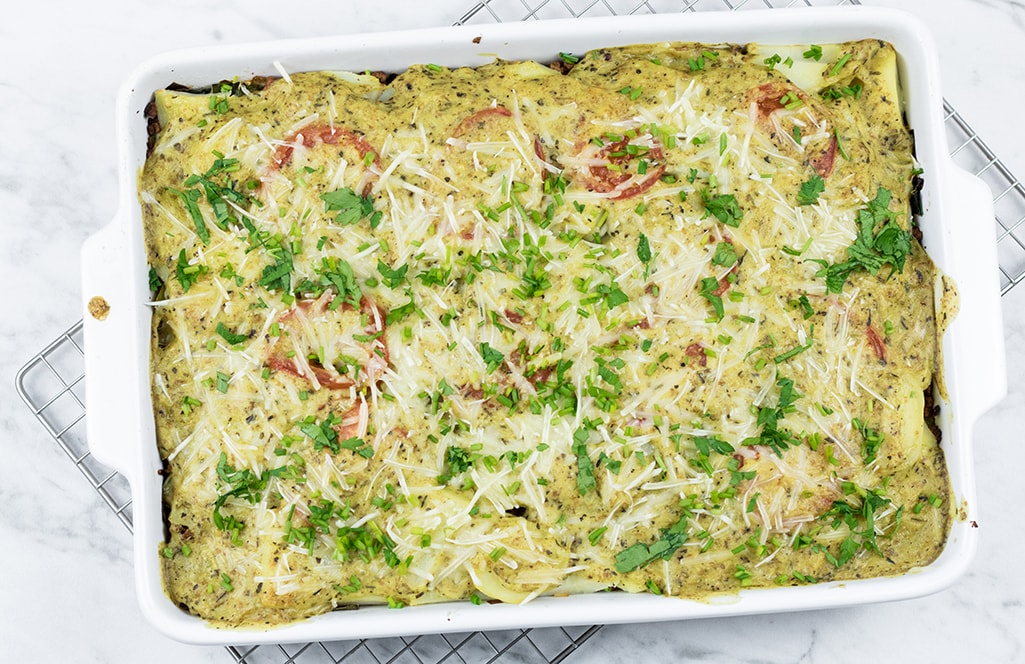 Did you prepare this recipe? Let us know on Instagram. Share it with us using #ERRERFOOD or tag us in your post. We love that! ♥