Vegan split pea soup recipe
Friday February 14, 2020 - by Errer
It's already February, but it's very grey outside. Perfect weather for this vegan split pea soup. In this soup we add the vegetarian smoked hotdog invented by the Vegetarian Butcher. We love their meat alternatives; so delicious and easy to combine in our recipes. In the Netherlands split pea soup is also known for 'snert' and ''snert'' comes from the verb 'snerten, that means cooking until done.
Besides split peas we add a lot of vegetables to the soup such as leek, celeriac and carrot. Toasted wholemeal bread with a homemade herb butter is the perfect side dish for this soup. Very simple and preparation takes some time, but it's not a lot of work at all.
The amount of soup in this vegan split soup recipe is enough for at least two days for the two of us. We also freeze soup and eat it a couple of weeks later. We eat the pea soup the next day after preparation, because it really needs to stand overnight to thicken. Taste will only get better that way. However, if you can't wait to eat the soup, than don't do it! Adding a plant-based sausage is definitely a good idea.
Dried split peas, 500 grams
Celeriac, half
Large carrots, 2 pieces
Leek, 1 piece
Smoked hotdogs Vegetarian Butcher or something similar, 2 packages
Pepper and sea salt
Plant-based butter, 4 teaspoons
Olive oil, 2 teaspoons
Fresh chives, chopped
Pinch of pepper and sea salt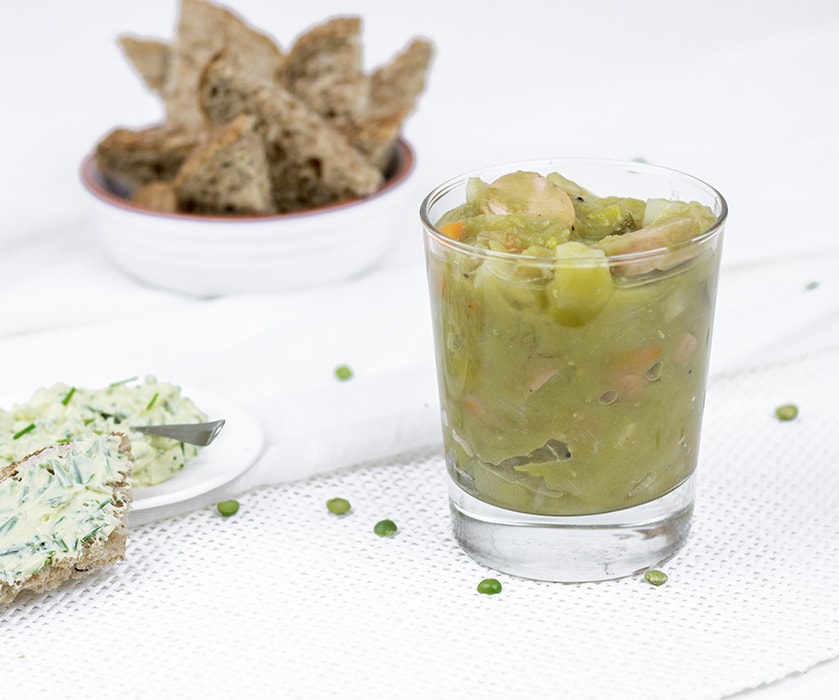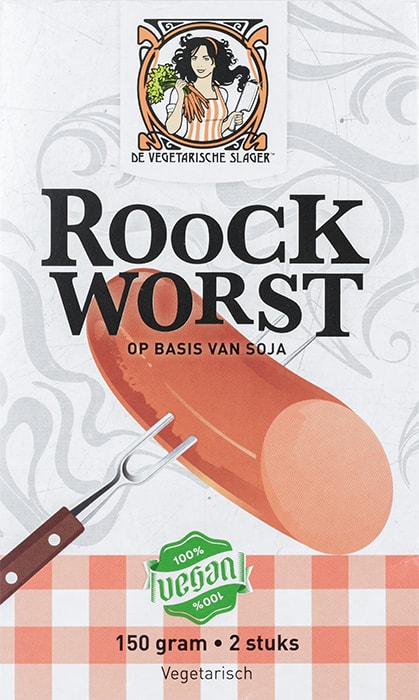 Recipe vegan split pea soup
Rinse and drain the split peas. Add them in the largest pot you have together with 2 liters of water. Bring to a boil, reduce to low and cover. Let simmer for about 1 hour, while stirring occasionally until peas fall apart and are tender.
Cut and wash the leeks. Peel the celeriac and carrots and cut into small pieces of approximately 1 by 1 cm. Add the vegetables to the soup, cover the pan and continue to simmer for half an hour while stirring occasionally. Cut the vegetarian sausage into slices and add to the soup in the last 10 minutes. Add pepper and sea salt to taste.
Turn off the heat and let cool down. Once the split pea soup has cooled off you can store it in the fridge. Of course, you can eat the pea soup directly, but if you like a thicker soup like us you have to thicken the soup overnight. The taste will only get better as the flavors melt together in perfect harmony. Add some water if you want a thinner soup.
Prepare toasted bread to serve with your vegan split pea soup, I used the oven. Serve with the homemade herb butter by mixing the ingredients.
First cool down your soup before you store it in the fridge. When you want to eat some soup, only heat up the portion you intend to eat and scoop it into another pan.
Freeze your vegan split pea soup.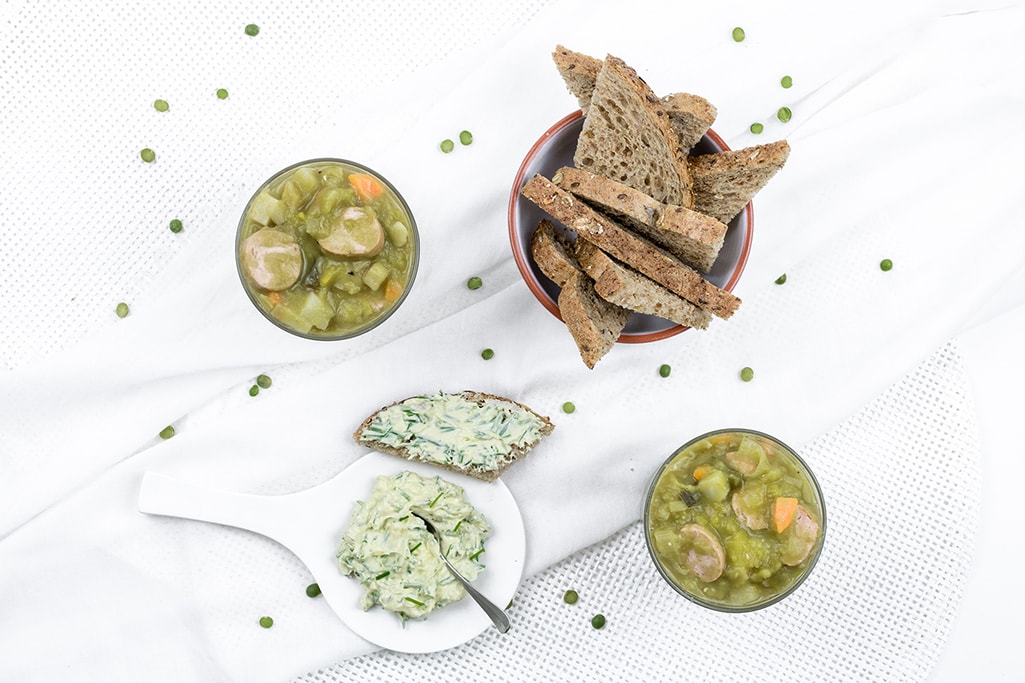 Did you prepare this recipe? Let us know on Instagram. Share it with us using #ERRERFOOD or tag us in your post. We love that! ♥