Saturday April 25, 2020 - by Errer
Do you like a delicious vegan sushi bowl packed with vegetables? Try this recipe. Healthy and easy to prepare. Now that temperatures are rising in Holland, we love to eat more salads and bowls like these are our favorites.
Half year ago, we still ate fish and regularly added fresh salmon or tuna to our bowls. Now that we no longer eat fish, we choose a different source of protein. Usually we add tempeh or tofu, but soybeans are also a good option. This vegan sushi bowl contains marinated tempeh and brown rice. For veggies I have chosen for spinach, bean sprouts, carrot and red cabbage. Don't forget to try apple, which gives a nice fresh taste to salads.
Sushi bowls or officially poke bowls come originally from Hawaï and initially consisted only fish, seaweed and kukei nuts. Poke means ''cutting crosswise into pieces'' and refers to the pieces of raw fish that originally are used in the bowls. Fishermen ate the dish mainly to eat the leftovers.
Around 2012 the poke bowl trend started in the United States and now you can see all kinds of colorful bowls. Fresh raw fish, rice and veggies are the main components of this dish. But tofu, chicken and even beef can be used too. There are plenty of options for vegetarians and vegans. For example, this vegan poke bowl recipe.
Ingredients vegan sushi bowl
Spinach, 2 hands full, torn in pieces
Tempeh, 200 grams, cubed
Apple, 1 piece, diced
Red cabbage, finely chopped
Brown rice, 80 grams (low-carb dish)
Bean sprouts, 2 hands full, rinsed
Carrot, 1 piece, grated
Nori, 2 sheets, torn into pieces
Seaweed salad, 125 grams
Sesame seeds, 2 teaspoons
Avocado, 1 piece, sliced
Garlic, 1 clove, minced
Ginger, 2 x 1 cm, grated
Soy sauce, 1 tablespoon
Sesame oil, 2 teaspoons
Dressing
Soy yogurt, 3 tablespoons
Plant-based mayo, 1 tablespoon
Half lime, juiced
Soy sauce, 1 teaspoon
Wasabi, 3 cm (1 teaspoon), add to taste
Sesame oil, 1 teaspoon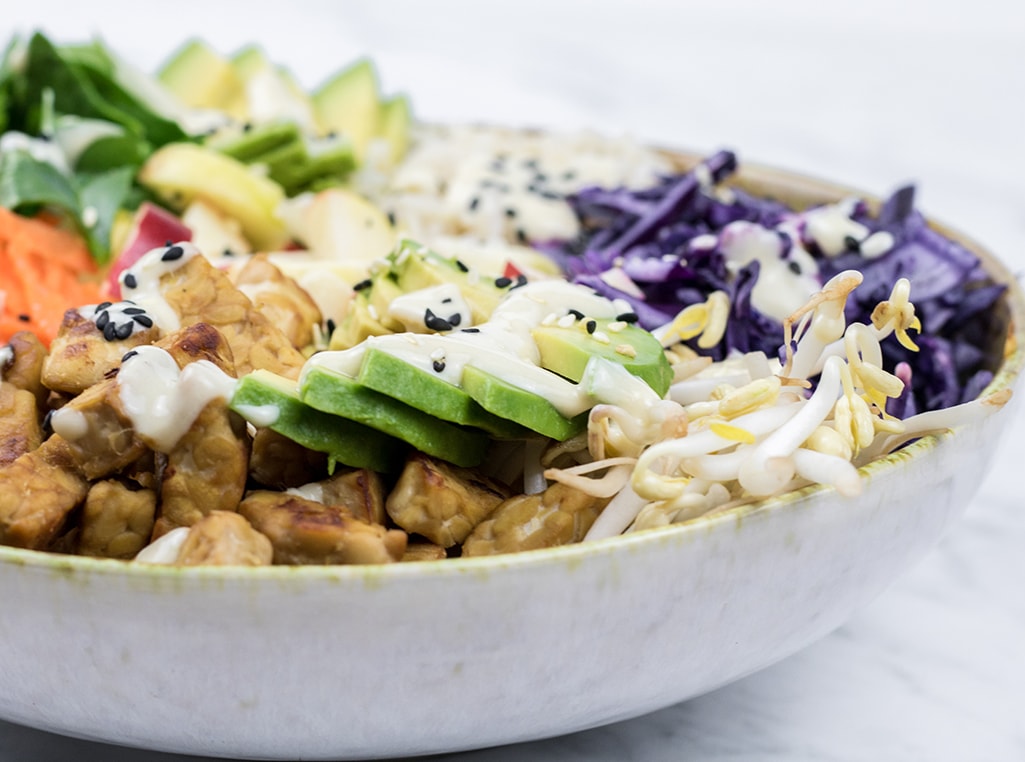 Preperation vegan sushi bowl
Combine the marinade ingredients and add the tempeh. Stir and set aside for 10 minutes.
Cook the rice and let it cool.
Fry the tempeh until brown.
Prepare the dressing by putting the ingredients together and mix well. Taste and adjust to your own taste if you want.
Take a large bowl and prepare the vegan sushi bowl. Divide the spinach, tempeh, carrot, brown rice, bean sprouts, apple, cabbage, sweaweed salad and avocado. Garnish with the dressing, nori and sesame seeds.
Quinoa is a perfect substitute for brown rice.
Add edamame beans. You can leave out the rice if you want.
Vary with vegetables such as beet, mango, bell pepper, cucumber and radish.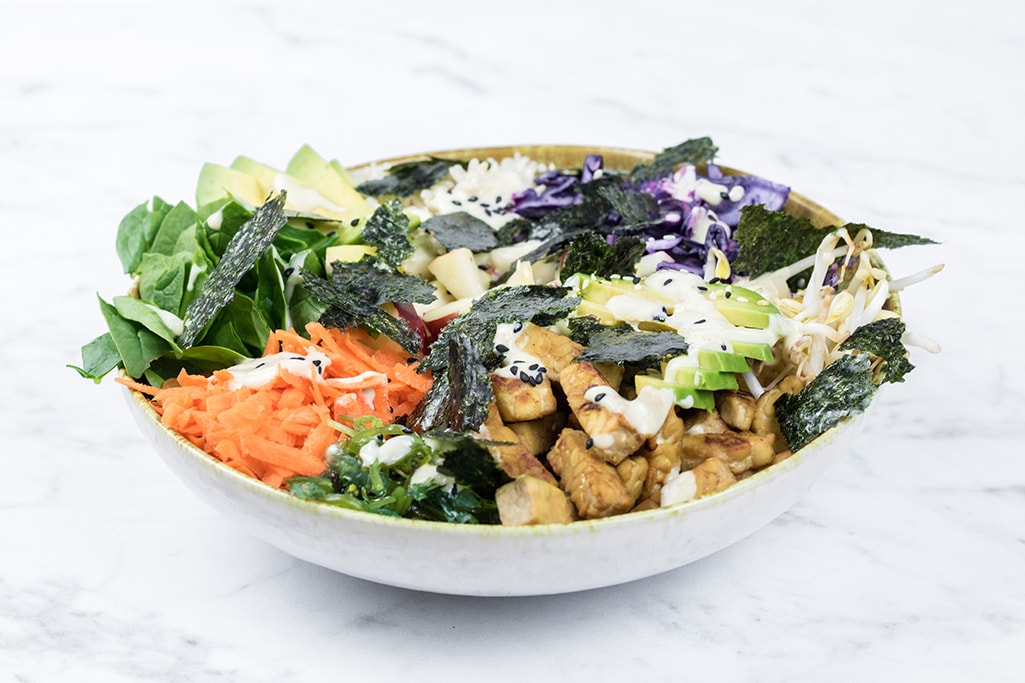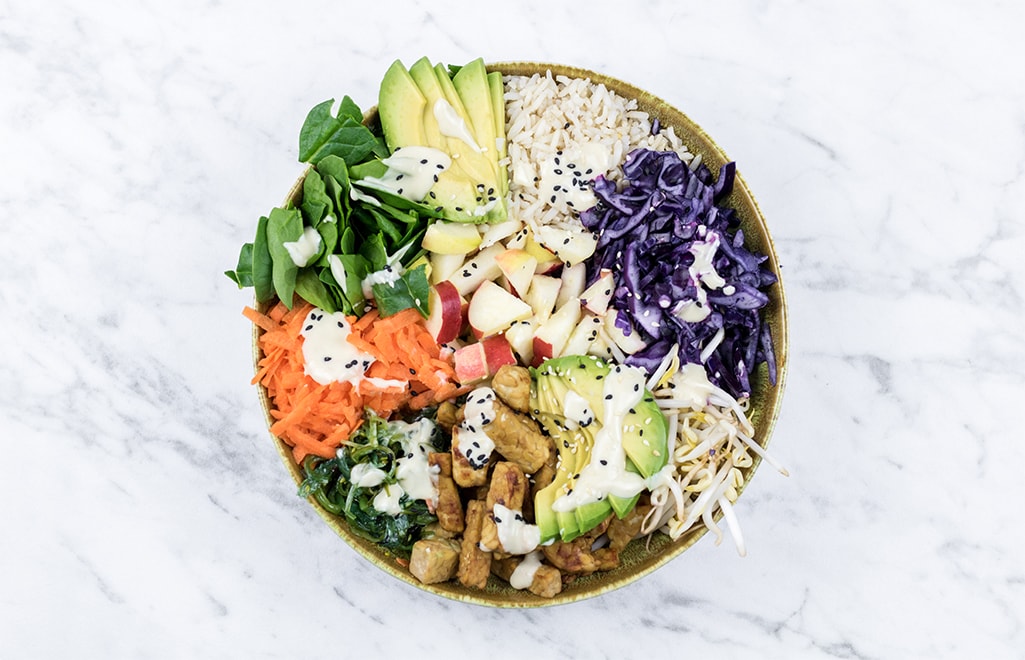 Did you prepare this recipe? Let us know on Instagram. Share it with us using #ERRERFOOD or tag us in your post. We love that! ♥