Vegan tandoori with cucumber raita
Monday August 31, 2020 - by Errer
Years ago we regularly cook meals from packets among which tandoori chicken for example, but nowadays we never buy packages again. There is much more salt and sugar in it than you can imagine. When you buy packages with sacks in it please read the ingredients. For this vegan tandoori recipe I used the Vivera plant pieces as a substitute for chicken. You can perfectly marinate them with olive oil. In this dish you originally have to marinate the chicken in yogurt before frying, but since this often sticks in my pan, I only use olive oil. After frying I use oat fraiche to make a creamy sauce.
Tandoori chicken is originally from India but is eaten all over the world. The spices I used (Verstegen) consist of turmeric, coriander, ginger, chilies, cinnamon, cumin and clove powder. I also add green beans and mango to the tandoori sauce. Mango give a subtle sweet accent to the dish which we really like. As a side dish I made a fresh cucumber raita which obviously fits perfectly with tandoori. I also serve brown rice although the sauce would also fit with tortilla wraps for example.
Ingredients tandoori "chicken"
Brown rice, 90 grams (less carbs), add more if you wish
Green beans, 350 grams
Vivera plant chicken pieces, or choose another brand
Mango, chopped
White onion, diced
Garlic, 2 cloves
Oat fraiche
Half a lemon
Tandoori chicken spices, 1 tablespoon
Olive oil, 3 tablespoons
Pepper and salt
Cucumber, 200 grams, finely diced or grated
Soy yogurt, 3 tablespoons
Garlic, 1 clove
Fresh coriander, finely chopped
Pepper
Half a lemon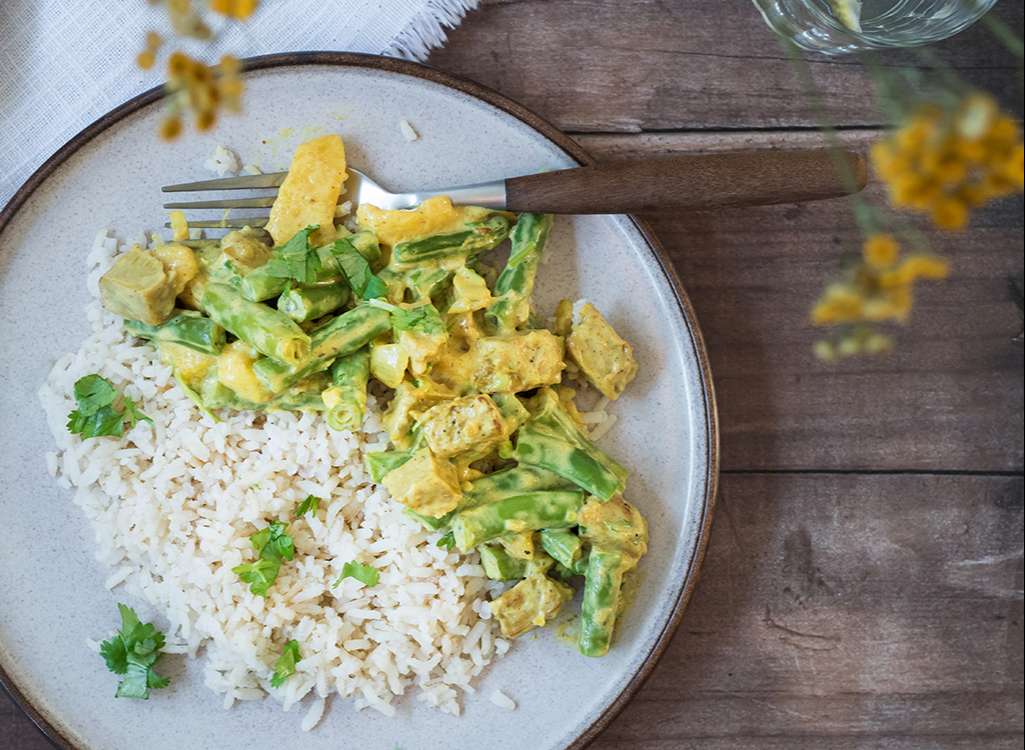 Method vegan tandoori chicken
First, start with marinating the plant chicken with the tandoori spices. Add the olive oil together with the spices in a bowl and mix in the chicken. Set aside for at least 10 minutes.
In the meantime, cook the brown rice according to packaging.
Cut the ends of the green beans and boil al dente in about 7 minutes. Rinse with cold water and drain. Cut into halves.
Next, continue preparing the cucumber raita. Mix the cucumber with the yogurt, cumin and fresh coriander. Squeeze the garlic and season with pepper and lemon juice.
Now all preparations are ready and you can finish the tandoori chicken. Heat a wok or frying pan with a little olive oil over medium heat and saute the onion. Add the marinated chicken and squeeze the garlic after 3 minutes. Cook "chicken" until brown while stirring.
Add the oat fraiche together with a little water (fill the oat fraiche container halfway and pour into the sauce). Finally, add the green beans and mango.
Serve the vegan tandoori sauce with the cucumber raita and brown rice. Garnish with fresh coriander and squeezed lemon juice.
Serve cassava as a side and use it as a spoon to eat the tandoori with rice.
Add soy sauce if you want to make the dish a bit more salty.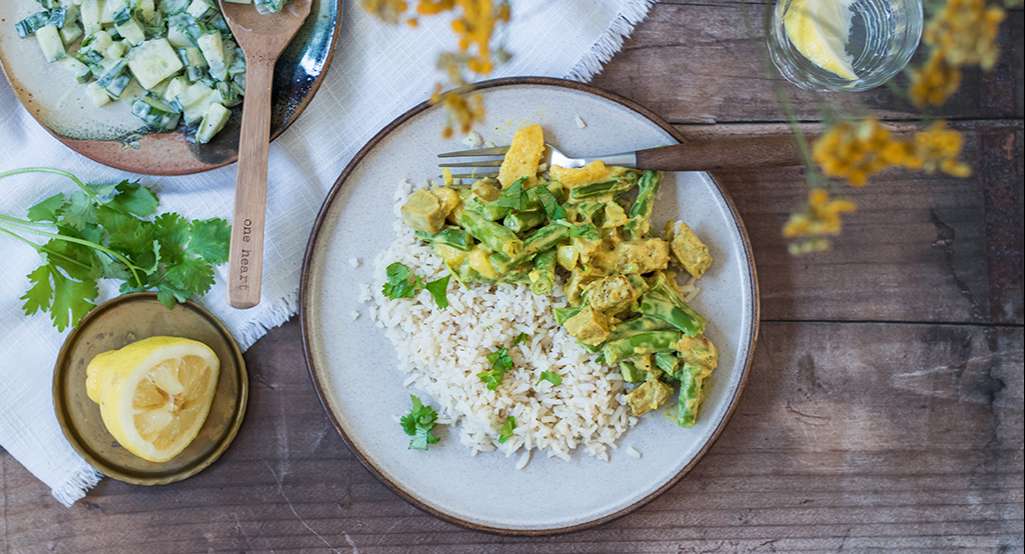 Did you prepare this recipe? Let us know on Instagram. Share it with us using #ERRERFOOD or tag us in your post. We love that! ♥