Vegan yogurt pie with red currants
Thursday September 3, 2020 - by Errer
10

serves
Belgian, Dutch
Baking, Snacks, Desserts, Christmas
Used backdrop: view our collection
Making a vegan yogurt pie without gelatin? No problem at all. This recipe proves it and it's freaking delicious too. You just use agar agar instead of gelatin. It's that simple. Strange that using gelatin is the norm in recipes, while agar agar is animal-friendly and at the same time a great alternative. Try my pie with red currants and make your friends happy by giving them a piece.
Cooking this vegan pie is not difficult at all. It's actually quite simple. The filling simply consists of yogurt with a binding agent in it that makes the pie firm and stiff. Choose the ingredients you like for your crust. I like to make a healthy crust from walnuts and dates, but lot of recipes use crumbled cookies with butter. Pick any fruit you like and incorporate it into your filling. I choose for red currants, because they are now widely available in supermarkets. Also, red currants have an amazing bright color and are great to use in sweet desserts. The pie not only looks stunning, but it tastes fresh and sweet. Everyone will like this pie, I guarantee you. If the taste of soy yogurt scares you, don't be afraid, because you won't taste it in the yogurt pie at all.
Gelatin is often used for desserts, but unfortunately it's from dead animal parts and obviously not vegan. It's a binding agent that is sadly extracted from the skin and bones of pigs and cows. Sadly, Remco and I didn't know that. Naturally, we don't want to eat that anymore. But how do we stiffen our pie in a friendly way? You can easily use agar agar instead. It's availbale in powder form and is made from algae. Only thing is, you have to use it differently than gelatin. Dissolve it in boiling liquid and then add it to the mixture. In the Netherlands we bought it at Holland & Barret but nowadays large supermarkets sell it as well. Just like gelatin, agar agar works perfectly. My beautiful yogurt pie was a huge success as it was tasty and firm.
Dates, without pits, roughly chopped, 150 grams
Nuts, 250 grams, can be all kinds. I only used walnuts from my mother's garden
Melted coconut oil, 1 tablespoon
Red currants, 200 grams + extra handful
Soy yogurt unsweetened, (or Greek yogurt) at room temperature, 850 ml
Agar agar powder, 10 grams (about 3 teaspoons)
Organic maple syrup, 80 ml
Almond milk, 100 ml
Red currants
Optional plant-based whippped cream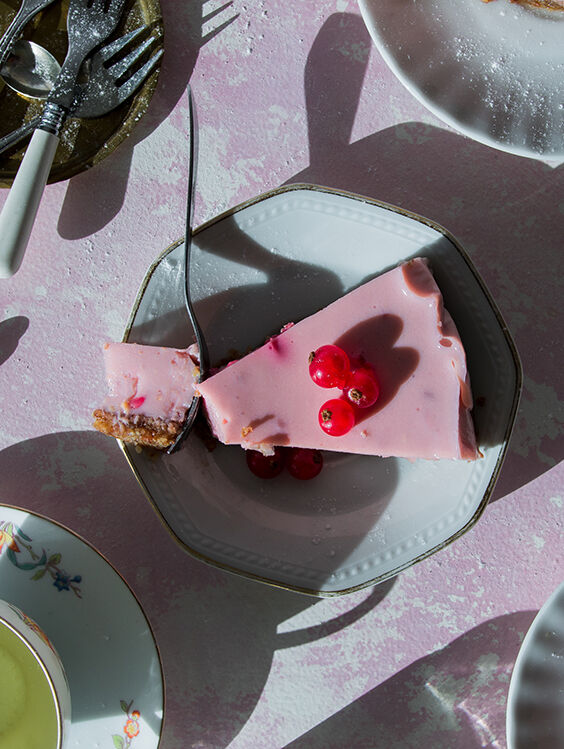 Cover a springform (I have one of 25 cm in diameter) with baking paper.
Crack the walnuts if needed.
Add the walnuts in the food processor and pulse first for a few seconds. Then add the chopped dates and coconut oil and mix until everything is well mixed.
Remove the mixture from the machine and divide over the bottom of the springform. Press well using your hands. When ready place the form in the fridge to harden the crust.
In the meantime, continue with the recipe.
Wash the currants, remove the stems and mash in a bowl with a fork. You don't have to make it completely fine, because a little structure in your pie looks great.
Place a medium saucepan on medium heat and add the almond milk. Also add the mashed currants while whisking.
Add the syrup and keep whisking. Bring to a gentle boil and then stir in the agar agar while continuously stirring.
Pour in half of the soy yogurt and bring again to a boil while stirring. Once it starts bubbling keep whisking for another 2 minutes. Remove pan from heat.
Add the remaining yogurt after 30 seconds and if you want a small handful of red currants. Mix well to make sure the agar agar is well divided in the mixture.
Lastly carefully pour the yogurt mixture over the crust into the springform.
Place the vegan yogurt pie in the refrigerator and let it stiffen for at least 3 hours.
Before serving you can garnish the pie with currants and whipped cream.
Instead of yogurt you can use Greek yogurt as well.
The yogurt pie can be kept for up to three days, please store it in the fridge.
Cover the bottom as well as the sides of the springform with baking paper to prevent sticking.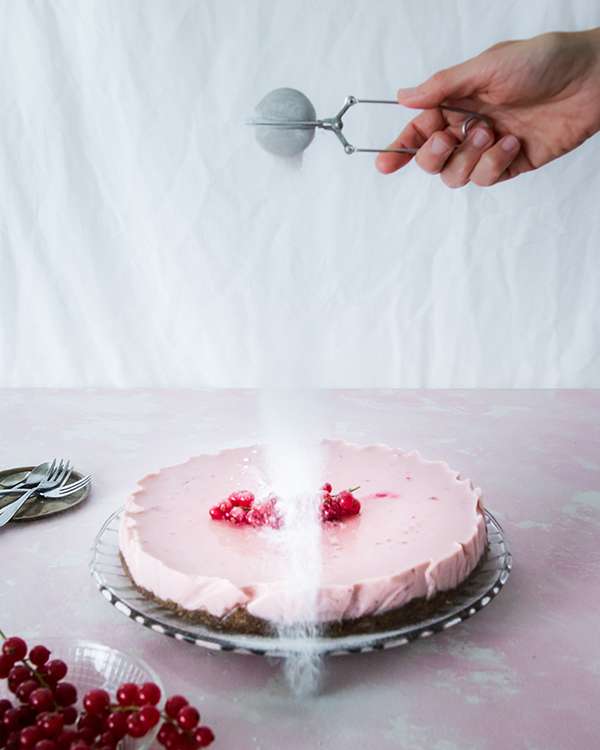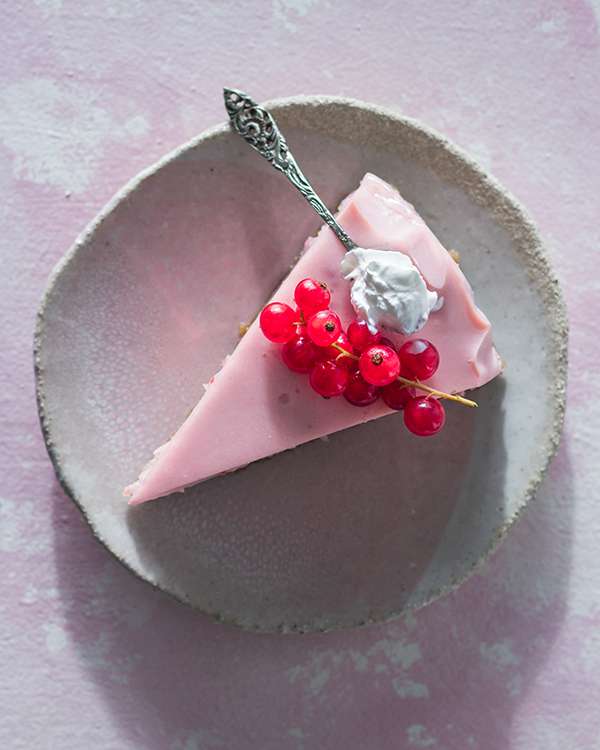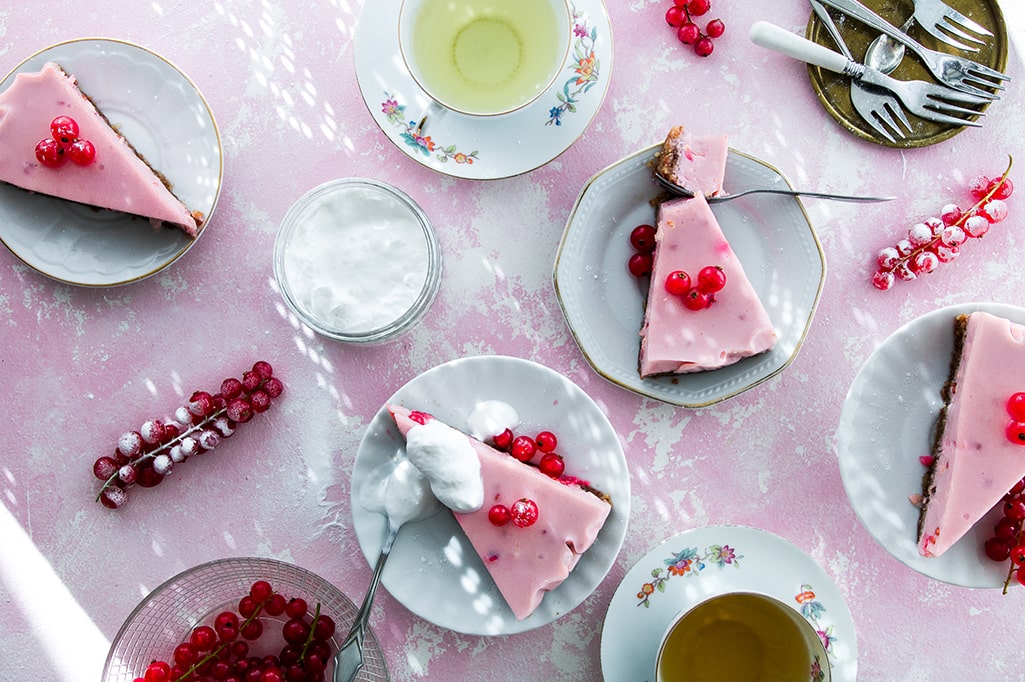 Did you prepare this recipe? Let us know on Instagram. Share it with us using #ERRERFOOD or tag us in your post. We love that! ♥