Vegetarian roti recipe with wraps
Sunday July 26, 2020 - by Errer
Have you ever tried Surinamese roti? It's a very popular dish in Suriname and also popular in the Netherlands. You really should try it some time. Traditionally you eat roti with your hands, which is incredibly delicious. Our vegetarian roti recipe is completely plant-based and packed with healthy ingredients. I use for this recipe green beans, chickpeas, tomatoes, sweet potatoes and lots of awesome flavors. Also, I combine it with No Fairytales wraps which contain less calories.
Roti, also called chapati, is actually the name of the bread that you eat with the sauce. It's an unleavened round flatbread and is widely eaten in India, Nepal en Sri Lanka among others. Hindus from India emigrated to Suriname and they took the roti recipe with them. Surinamese people often use the name roti to indicate the whole dish. They usually add yardlong beans, potatoes, eggs, onion, garlic and meat. Massala spices are essential in roti. In fact, for my vega roti I always use the Surinamese Hindu Massala. This is definitely the best spice mix for this dish. Furthermore, I use the No Fairytales wraps that consist of 45% vegetables. Normally we cook our own tortilla wraps from whole wheat flour, but if we don't have the time, these are a good option too.
Instead of the traditionally roti I use No Fairytales wraps for our vegetarian roti recipe. To be precise, I bought the bell pepper chili flavor and this one includes 41% bell pepper, 4% carrot, wheat flour and 1% chili flakes. It contains 237 kcal per 100 grams. For comparison, an average wrap made from wheat flour contains 330 kcal per 100 grams. No Fairytales wraps contain less carbs and more fibers. An average supermarket whole wheat wrap (of course more nutricious than a wheat flour wrap) contains 290 kcal per 100 grams. More carbs, but slightly more protein (9,5 compared to 8,5) and less salt (1 gram compared to 2,1) compared to the No Fairytales tortillas. However, the differences are small. If you wish to consume less carbohydrates and have little time to cook wraps yourself, this is a great choice.
Ingredients vegetarian roti
Chickpeas, 400 grams, rinsed and drained
Green beans, 250 grams, ends off and precooked
Sweet potatoes, 2 pieces
Tomatoes, 2 pieces, chopped
Tomato paste, 70 grams
Red bell pepper, chopped
White onion, diced
Garlic, 3 cloves
Massala spices, I use Hindostaanse Massala, 3 teaspoons
Pepper and salt
Sambal to taste
Optional: vegan mayo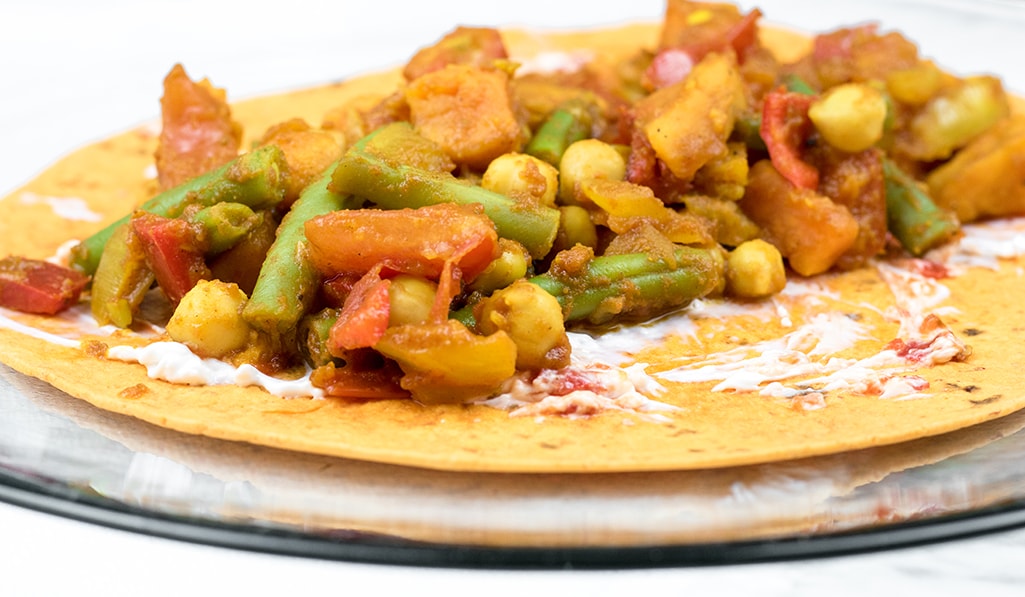 Surinamese vegetarian roti recipe
Firstly, peel the sweet potatoes and cut them into pieces. Cook them shortly to keep a bite. Remove the potatoes with a slotted spoon and allow to cool down. Set the cooking water aside.
Cut off the ends of the green beans and cut them in half. Bring the same water to the boil in which you cooked the potatoes. Boil the beans in about 12 minutes until soft, but leave them crispy. Unless you want the beans to be softer obviously.
Warm some olive oil in a wok or casserole and shortly glaze the onion. Add the bell pepper too.
Squeeze the garlic and add the massala spice mix as well. Stir occassionally.
Now add the tomatoes together with the tomato paste and six tablespoons of water.
Lastly, add the green beans and chickpeas. Stir and lastly add the sweet potatoes. Let simmer for a few minutes on low heat. Bring to taste with salt and pepper.
In the meantime, heat the tortilla wraps in a frying pan if desired.
Top the wrap with some sambal and vegan mayo and then place the vega roti sauce in the center of the tortilla. Roll the tortilla around the filling.
Mix in different protein sources. Add some fried tempeh, plant chicken or tofu for instance.
We spread the wrap with a dash of sambal to make it spicy, but you can also fry a chili pepper with the onion instead.
Layer the wraps with some fresh spinach before adding the roti sauce.
I use sweet potato in this vegetarian roti recipe. However, you can easily replace it for regular white potato.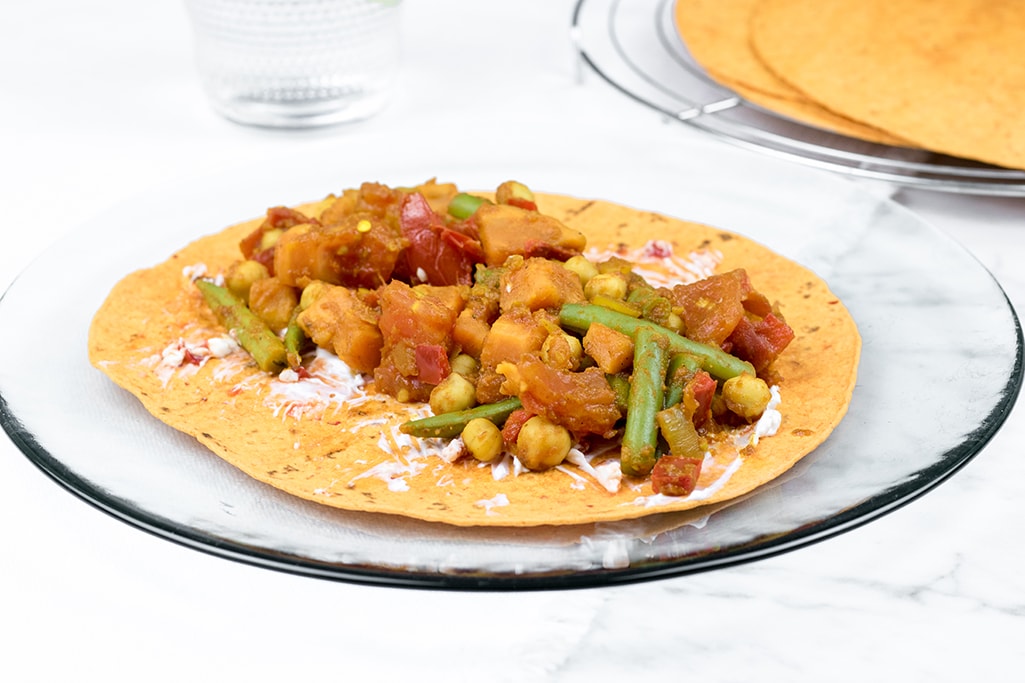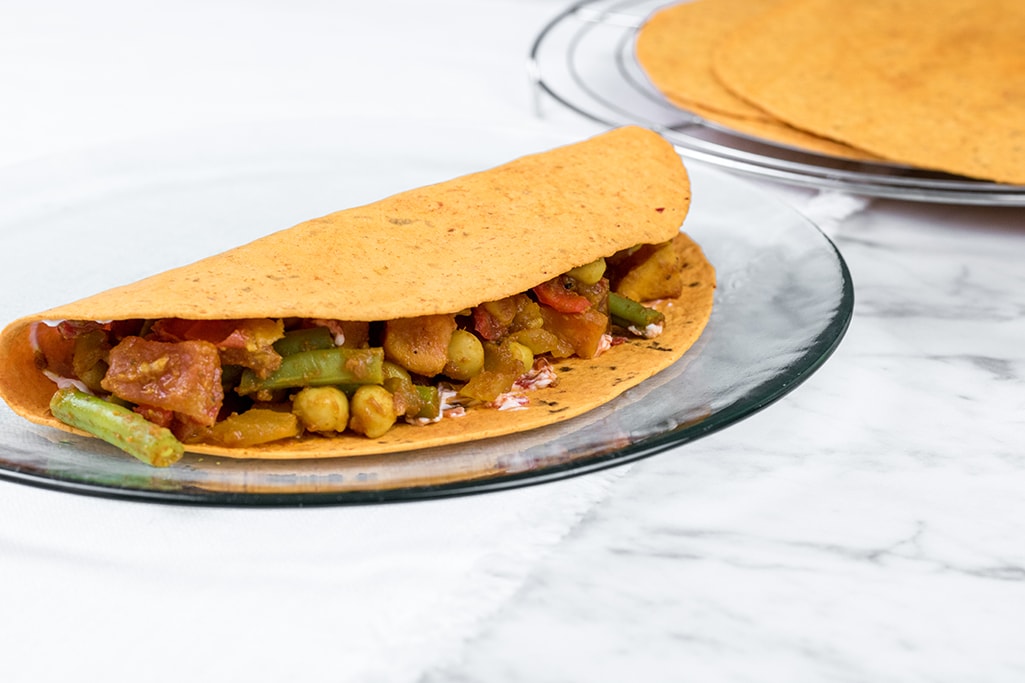 Did you prepare this recipe? Let us know on Instagram. Share it with us using #ERRERFOOD or tag us in your post. We love that! ♥