Eggless quiche with plant mince
Saturday February 8, 2020 - by Errer
We always loved quiche, but how to make an eggless quiche? Baking a quiche without egg is a challenge. At least, that's what I thought. Because a quiche exist of eggs and they play a very important role. But I found out baking a egg free quiche is not difficult at all. This recipe is even easier than the original quiche with eggs in it that we used to make.
Not too long ago we switched from a vegetarian to a vegan diet and I have to say, we find it quite easy. There is a lot of choice in vegan products and so many alternatives for dairy and meat nowadays. There's even substitute cheese on the market.
Reading recipes online, I found out you can use tofu instead of eggs. But I wanted a quiche without tofu in it. While I was searching, I ended up on the website lisagoesvegan.com. She used a mixture of chickpea flour, water and yeast flakes in an egg free quiche. I found that very interesting and for our recipe I also wanted to try chickpea flour, but instead of using water I chose Alpro soy cream for a slightly fuller taste. This is a plant-based alternative to dairy cream and it's perfect for pouring on desserts and in everyday cooking.
For this recipe you don't have to prepare a dough to cover the baking dish and that saves a lot of time. This eggless quiche is crustless and it looks more like a savoury tart.
For the filling you can choose the veggies you like. Since my friend recently bought a 5-kilo bag of white onions, I had a good reason to use a lot of onions. The sweet taste of onions is incredibly delicious in this vegan quiche.  Furthermore, I used mushrooms and Naturli plant based mince. This combination together with Italian flavors must be delicious. We also used the Naturli meatless mince for making meatballs and we really liked the taste and structure. We highly recommend you to try it some time!
The result of this egg free quiche turned out incredibly tasty. I will certainly use the mixture of chickpea flour with cream and yeast flakes for other oven recipes as well. I'm already thinking about scalloped potatoes with leeks.
Large white onions, 5 pieces, sliced in halve moons
Mushrooms, 250 grams, chopped
Garlic, 4 cloves, minced
Thyme, 1,5 teaspoon
Oregano, 1 teaspoon
Chickpea flour, 150 grams
Yeast flakes, 2 tablespoons
Violife, grated cheese mozzarella flavor
Cherry tomatoes, 10 pieces, halved
Pepper and seasalt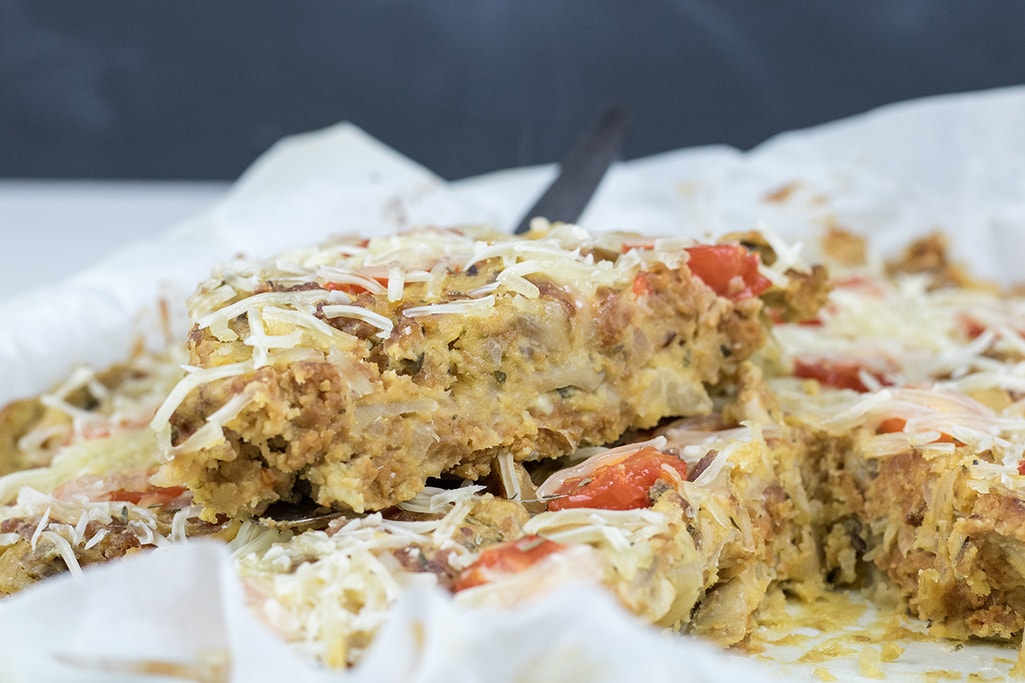 Preheat the oven to 200 degrees celsius.
Mix in a large bowl the chickpea flour, plant-based cream and yeast flakes and set aside for at least 20 minutes.
Heat some oil in a large pan on medium heat. Add the onions and mushrooms. Stir occasionally and cook until the onions are translucent. Squeeze the garlic and add the thyme and oregano while cooking the last 2 minutes.
Heat olive oil in a second skillet and fry the mince. I noticed the Naturli mince sticks together. You must pull apart the mince in pieces, the easiest way to do this is with two spatulas.
Add the onion-mushroom mixture in the chickpea batter and mix all ingredients and make sure all ingredients are covered with the chickpea-soy cream.
Pour the mixture in a quiche baking dish covered with parchment paper.
Press the cherry tomatoes in the pie with the sliced side above.
Sprinkle the quiche with grated cheese and bake for 30 minutes, it depends on your oven. Check after 25 minutes and decide if longer baking is necessary. Transfer the quiche out of the oven and cool for about 10 minutes on a rack before slicing.
This eggless quiche is meant for 4 persons, but I advise you to serve a filling salad as a side dish.
Pull apart the Naturli mince with 2 spatulas. Or choose to use meatless mince grains. Garden Gourmet or Beyond Beef are good choices.
If you don't want to use soy cream, you can use water. I did not tried with water so I don't know if the taste is okay.
Instead of using vegan cheese, garnish the quiche with yeast flakes (after baking)
Roast some pine nuts or sunflower seeds for garnishing
If you have leftovers, you can heat the egg free quiche in a frying pan the next day. Cover with a lid or aluminium foil.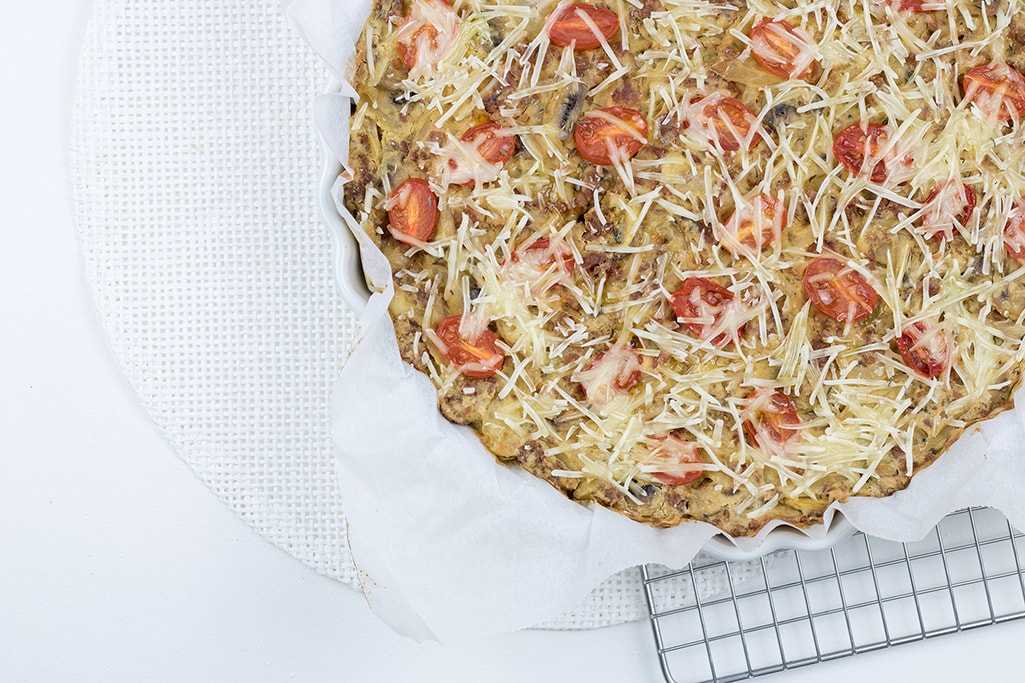 Did you prepare this recipe? Let us know on Instagram. Share it with us using #ERRERFOOD or tag us in your post. We love that! ♥