Fresh summer salad with chicory
Wednesday July 3, 2019 - by Errer
There is nothing better than a fresh summer salad during hot summer days! In this recipe I combined different kinds of crunchy veggies like chicory, fennel, Dutch carrots, radish, celery, apple and lettuce. Wallnuts and almonds complete this healthy salad.
Furthermore, I added vegan feta cheese, which we never have tried before. It's not really the feta we are used to, but it's really tasty and full of flavor. If you want some sweetness in your salad you can add raisins or dates. They suit perfectly with the other ingredients. The chicory salad is crispy, light and easy to prepare. We ate the salad as a main dish, since it contains proteins and fats. Obviously, you can serve this salad as a side dish for a BBQ or a summer picknick.
Ingredients fresh summer salad
Chicory, 2 heads, chopped
Fennel, 1 bulb, finely chopped
Dutch carrots, 3 pieces, finely chopped
Celery stalks, 3 pieces, thinly sliced
Radish, 12 pieces, sliced
Apple, 1 piece, chopped
Iceberg lettuce, 6 leaves, chopped
Walnuts, 20 pieces, chopped
Almonds, 1 handful
Vegan feta cheese, we used Violife
Lemon, 1 piece, squeezed
Plant-based mayo, 1 tablespoon
Yogurt, plant-based, 3 tablespoons
Mustard, 1,5 teaspoons, add to taste
Maple syrup, 1 tablespoon, add to taste
Ground pepper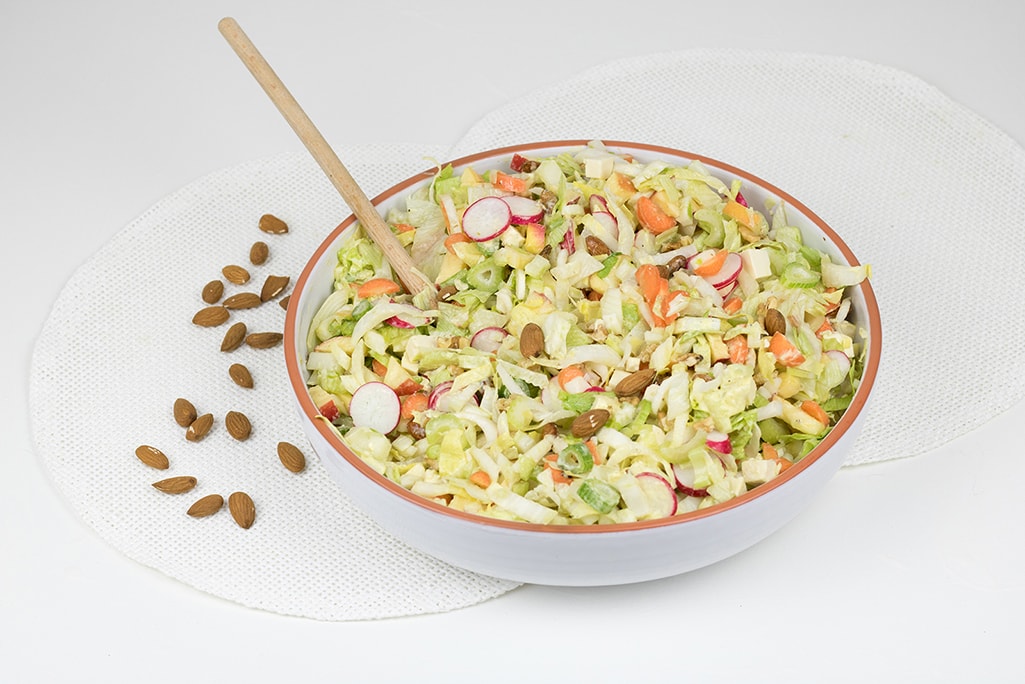 In a very large bowl, combine chicory, fennel, carrots, celery, radish, apple and the nuts.
Prepare the dressing in a separate bowl. Whisk together the lemon juice, mayo, yoghurt, mustard, syrup and ground pepper.
Toss the veggies with the dressing or serve dressing separately.
Use cabbage instead of chicory
Add some slices of pickles to the salad
Use avocado instead of vegan feta
Add a handful of raisins or dates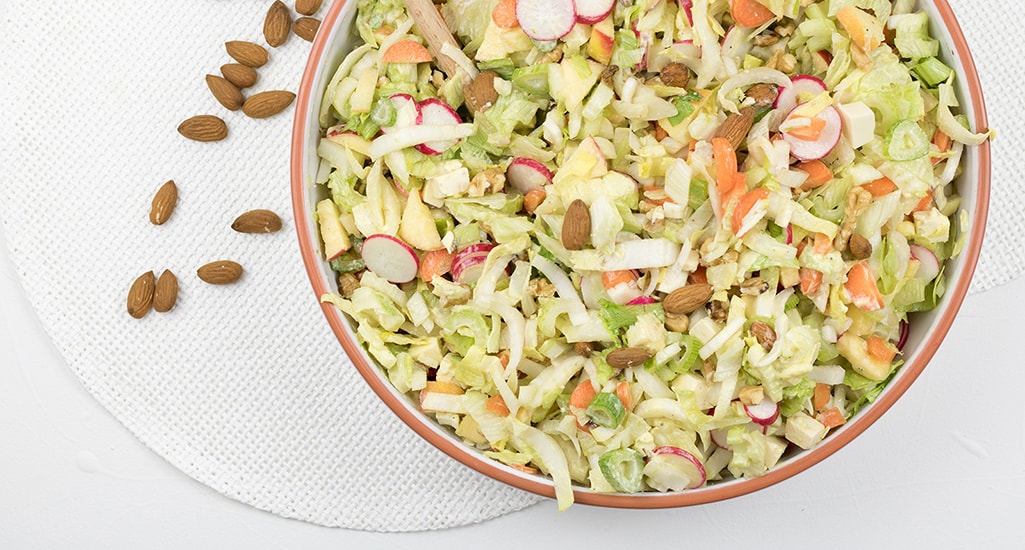 Did you prepare this recipe? Let us know on Instagram. Share it with us using #ERRERFOOD or tag us in your post. We love that! ♥