Sunday January 5, 2020 - by Errer
Vegan jackfruit dish with sweet potato fries and coleslaw. Typical Dutch meal inspired by the "kapsalon" (means hairdresser in Dutch and is popular fast food in the Netherlands). Kapsalon is cheap, unhealthy and often eaten by young people after a night out. Occasionally we ate a kapsalon, Remco the regular one with shawarma, I always ordered vegetarian kapsalon with falafel. Original kapsalon is full of animal ingredients and consists of a layer fries, covered with shawarma and topped with cheese. Heated until cheese is melted and lastly it's topped with salad and garlic sauce.
Kapsalon is a high-calorie meal and was invented in 2005 by the owner of a shawarma shop in Rotterdam. This typical Dutch dish is named after a hairdresser who was a huge fan.
Our jackfruit dish is vegan and much more healthy with less calories. Instead of regular fries we bake sweet potato fries in the oven. Obviously, we don't add meat, instead we use jackfruit. Remco and I never tried jackfruit before, but after reading about it, we wanted to give it a try. It seemed perfectly for our vegan kapsalon recipe because of the meat structure.
Use jackfruit in your dish instead of pulled pork
Jackfruit, also known as nangka is a large green fruit originally from India. In the Netherlands it's not well known, but maybe you might find the exotic fruit in an international foodstore. Jackfruit has a stringy structure and is comparable with pulled pork. Because of its structure it's quite popular as a meat substitute. Healthy, easy to marinate and a good source of fiber, viamins b6, c, iron and potassium. In terms of nutritional values, jackfruit is not really a perfect meat substitute, as it doesn't contain lots of proteins and added vitamin b12. I recommend you to add jackfruit for structure in your dish.
On the market you will find yellow and green jackfruit. Yellow is sweet and covered in syrup. Green jackfruit is for savory dishes, so that's the one you need to buy. Upton's has many variations which are already marinated such as bbq, thai, sweet and smoky. We prefer to marinate the jackfruit ourselves and buy the natural version.
Besides jackfruit, the dish is completed with sweet potato fries, crispy coleslaw and fresh iceberg lettuce. Our homemade garlic sauce makes it perfect.
Sweet potatoes, 4 pieces, unpeeled
Olive oil, 2 tablespoons
Paprika powder, 1 teaspoon
Pack of jackfruit unmarinated
Cumin powder, 1 teaspoon
Smoked paprika powder, 1 teaspoon
Garlic powder, 1 teaspoon
Sniff chili powder, add to taste
Topping vegan jackfruit recipe
Finely sliced iceberg lettuce
Pickled jalapeno peppers, optional
White cabbage, 150 grams, finely chopped
Carrot, shredded, 90 grams
Pickles, 2 pieces, sliced
White wine vinegar, 1 tablespoon
Vegan mayo, 1 tablespoon
Lemon juice, 1 tablespoon
Agave syrup, 2 teaspoons
Mustard, 1 teaspoon
Pinch of grounded pepper
Garlic, 1 clove, minced
Vegan mayo, 2 tablespoons
Plant based yogurt, 1 tablespoon
Fresh lemon juice, 1 tablespoon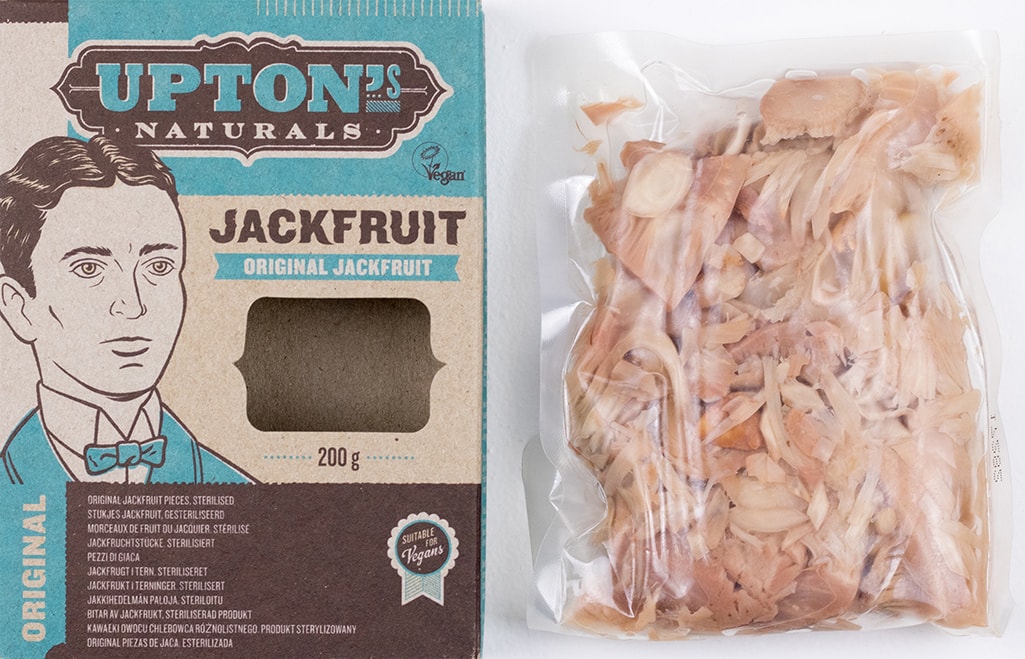 Preperation jackfruit dish
Remove the jackfruit from the package and pull it apart. Add the spices and marinate the jackfruit. Stir and set aside.
Preheat the oven to 220 degrees celsius.
Wash the potatoes and get rid of any dirt. Cut into 0,5 cm sticks. Very important is to dry them well for the crispiness. Use a kitchen towel to make it work. Put everything in a large container and add 2 tablespoons of olive oil and a teaspoon paprika powder. Shake everything together and place on an oven tray with parchment paper and bake for about 40 minutes. Make sure to spread the potatoes in a single layer. In our oven the fries didn't become very crispy, but we still liked it. Maybe you can soak the potatoes first in ice cold water after cutting for about 30 minutes. This step remove starch and should result in more crispy fries, but we actually never tried because we are satisfied without the soaking process. Of course, after this step rinse, drain and dry.
In the meantime, continue with preparing the dish. Add the ingredients for the garlic sauce in a bowl, mix and set aside.
In a large bowl mix the cabbage, carrot, pickles, white wine vinegar, mayo, mustard, lemon juice, pepper and agave syrup.
Fry the jackfruit in a few minutes on medium heat.
Remove the oven tray from the oven when you are satisfied. Take a large flat bowl for the fries and add a pinch of salt. Garnish the dish with the jackfruit, add some lettuce and coleslaw. Drizzle with the garlic sauce and the jalapeno peppers.
We enjoyed the jackfruit dish by eating together from the same bowl!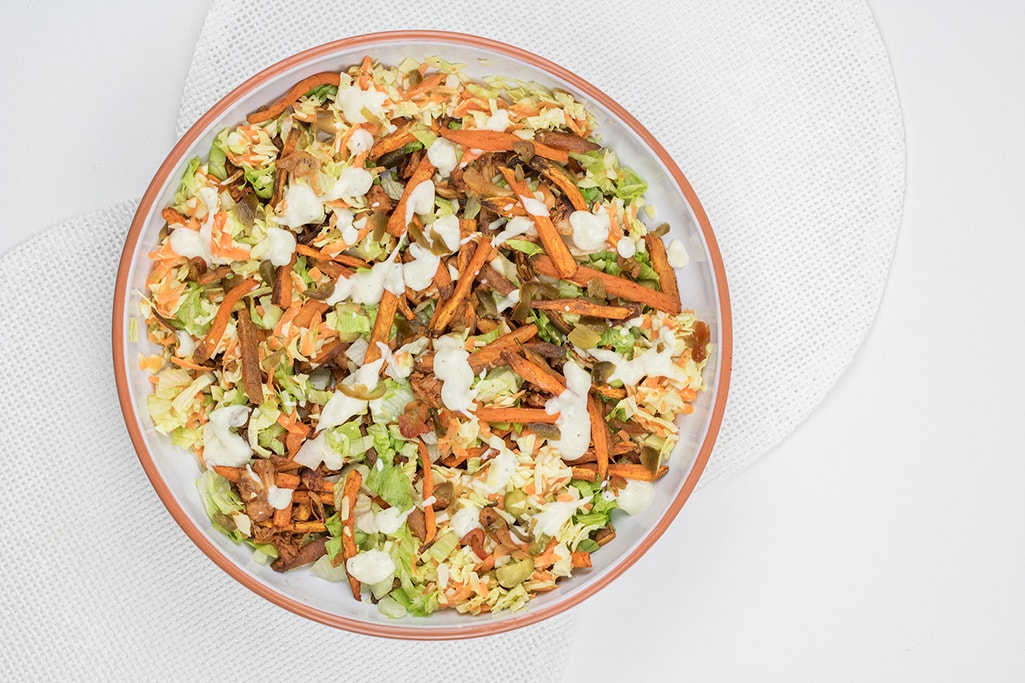 Did you prepare this recipe? Let us know on Instagram. Share it with us using #ERRERFOOD or tag us in your post. We love that! ♥