Mixed bean salad with flatbread
Tuesday September 3, 2019 - by Errer
We love all types of beans. They are tasty, easy to combine and super healthy. Try this recipe for mixed bean salad with homemade whole wheat flatbread and healthy dipping sauces. Incredibly nutritious full of fibers and proteins. Easy to prepare and very comforting.
Beans contain proteins and fibers and a perfect protein replacement for meat. Beans have a low glycemic index, are gluten-free and low in fat. And there are so many types of beans, in different colors and sizes. Chickpeas, black beans, white beans, Dutch brown beans, kidney beans, lentils.
There are hundreds of varieties. Add them in your sauce, soup, taco's, salad, burger or whatever you like. Canned beans are just as healthy as dry beans. Both beans are grown and cooked. You just have to rinse them well and remove the added salt if there is any in it. Pair beans with some veggies and healthy fat like avocado or nuts and you have a well-rounded meal.
This is an easy mixed bean salad recipe corn, red bell pepper and red onion. A touch of freshness by adding fresh coriander and the salad is further flavored with lime juice, a little agave syrup (not too much) and a bit olive oil. In only 10 minutes your high-protein salad is ready!
Whole wheat flatbread and sauces
The mixed bean salad is already a well-rounded meal, but I combined it with homemade whole wheat flatbread and sauces. My flatbread consists of whole grain flour and quinoa flour. Nutritious and full of fiber. If you cannot find quinoa flour in the store, use whole grain flour instead. The only thing you have to do is making a dough, shape some balls, roll them flat, fry them in a skillet and within a few minutes your delicious flatbread is finished.
Combine the bread with homemade sauces. Believe it or not; sauces are ready within 5 minutes! The first dip consists avocado, basil, olive oil, lime juice, plant-based yogurt and garlic. Mix the ingredients in the food processor and your sauce is ready!
The second dipping sauce consists hummus, harissa, lime juice and olive oil and is even easier to make! Yes, it is! Serve the mixed bean salad, the flatbread and the dipping sauces seperately and enjoy! Great to eat this meal with a group of people.
Black beans, 400 grams, canned, rinsed and drained
Chickpeas, 400 grams, canned, rinsed and drained
Corn, 200 grams, canned, rinsed and drained
Red bell pepper, 1 piece, chopped
Red onion, 1 piece, sliced in half moons
Fresh coriander
Half lime, squeezed
Agave syrup or maple syrup, 1 tablespoon
Olive oil, 2 tablespoons
Whole grain flour, 100 grams
Quinoa flour (or if you don't have it use whole grain flour), 100 grams
Water, 120 ml, lukewarm
Hummus, 3 tablespoons
Harissa, 1 teaspoon
A dash of olive oil
Lime, 1/4, squeezed
Avocados, 2 small or 1 large one
Soy yogurt, 3 tablespoons
Lime 1/4, squeezed
A dash of olive oil
Garlic, 1 clove
Fresh basil, a handful
Pinch of pepper and sea salt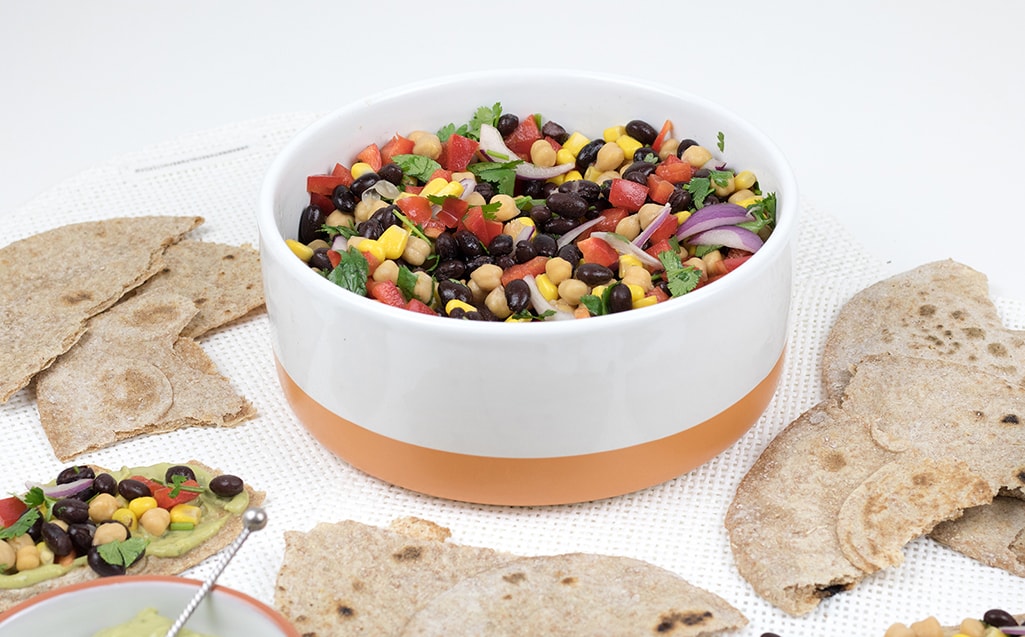 If you make the flatbread yourself, than start with this part of the dish.
Put the whole grain flour and quinoa flour together in a large bowl. Add the water and knead into a dough. While I was kneading, I thought the dough was still too wet, so I added a little more whole grain flour. You will notice if that is necessary while kneading. The dough may not stick, but must remain flexible. Shape 6 balls and flatten them with a rolling pin. Do not flatten the bread as thin as a tortilla wrap, but leave them a little thicker. Now fry them one by one in a frying pan without oil.
Prepare the avocado basil sauce. Add the avocado, yogurt, lime juice, olive oil and fresh basil in the food processor. Add a pinch of pepper and sea salt and mince the garlic. Mix into a smooth dipping sauce and set aside in a small bowl.
In another bowl, add the hummus, harissa, olive oil and lime juice and stir. This is your second sauce.
Prepare the mixed bean salad. Add the corn, black beans, chickpeas, red bell pepper and red onion slices in a large bowl. Chop the coriander and add to the salad together with the lime juice, agave syrup and a drizzle of good olive oil.
Tear the bread into pieces and enjoy your meal together!
Instead of serving whole wheat flatbread, the bean salad is also delicious with tortilla chips which is obviously less healthy.
For a healthier option, choose quinoa or brown rice instead of tortilla chips.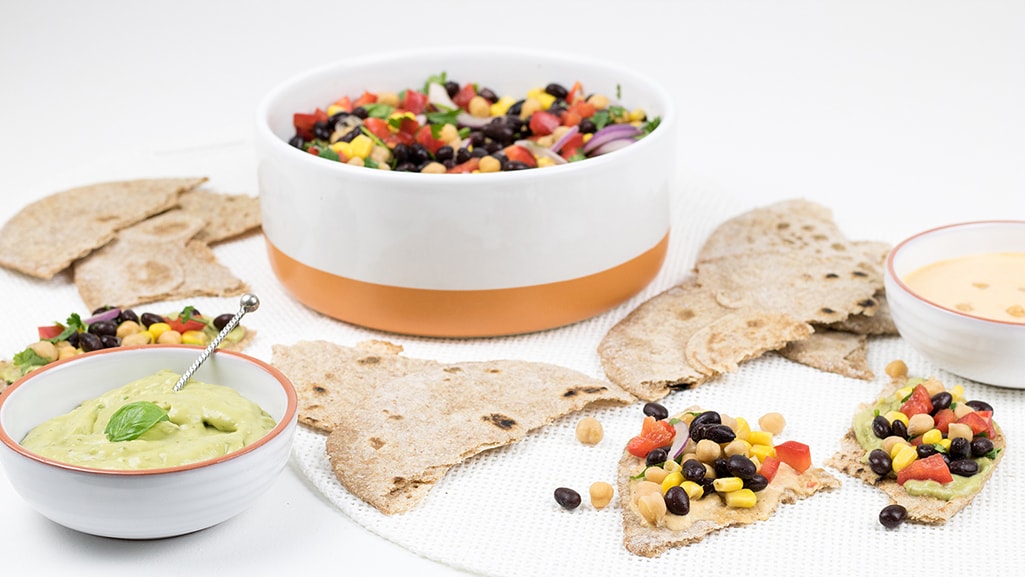 Did you prepare this recipe? Let us know on Instagram. Share it with us using #ERRERFOOD or tag us in your post. We love that! ♥