Tuesday December 1, 2020 - by Errer
It's winter in the Netherlands and warm meals are always a good idea to warm you up. However, sometimes you just want a salad now and then. On rainy and cold autumn days we tend to prepare high-calorie winter dishes, but a salad gives us some variation and balance. You might want to try this raw salad with kohlrabi, couscous, apple and beet.
I bought some beautiful organic vegetables including beets and kohlrabi. Actually, Remco and I don't eat them very often, but it's always a good idea to step out your comfort zone and make something completely different than you normally do. Kohlrabi is a forgotten vegetable for sure and also not widely available in supermarkets. And that's too bad because kohlrabi is crunchy, fresh and slightly sweet. Delicious to eat raw and perfect for salads. It's similar to radish, but less spicy. You can also roast kohlrabi in the oven with some potatoes for example. We wanted to eat a raw salad, so I peeled and finely chopped the veggies. Apple combines very well and figs provide sweetness. Roasted sunflower seeds and a lemon mustard dressing complete this couscous salad. I have to say this salad has earthy flavors, hopefully you will like it.
Couscous, 150 grams
Beet, 2 pieces
Kohlrabi, 1 piece
Apple, 1 piece
Figs, 3 pieces
Sunflower seeds, 2 hands full
Juice of half a lemon
Vegan light mayo, 3 tablespoons
Mustard, 1 teaspoon
Maple syrup, 1 tablespoon
Pepper
Olive oil, 1/4 teaspoon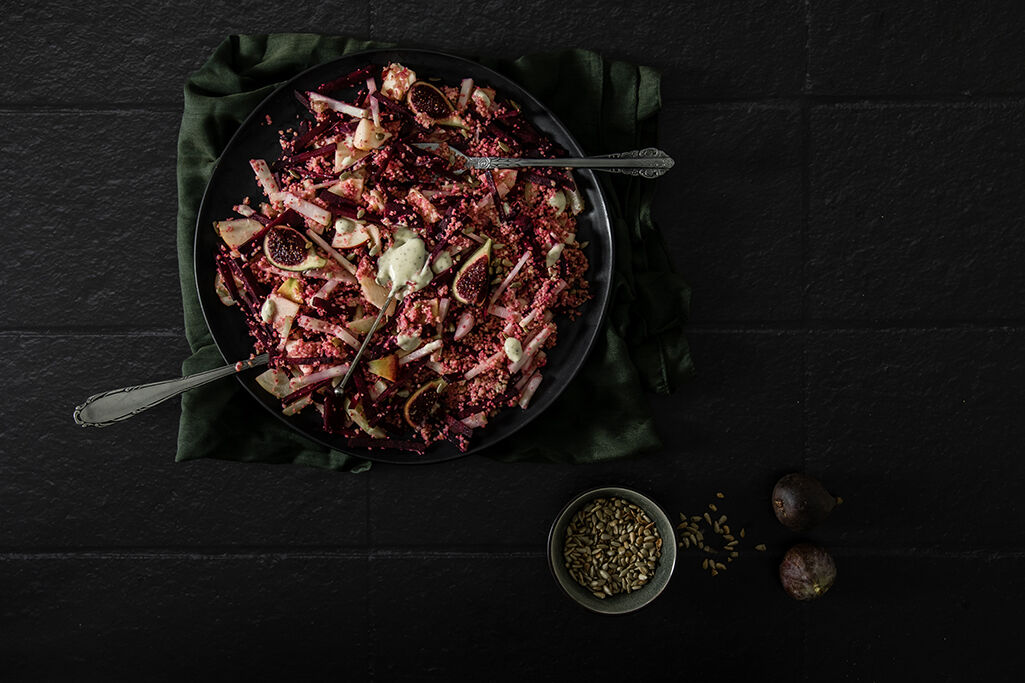 Recipe raw kohlrabi salad
Prepare the couscous and set aside.
Make the dressing by mixing the mayo, lemon juice, mustard and maple syrup together. Add grounded pepper to taste.
Roast the sunflower seeds in a skillet with the olive oil until golden brown. Keep stirring to avoid burning. Let them cool down on a plate.
Remove the stems and skin from the kohlrabi. You can do this with a peeler, but I find it easier to use a knife. Cut into slices and then into julienne strips.
Cut off the top and bottom of the beets and use a peeler to remove skin. Rinse the beets and cut into slices and then into julienne. Don't worry, it doesn't have to be perfect, as long as it is finely chopped.
Wash the figs and cut into parts.
Lastly wash the apple and cut into little cubes.
Mix everything together and serve the raw salad with the mustard dressing and sunflower seeds.
It's delicious to add some vegan feta cheese.
You can also roast the kohlrabi and beets instead of eating them raw. Roast the veggies in the oven before adding them to the salad. Cut the beets and kohlrabi into pieces and roast it for about 30 minutes at 220 Celsius degrees with a little olive oil and sea salt until tender. You can also heat the figs for the last 10 minutes if desired.
Instead of couscous, you can use rice or quinoa as well.
You also might like this recipe forgotten vegetables from the oven.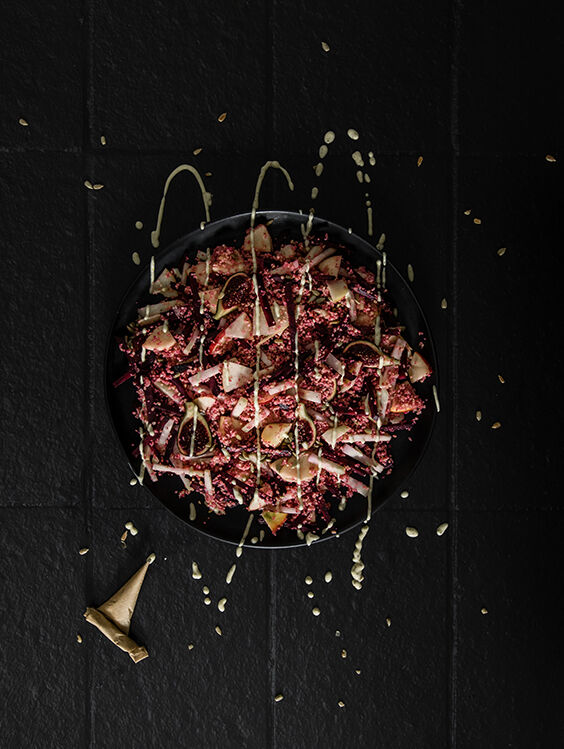 Did you prepare this recipe? Let us know on Instagram. Share it with us using #ERRERFOOD or tag us in your post. We love that! ♥