Tofu scrambled eggs recipe
Friday November 20, 2020 - by Errer
Vegan scrambled eggs, also called as scrambled tofu is delicious, easy and quick to prepare. This recipe tofu scrambled without eggs is a great alternative for vegans. We eat at least once a week. High in protein, full of flavor and super easy to customize to whatever you like. We always loved eggs, but since January of this year we eat totally eggless and there is a good reason for that. Sadly chickens suffer a lot in the egg industry. You don't have to miss anything though, scrambled tofu is even better. It's also healthier as it is cholesterol free. Above that, you can combine tofu scramble with almost everything.
Difference scrambled eggs and scrambled tofu
Tofu clearly doesn't look like eggs when you buy it, but once you crumble the tofu with your fingers and are cooking it in your skillet, it certainly looks like scrambled eggs. It not only looks like it, the texture and taste are also very comparable. Besides, this recipe is incredibly quick and easy to make. Perfect to eat for breakfast or lunch. But you can eat it as dinner as well as long as you eat your vegetables too. Combine it with noodles or rice to add some carbs in your meal.
How to season tofu scramble?
To make the scramble you don't have to marinate the tofu and wait for it. You can immediately cook and season the tofu in the pan. Give the tofu the flavor you like, absolutely anything is possible because tofu itself has almost no flavor. Choose Italian herbs, eastern spices, soy sauce or chili. In my tofu recipe I add curry powder, turmeric, garlic and smoked paprika powder. Smoked paprika gives the scramble a smoky flavor, highly recommended. At the moment, kale is in season in the Netherlands. That's why we choose this veggie, but choose whatever is available or in season where you live. Serve the tofu scramble on toast or as we did with tortilla wraps. Cassava is also super delicious to scoop up your tofu with.
Organic tofu, 325 grams, drained
Tomatoes, 2 pieces, chopped
Kale, chopped, bowl (approx. 70 grams)
Red bell pepper, 1 piece, diced
Avocado
Red onion, diced
Garlic, 2 cloves, finely diced
Smoked paprika powder, 1 teaspoon
Curry powder, 1 teaspoon
Turmeric, half teaspoon
Pepper and salt
Squeezed lemon juice, half
Optional: nutritional yeast flakes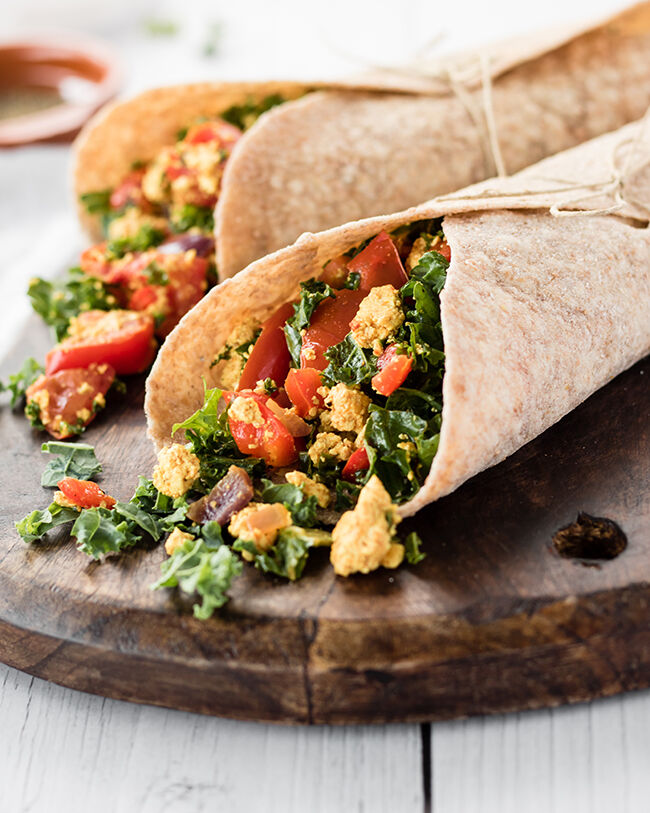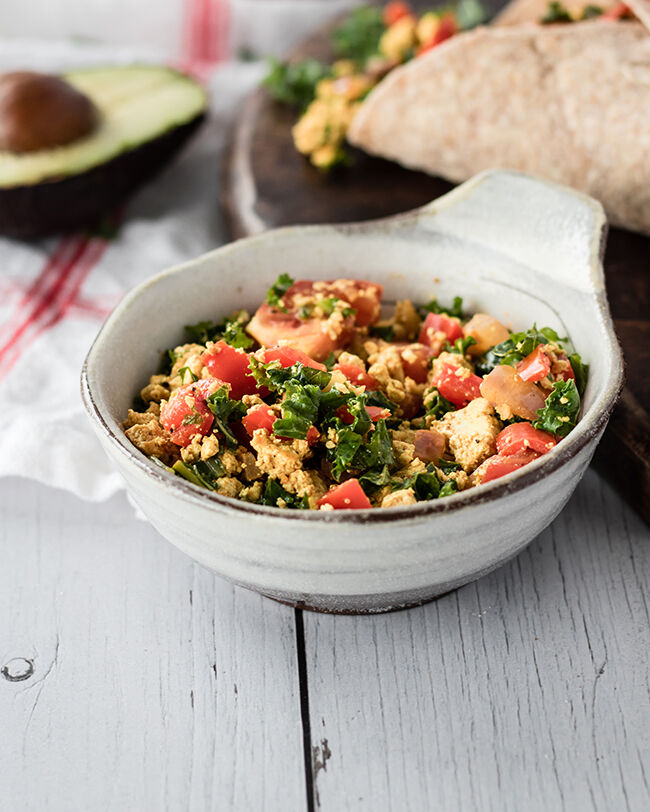 Recipe scrambled tofu without eggs
First, cook our tortillla wraps or buy in the store.
Remove the tofu from the package and let it drain. Press the moisture out using a kitchen paper or dish towel.
Heat some olive oil in a skillet over medium high heat.
Crumble the tofu into small pieces using your hands and add to the pan.
Cook for two minutes and add the bell pepper, onion and garlic. Cook for another 5 minutes while stirring.
Also add the paprika powder, curry, turmeric, kale and tomatoes. Also add some nutritional yeast flakes (I forgot in this recipe). Cook for another minute. Squeeze half a lemon and season with pepper and salt if desired.
Serve the tofu scramble with avocado and tortilla wraps.
Instead of kale, you can also add other veggies such as mushrooms and bean sprouts. Choose what's in season or whatever you like.
Add soy sauce or chili for extra spice.
Spread some sambal, hummus or vegan mayo on your wrap before you fill it with scramble.
Check my delicious vegan quiche recipe without using any eggs.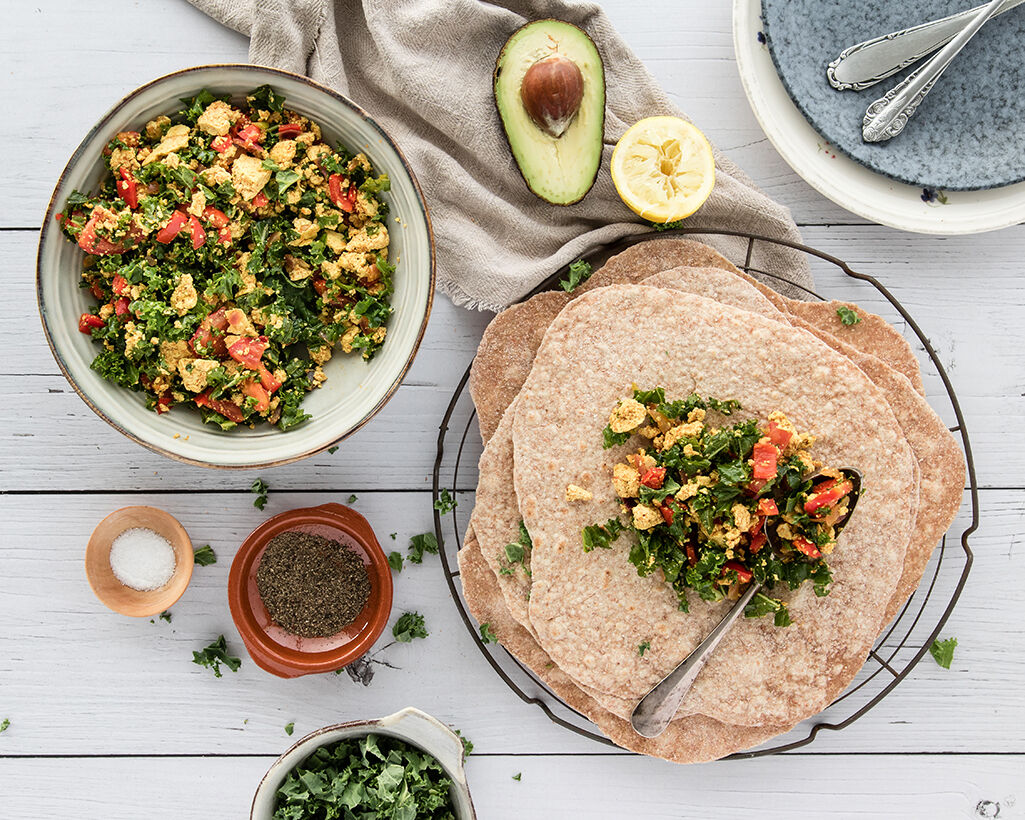 Did you prepare this recipe? Let us know on Instagram. Share it with us using #ERRERFOOD or tag us in your post. We love that! ♥