Tuesday August 20, 2019 - by Errer
Gazpacho is a Spanish classic soup and is very refreshing on hot summer days. Gazpacho is a cold soup with raw vegetables, usually with tomatoes. In my tomato Gazpacho recipe I also add cucumber, onion, garlic and sweet pointed pepper. After the soup is finely grounded in the food processor, the soup should rest in the refrigerator for a few hours to serve it cold.
In the meantime you prepare the crunchy whole grain croutons that match perfectly with this soup. Gazpacho is ideal as a light evening meal, lunch or as an appetizer. My easy Gazpacho recipe is completely vegan and raw.
Tomatoes, 850 grams / 7 pieces
Cucumber, half piece
Sweet pointed pepper, 1 piece
White onion, sliced
Whole grain bread, 4 slices
Garlic, 2 cloves
Tomato purée, 70 grams
Red wine vinegar, 2 tablespoons
Water, 100 ml
Scallion, 1 piece
Olive oil, 3 tablespoons
Ground pepper and sea salt
Cut the tomatoes into pieces and put them in a large bowl. Do the same with the cucumber and the sweet pointed pepper. Save a small piece of cucumber and pointed pepper for garnishing. Cut the onion and 2 slices of whole grain bread into pieces and add to the large bowl.
Stir this mixture and add it in parts in the food processor, because adding everything at the same time probably won't fit. Mince the garlic cloves, add the tomato purée, red wine vinegar and the water. Put all the soup in a large soup pan and add pepper and sea salt to your own taste. The Spanjards put the soup in the fridge for a few hours which results in a cold Gazpacho soup.
To make the croutons you have to start by cutting cubes of the remaining 2 slices whole grain bread. Heat the cubes in a frying pan with a little bit olive oil until they get crispy. Meanwhile, cut the scallion into thin slices and chop the remaining cucumber and sweet pepper into small pieces.
Serve the tomato Gazpacho cold and garnish with the croutons, scallion, pepper and cucumber.
Comida sabrosa / Enjoy your meal.
Add more vegetables.
Use watermelon or cucumber instead of tomatoes.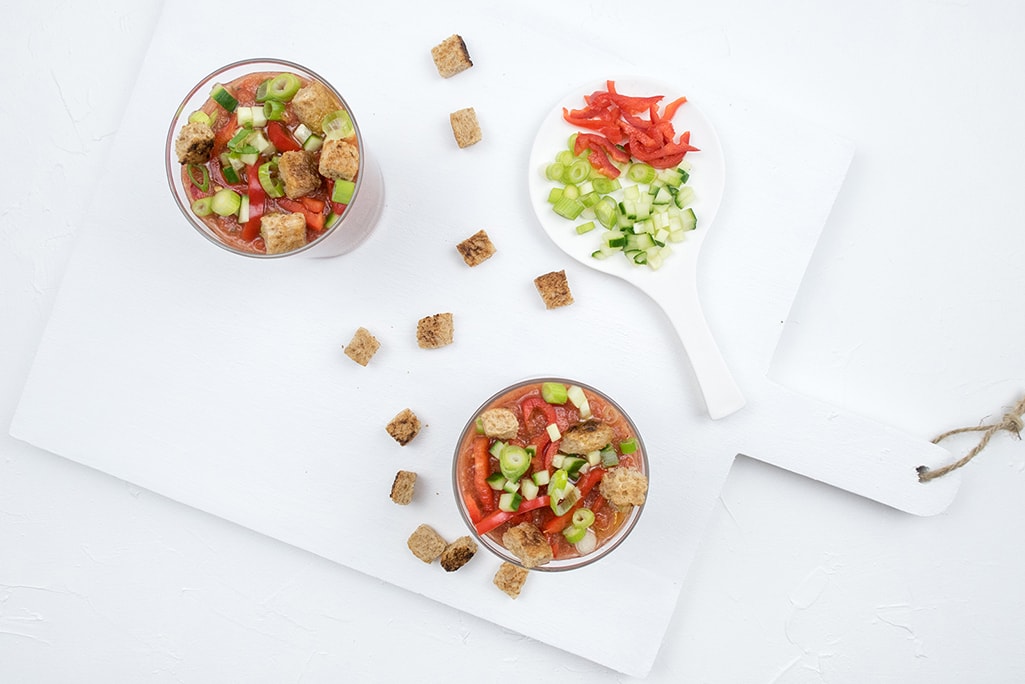 Did you prepare this recipe? Let us know on Instagram. Share it with us using #ERRERFOOD or tag us in your post. We love that! ♥