Thursday November 28, 2019 - by Errer
Turkish pizza (lahmacun) recipe is a traditional Turkish dish. It may look like a pizza, but it's quite different. The soft bottom layer is originally topped with a sauce made of minced meat, onion, tomatoes, peppers and parsley.
Originally, the lahmacun is baked in a brick oven. For this recipe I baked the pizza's in a pan. Spread with the delicious sauce and top with whatever you like. Once the Turkish pizza is garnished, you can roll it up and eat it with your hands. This is what you call comfort food! We didn't eat Turkish pizza a lot before we found out this recipe, and now it's one of our favorite meals. Normally white flour is used for the dough, but we use whole wheat flour instead, because it's much healthier.
The sauce consists of red bell pepper, onion, tomatoes, harissa, tomato paste, parsley and smoked paprika powder. By the way, smoked paprika powder should be present in every kitchen cupboard. We are a huge fan; it gives a delicious smoky taste to all sort of dishes. In addition, the sauce contains plant-based minced meat from the Vegetarian Butcher. Fry first before mixing into the sauce.
Try this Turkish pizza recipe, they taste like fast food, but still very nutritious!
Vegetarian lahmacun sauce
Plant-based nomince meat from The Vegetarian Butcher 200 grams
Tomatoes, 2 pieces, chopped
Onion, 1 piece, diced
Red bell pepper, 1 piece, chopped
Harissa, 2 teaspoons
Smoked paprika powder (we use La Chinata), 1 tablespoon
Canned tomato paste, 70 grams
Handful parsley, chopped
Arugula
Whole grain flour, 250 grams
Soy yogurt, 15 grams
Water, 125 ml, lukewarm
Olive oil, 1 tablespoon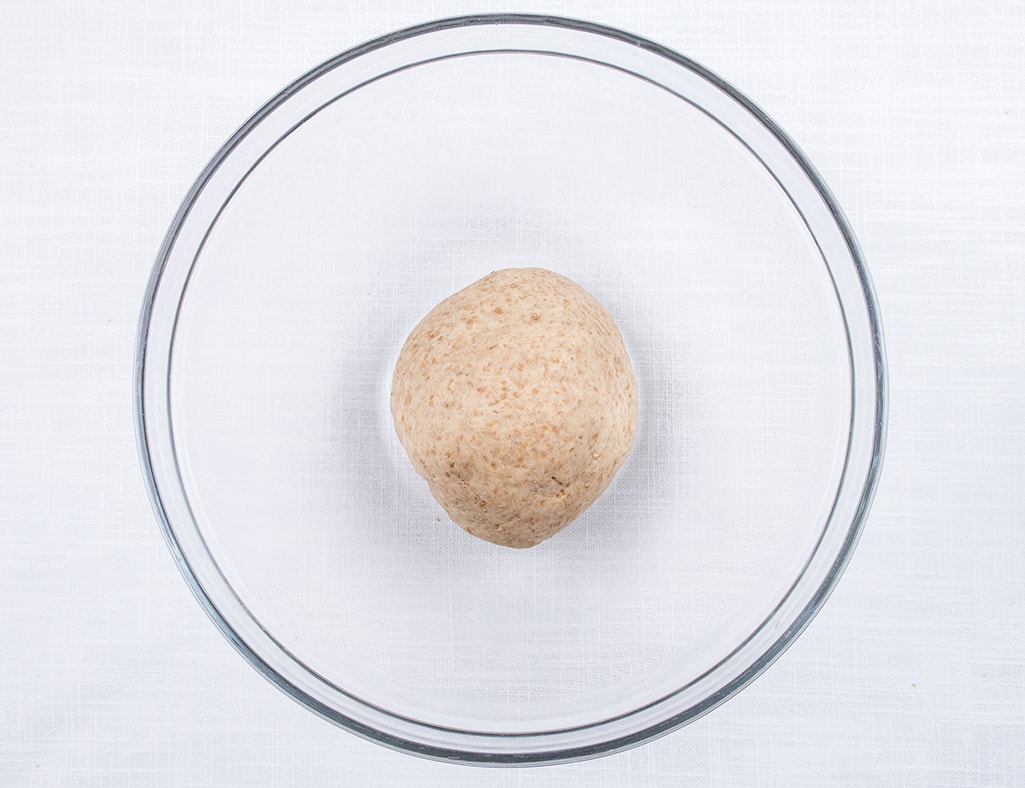 Mix the whole grain flour, yogurt, water, olive oil in a large bowl. Put the dough on your counter and knead for a few minutes until it forms to a soft dough. Divide into 6 parts and roll every part into balls.
Fry the plant-based meat for a few minutes and set aside. First prepare the vegetarian lahmacun sauce.
Add the tomatoes, onion, red bell pepper in the food processor. When the vegetables are pureed, you can add the harissa, tomato paste, smoked paprika powder and parsley and grind to a sauce.
Stir in the meat and add a pinch of ground pepper and set aside.
Dust the counter with flour and roll out the balls with a rolling pin. Don't make them too thin.
Heat a frying pan without oil and bake until it turns brown.
Turn it over and spread with 1/6 part of the sauce. Cover with aluminium foil and bake for about 4 minutes over medium heat. Check while baking, don't let it burn. Lower heat if necessary.
Garnish the Turkish pizza with aragula and other toppings as you desire and roll up the pizza and enjoy!
Serve the Turkish pizza with garlic sauce, tomatoes, avocado and possibly plant-based cheese or noble yeast flakes.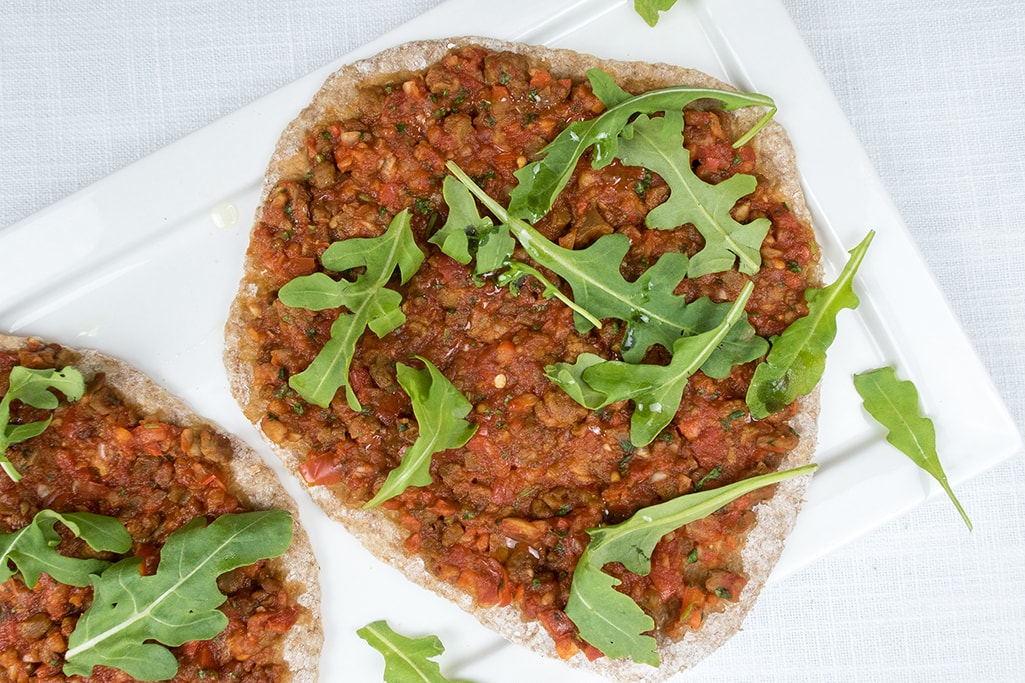 Did you prepare this recipe? Let us know on Instagram. Share it with us using #ERRERFOOD or tag us in your post. We love that! ♥