Saturday June 1, 2019 - by Errer
Mexican burritos are so amazingly yummy! We really love all Mexican food!! This vegan burritos recipe is incredibly tasty and I really recommend you to make it some time. With homemade whole wheat tortilla wraps which makes this dish even more delicious. And healthy too because I use whole grain flour for the wraps. Preparing these wraps is quite simple and takes not a lot of your time. But if you want to save some time in the kitchen, you can buy the tortillas in the supermarket.
Make your own burrito seasoning mix with delicious Mexican flavors like cumin, coriander, oregano, paprika powder and chili.
These healthy burritos are loaded with nutritious ingredients like kidney beans, corn, tomatoes, onion, bell pepper and garlic. Fill the wraps, roll them up, sprinkle with plant-based cheese and put them in the oven for 15 minutes. Sprinkle with fresh coriander and enjoy your meal!
Red kidney beans, canned 400 grams, rinsed and drained
Corn, canned 200 grams, rinsed and drained
Tomatoes, 2 pieces, chopped
White onion, 1 piece, diced
Red onion, 1 piece, diced
Red bell pepper, 1 piece, chopped
Green bell pepper, 1 piece, chopped
Garlic, 3 cloves, minced
Chili pepper, 1 piece, minced
Lime, 1 piece, juiced
Vegan grated cheese, We used Simply V
Fresh coriander
Optional: vegan sour cream or vegan spread
Whole wheat tortilla wraps
Whole wheat spelt flour, 200 grams
Lukewarm water, 120 ml
Olive oil, 1 tablespoon
Ground cumin, 1 teaspoon (I crush the cumin seeds using a pestle and mortar)
Coriander, 1 teaspoon
Oregano, 1 teaspoon
Paprika powder, ½ teaspoon
Smoked paprika powder, ½ teaspoon
Chili powder, ½ teaspoon
Ground pepper, ½ teaspoon
Mix all the ingredients in a small bowl and set aside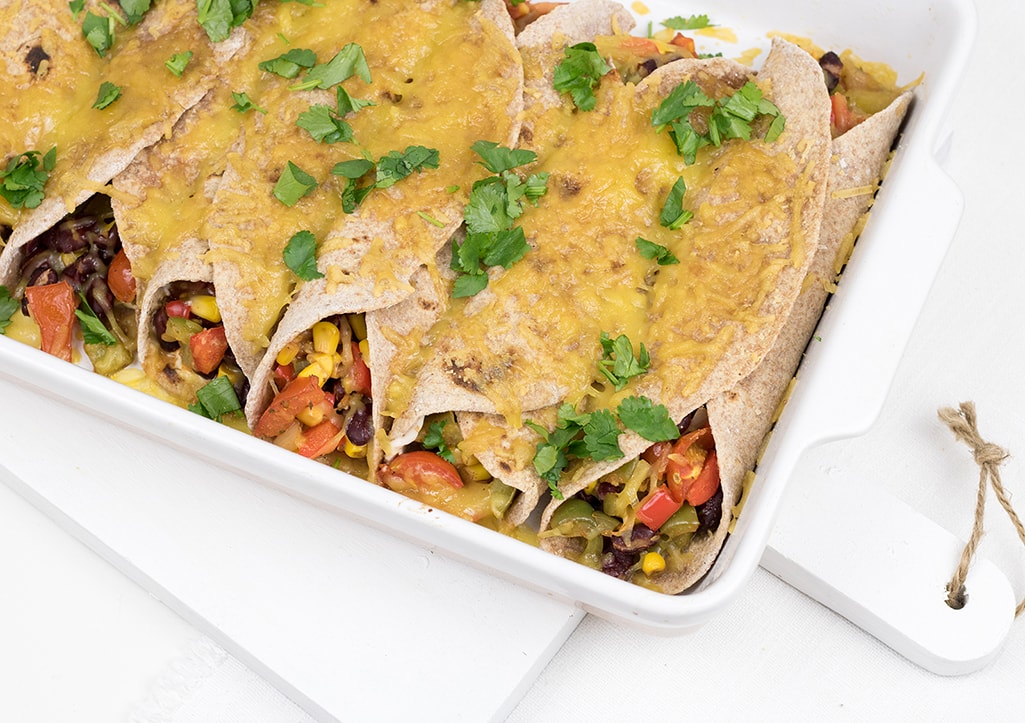 Recipe vegan burritos
Tortilla wraps:
Add the flour, water and olive oil in a large bowl and stir. Flour your bench top and knead the dough until a firm smooth ball forms. If needed add a little flour if the dough feels too sticky or add a little water if the dough feels too dry. The dough must feel smooth and soft, compare it with your earlobe.
Divide the dough into 6 balls and flatten each portion on a lightly floured surface. Use a rolling pin to flatten as much as possible, but don't break it.
Place a frying pan over medium heat, don't put oil in it and bake the tortillas for one minute on each side or until lightly browned.
Preheat your oven to 180 °C.
Heat some oil in a frying pan. Fry the onions and the chili pepper for a few minutes, add the red and green bell pepper and fry again for 3 minutes. Add the garlic, tomatoes, lime juice, beans, corn and seasoning. Sizzle for 5 minutes. Turn off the heat.
Put some cream on the tortillas if you have. Spread the filling across the center, wrap it up and place carefully in the baking dish.
Sprinkle with cheese and bake for about 15 minutes or until cheese is melted.
Take the healthy burritos out of the oven and sprinkle with fresh coriander before serving.
Choose your own vegetables and beans, whatever you like.
Serve with a fresh salad.
Add some plant-based mince.
If you don't have the time to make tortilla wraps, buy them in the store.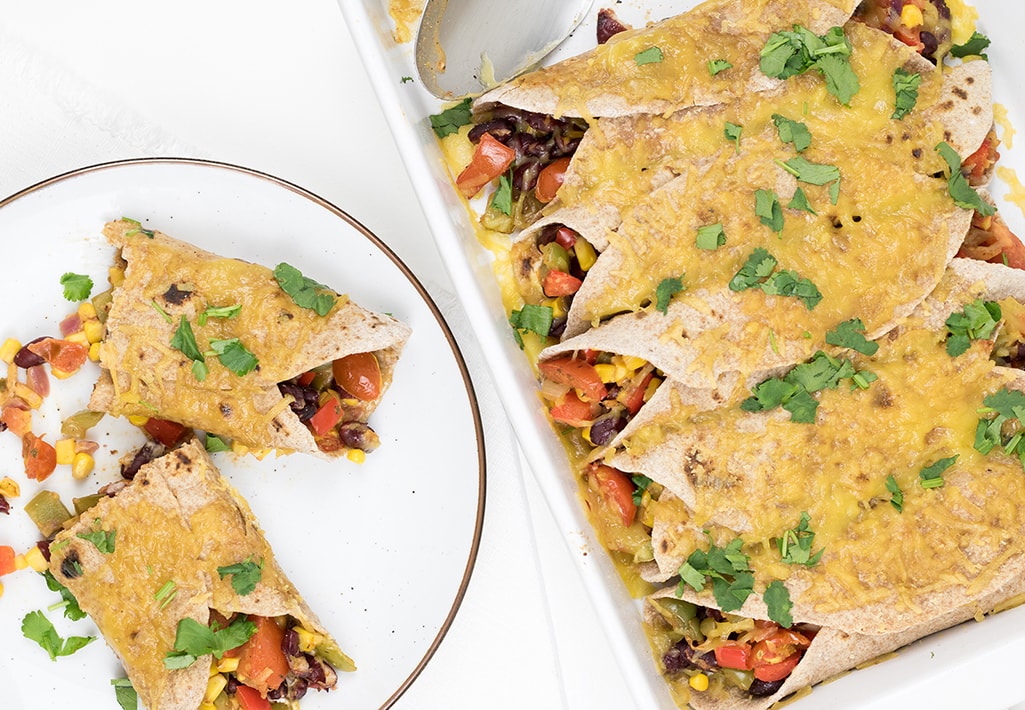 Did you prepare this recipe? Let us know on Instagram. Share it with us using #ERRERFOOD or tag us in your post. We love that! ♥